Lemon Pepper Tofu, Autism Assessment & Winter Warmers
Happy Friday sweet readers, I'm writing this under my new fluffy sage-green heated blanket (best investment ever) in my room's green velvet armchair (too much?). I'm about to head to a gentle pilates class (they exist, & they're great!) & am going to see NIGELLA (LAWSON!) in conversation tonight which I'm so freakin' excited/nervous for aagh!
These past two weeks have gone by so quickly! My Uncle & Dad were staying, Merlin was zonked out on steroids for half of it because of a medical thing (resulting in many squishy love bug couch naps) and I started my Toolkits Non Fiction course which I am aBsOLuTeLY LOVING!! I'm feeling my self-conciousness around sharing my writing & getting feedback, melt away and everyone involved is so so talented, kind & cool! I feel so lucky to be apart of it & intend to get as much out of it as I can.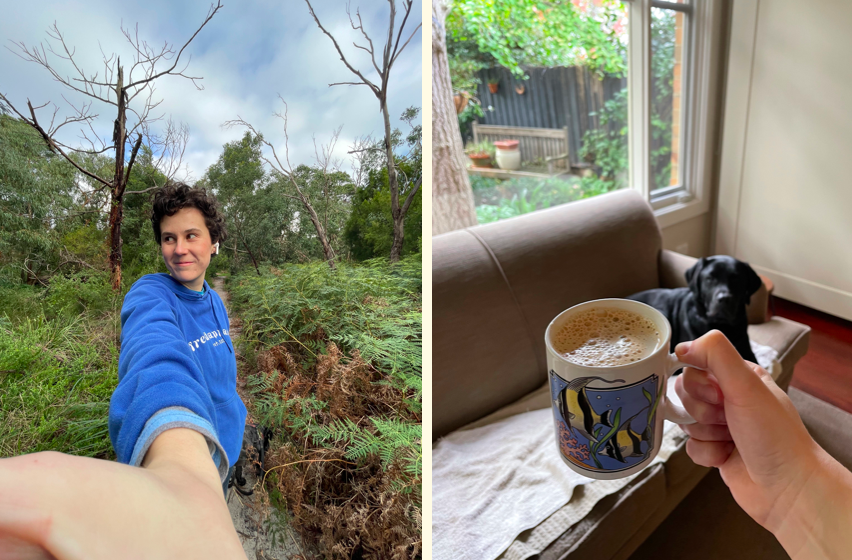 Dog walks in the afternoon low light & brisk autumnal air. Dairy-free morning coffee. Not a habit I want to encourage (because it does NOT help with anxiety symptoms) but it's also dang delicious and a mindful moment I look forward to (for now).
Snug-bug Merlin. I love this kid!
KITCHEN.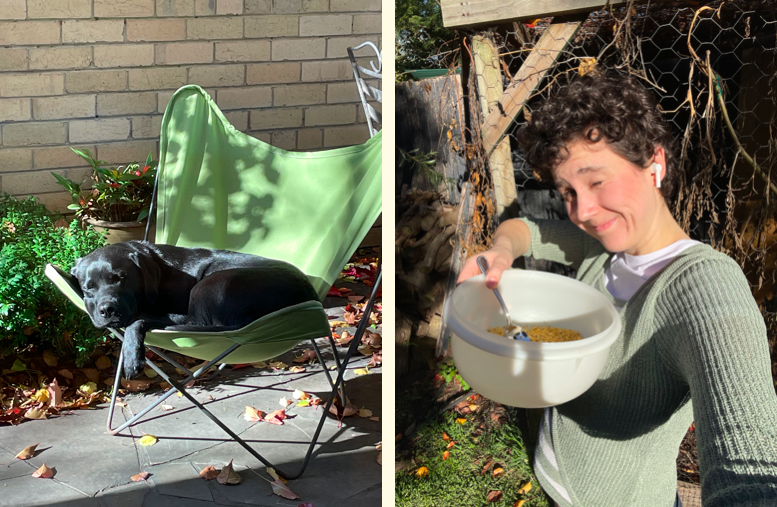 I've been perfecting a few recipes (see end of this newsletter), fulfilling a few small-batch orders & just cooking homey meals for family staying. I must sound like a broken record at this point, but I don't really enjoy cooking when lots of people are around. Whether I'm too self-concious or just don't have the energy idk, but I much prefer it to be just me, the kitchen and the music in my ears!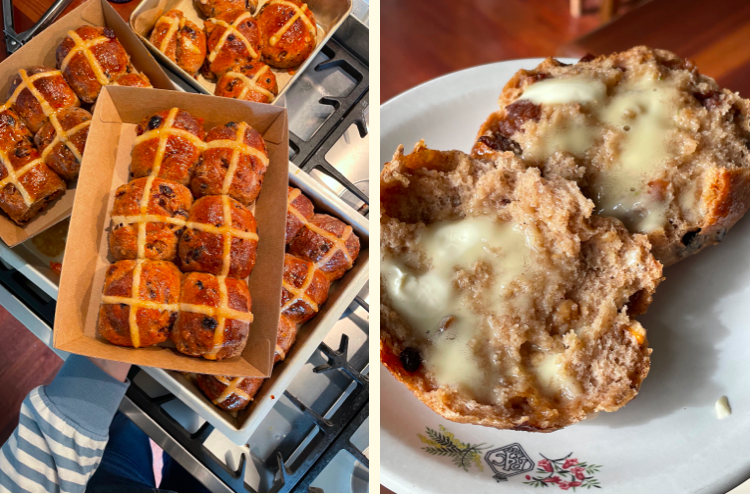 Some gorgeous belated Earl Grey Soaked Fruit Hot Cross Buns for an order. I overnight proofed these & they turned out eVeN bETTeR than any previous attempts. Bloody delicious.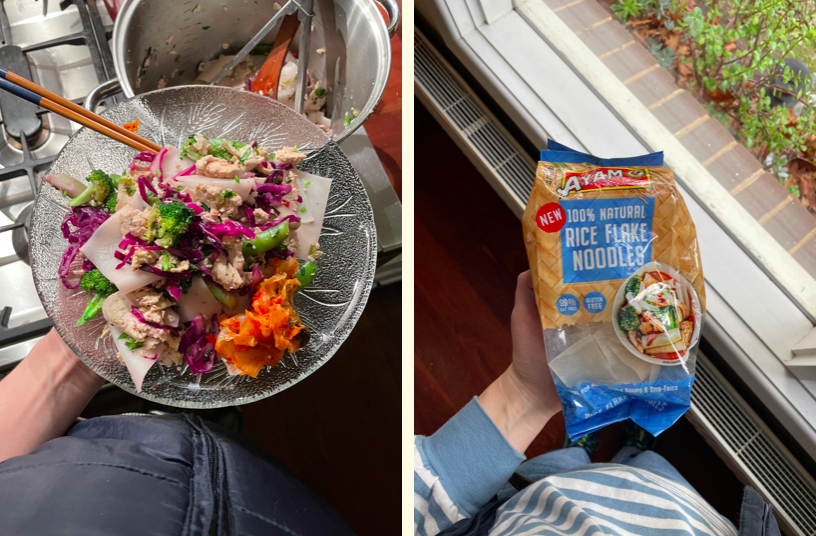 These rice flake noodles are a hoot! I saw them at an IGA and they are sOooo fun to cook with. If you like noodles & want a new GF variety, maybe keep your eyes peeled!
YOUTUBE.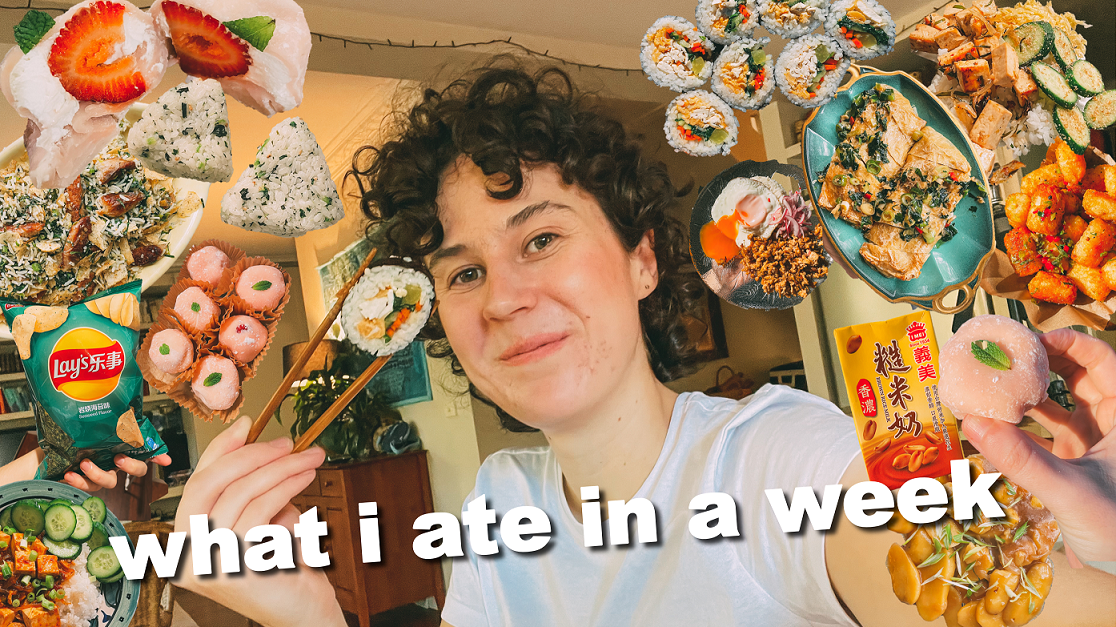 My final video in my cooking series, a week of asian grocery store food is up! Thank you for all have watched & commented-along. It's so nice to hear from you in the comments again. I have a regular-degular catch-up style vlog coming end of this week, so keep your eyes peeled for that!
READING.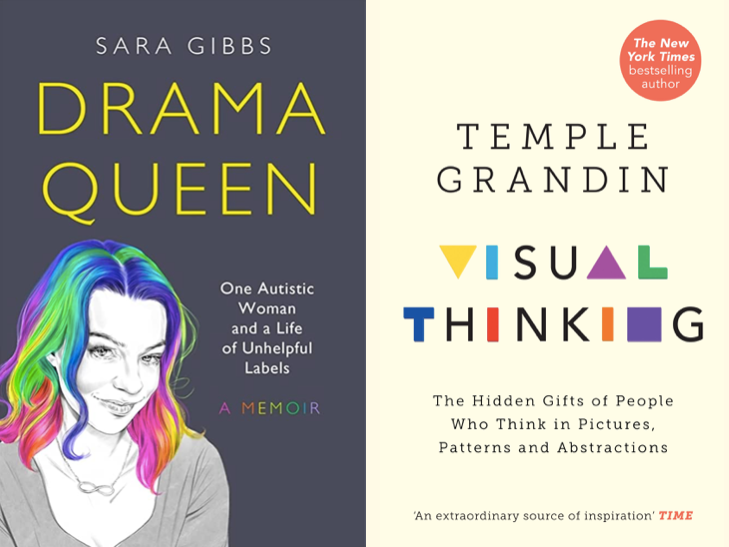 Drama Queen: One Autistic Woman and a Life of Unhelpful Labels, By Sara Gibbs | I'm on a late-diagnosed Autism memoir train. If there are any others anyone has read and enjoyed, send them my way! I'm on an Autism-assessment waitlist for the end of the year and perhaps unsuprisingly, everything Autism-related is a special interest at this point. Sara Gibbs is a British playwright, comedian & writer, and this memoir follows her childhood growing up in a very alternative hippie community, caring for her dad through terminal cancer, reaching burnout, realising all the beliefs she grew up on were pretty bonkers & finally getting diagnosed at 30-something. It was halarious and hard to read at times, but ultimately hopeful!
Visual Thinking: The Hidden Gifts of People Who Think in Pictures, Patterns and Abstractions, By Temple Grandin | So Temple is a legend and I'll always love her dearly, but she also has some really outdated views (around work & Autism) and is a product of her time. I loved learning about visual vs verbal thinkers in this book, but also could have got the gist in 25 pages.
The rest of this book is dedicated to outlining how visual thinkers are needed in the engineering, mathmatical and STEM fields to build a better world. It makes sense Grandin applies her research in those areas, because those are the areas she's immersed in. But it was somewhat grating after a while to hear visual thinkers *value* applied only in this way, when their value extends to the creative sectors as well!!! I came away feeling Grandin's passion & psychological wellbeing has probably benefited from how successfully indoctrinated into capitalism she was growing up. I mean good for her, but I was after more critical thinking on the systems that surround us.
RECIPES.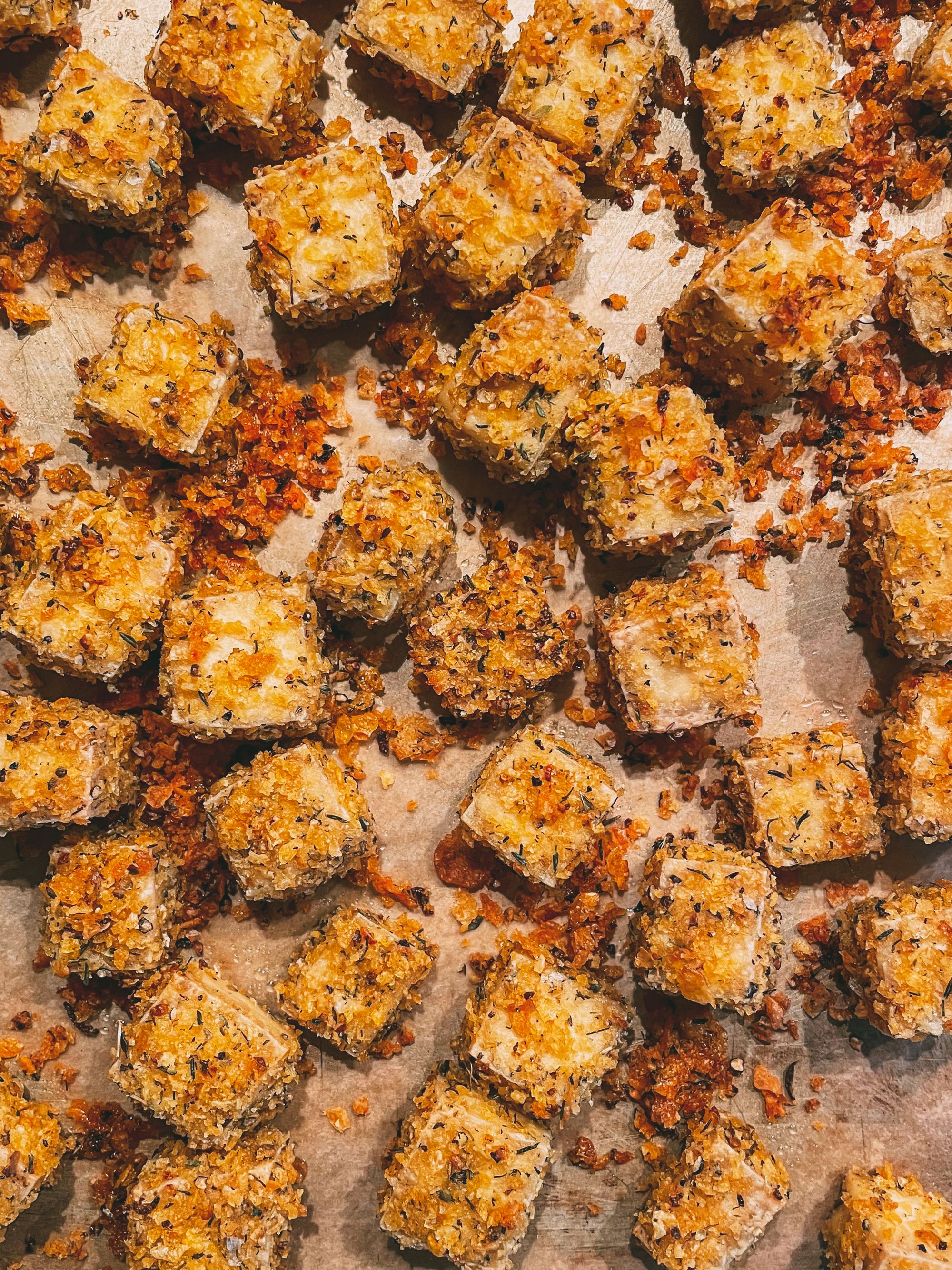 I'm playing catch up & have TWO RECIPES for you this week!! The first is for Lemon Pepper Tofu, a morish, quick tofu recipe perfect for midweek munchies, meal prep, lunch boxes & salad bowls. The seasoning is vibrant! A little ranch-like! So good!!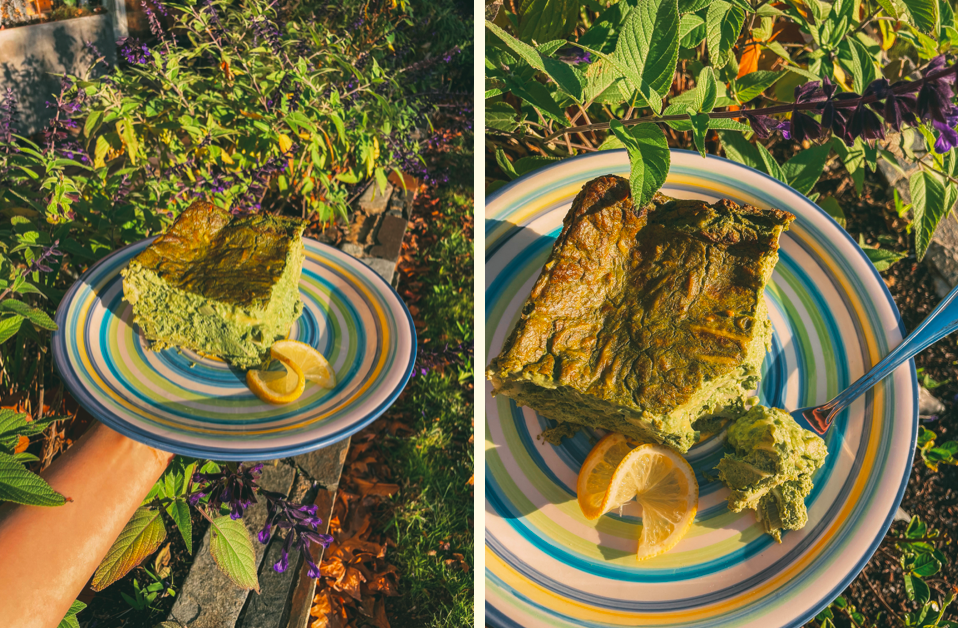 The second recipe is for Spinach Lasagna! A green machine comfort meal full of greens, herbs and hearty (protein-involving) ingredients like tofu and cauliflower. It's creamy, but light. Think of it as a fibre-filled green béchamel lasagna. Hm!
Thank you for reading & supporting my work!
Phoebe (they/them) x
You can TIP MY WORK or ADJUST YOUR (free/paid) SUBSCRIPTION here 🖋️