New Microbakery Recipes, Fave YouTubers & Thrifted Finds
Happy long weekend Honeybunches, sending you much cosiness & Easter cheer (if that's something you observe).
I took Merlin for a walk through some wetlands this morning. We then mooched to a nearbye cafe to get a Chai. The air was warm & wet from the rain overnight, I listened to Nigella's How To Eat and everyone we passed seemed smiley and at ease. It was so nice and peaceful.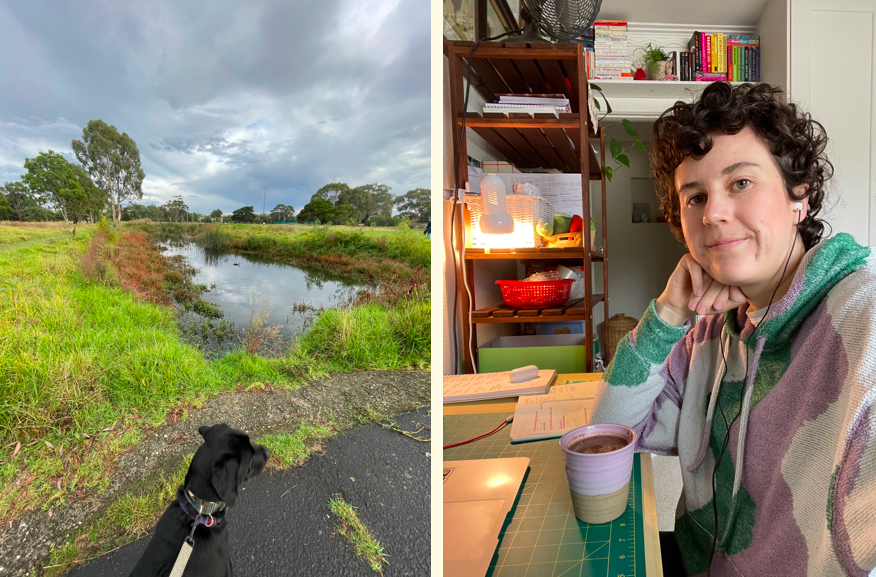 I think my body's done some emotional purging these last two weeks. It's been a bit exhausting. I've slept a lot, cried a lot and done very little outside the essentials.  I feel like a tired plant that's had a growth spurt and needs some liquid fertiliser asap lol.
Merlin has been so ridiculously attuned to me lately. Putting his head on me waaaay more than usual. I know dog's can smell all sorts of subtle bodily cues and we also project onto them human-like "caring" qualities, but this has convinced me he's aware of a shift in me. It's honestly very validating hehe. I've been feeling quite translucent this last week, and having your dog sit with you, look at you and ground you with their body weight... well it makes you feel very seen *sniff*.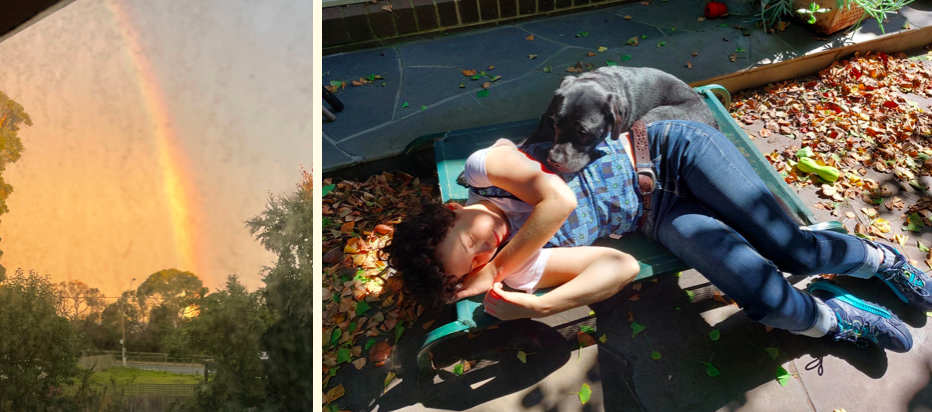 KITCHEN.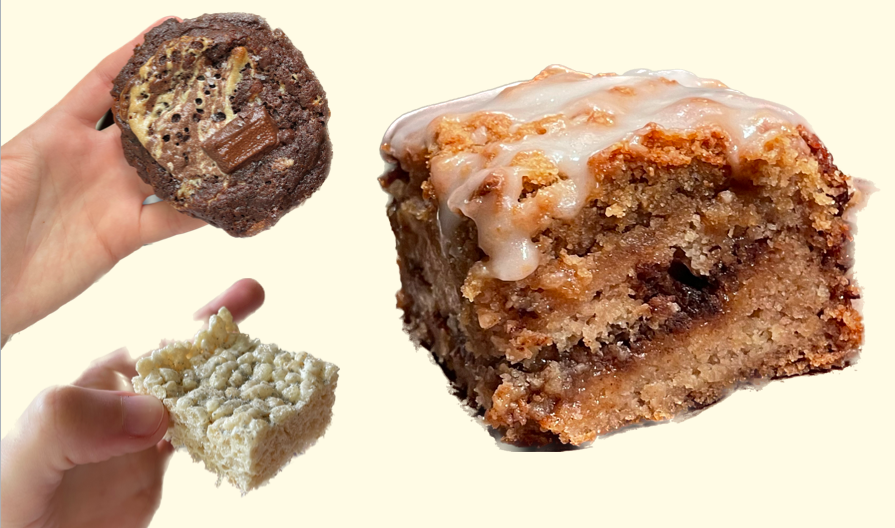 So much exciting experimentation happening for new microbakery items! I'm workshopping a rice crispy treat that SLAPS, a coffee crumb cake of New Yorkish head, heart & soul and this morning I nailed halva double chocolate chip cookies - which is a deLECTable combination.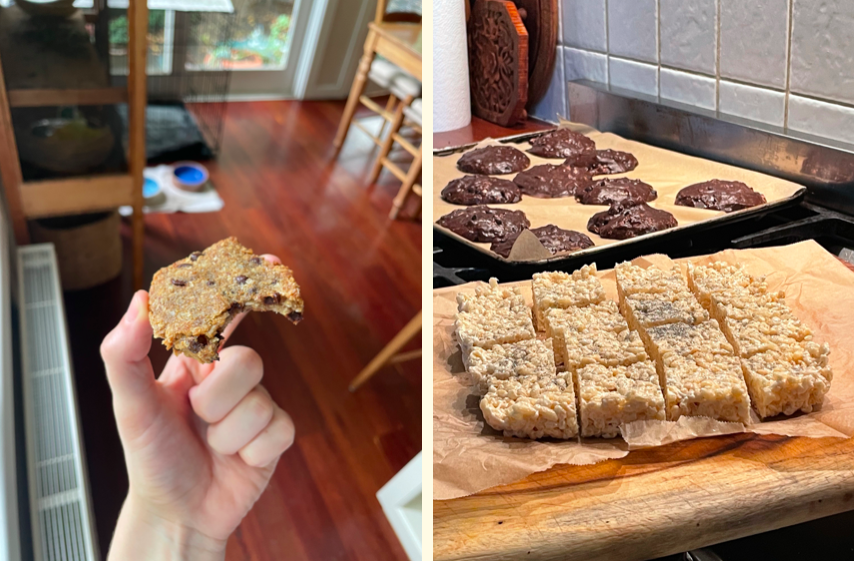 Made a batch of my Banana Bread Chocolate Chip Cookies from Big Mouth to give as lunch box fillers for a busy family, and my gohd. Those are SO yum. Chewy, oatmeal-like but gentler because of the quinoa flakes. Gold tier snack.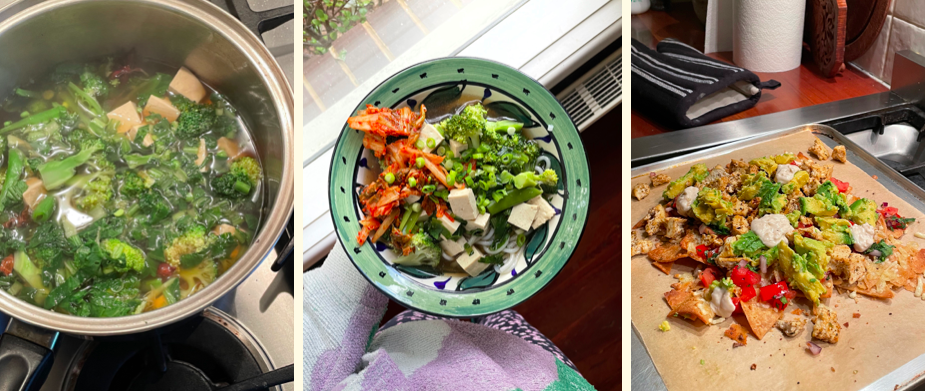 Lots of nourishing soups and using up leftovers dinners for one. I can tell noodle broths with lots of veg & kimchi are going to define this winter hehe. As a non-soup girlie I'm very glad to have found a way to participate in soup culture that I can enjoy!
SPACE CHANGES.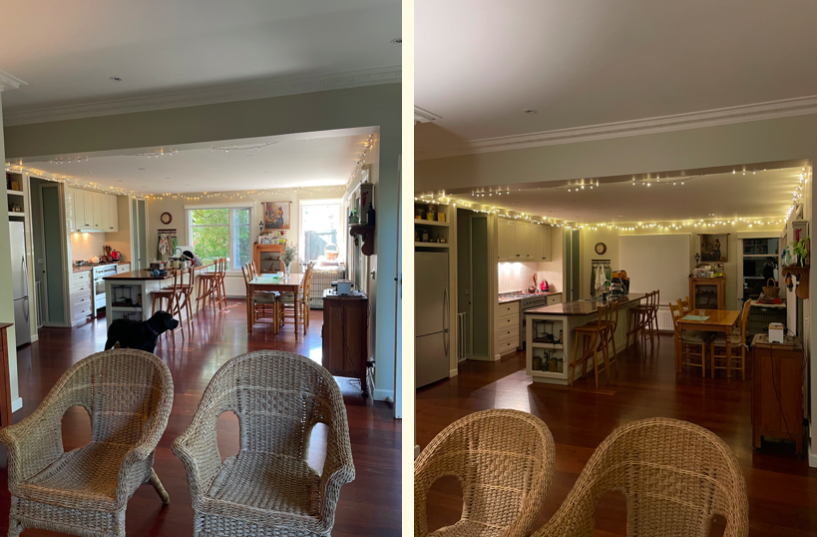 I put fairy lights around our kitchen last weekend before the clocks changed & the evenings became instantly darker. How is it that every year, the dark evenings come as a suprise? I forget that it's something you have to live with for half the year! Anyway, deeeeply uninspired by the new government issued energy saving downlights - which are truly brighter than the sun - I wanted to create a softer lighting mode to cook beneath.
Somehow, the lights I bought were the perfect length for one trip around the space - slay! It took a couple of hours of wall cleaning, command hook placing and awkward untangling but I did it. I love it so much! Feels like such a safe special zone. Fairy lights just have good energy.
THRIFTED FINDS.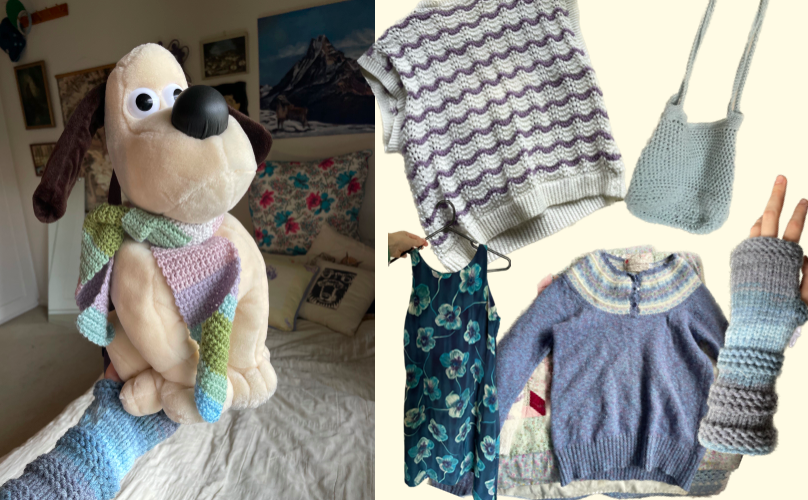 Someone has been looking OUT for me! I have never had such an incredible op shop moment as I did last week at the jumbo Salvos in Moorabbin. I found the fairline jumper of my dreams (could be a smidge bigger, but we can work with that lol), a gorgeous crochet vest, crochet blue cross body bag and 90s floral slip dress.
My style has become quite 'specified' in recent months. I really only want to dress in blues (with a touch of green, pink & purple) and look like an utilitarian androgynous grandmother crossed with Luna Lovegood. In a way, the specificity has made dressing quite straightforward. I bought some knitted hand warmers (which feel frickin' FIERCE to wear) and my mum finished Gromit's lil scarf - all in all, making me feel pretty winter ready!
READ.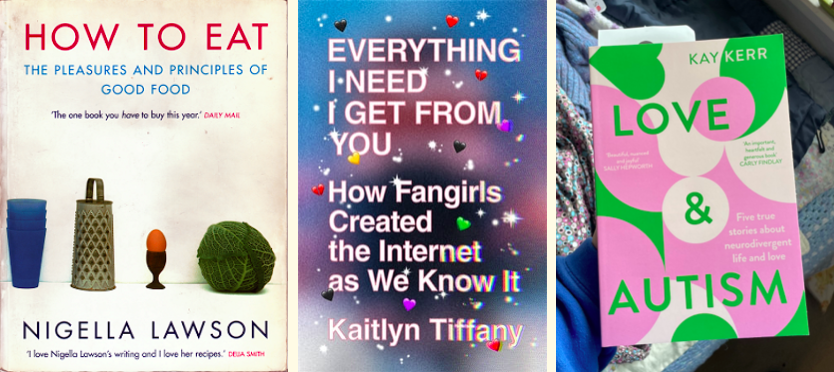 Nothing to report on the reading front. I'm making my way (slowly but surely) through Nigella's How to Eat and this incredible theoretical book about fangirls. My favourite Australian author (for neurodivergent fiction), Kay Kerr, had her new book come out this week (Love & Autism) which I can't wait to read.
WATCHED.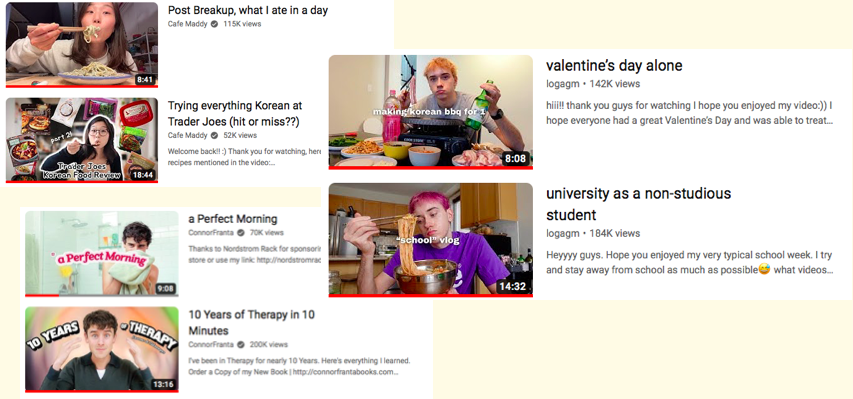 I've been watching a bit of YouTube again recently. Some of my favourite creators (that are all very sweet smart people making low stakes interest-related videos):
Cafe Maddy | gentle food videos & vlogs with a Korean emphasis from a New York based dentist who pivoted to content creation during the pandemic to help with burnout.
Connor Franta | like a super sweet gay older brother figure, author, runner & LA-ian. They also have the best hair, in my (current) opinion.
Logagm | truuuuly obsessed with Logan's low-key korean-obsessed, introverty food videos. They're a Canadian student who's awkward, but has a lot of self-confidence when it comes to their own interests - which I totally relate to.
No new recipe this week :( but so many in the works so good things coming !
I've had some plump cookbook orders & new paid subscribers in recent weeks which has been so so encouraging! Thank you *hand on heart* for making my recipes, reading my words, silently supporting & sending such supportive messages. It means the world & is helping me take each day with more gumption & optimism!
Phoebe & Merlin x