lots to catch you up on!
Happy Friday Honeybunches, sending mucho deliciousness & end-of-week compostable confetti to you!
Firstly, there wasn't a newsletter last week (I was too tired doing this), but the week before there was - and if you had trouble reading it (aka you tried to open it in Gmail) you can catch up, by reading it here. The tech-glitch is fixed, but just to let you know - news flash (!), you can always find the newsletters by using the search bar on my website.  There aren't too many so far, so you should be able to find the latest one for now - but we are working on filing them neatly.
WORK.
Phoof though! The last two weeks have felt very 'adult'. I deep dived into microbakery planning (follow Biscuit Tin Bakery on insta for updates!). I've been talking to my local council, visiting commercial kitchens, getting the relevant food safety qualifications, scouting pop-up locay-cays & doing lots of number crunching. Amidst the rather tedious side of 'starting a business', I made up test-cake boxes to give to family & friends for some feedback. It was a fab opportunity to practice scaling up my recipes, dress rehearse (lol) the process of making a lot of different things in a short amount of time, the steep organisation involved & navigating the stress of wearing 15 different hats: from food shopper, cook, cleaner, delivery driver & customer service. It was exhausting, but very do-able. And most importantly, after 24 hours rest (very necessary) I couldn't wait to do it again.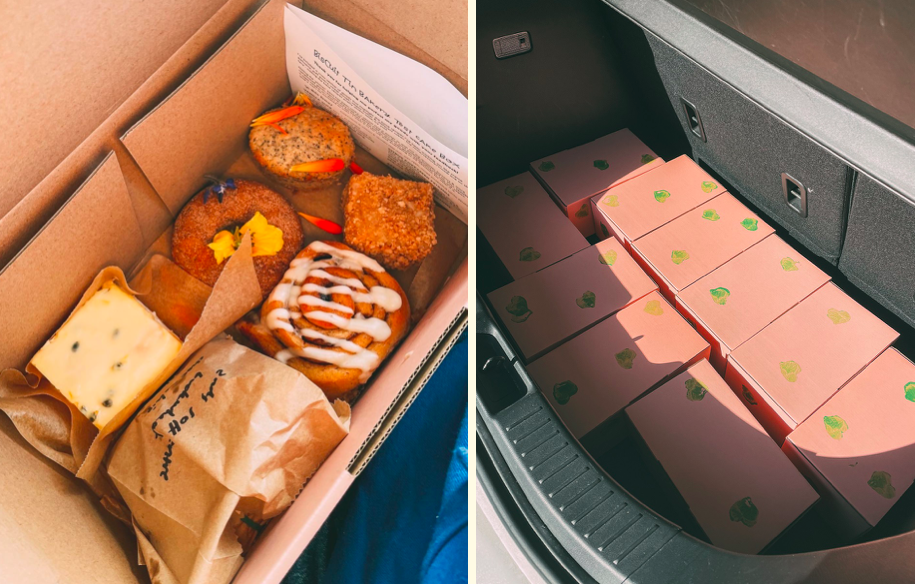 I think I've found a premise, I am just waiting to hear back from them after asking if they would lower their rates. This endevour would be infinitely easier if you could use your own kitchen. Rates per hour on commercial kitchens range from $35-80+. Yeah, let that sink in lol. I'm trying to stretch the lower end of that to something that still allows me to make a decent profit. It's a big ask of a place that already prides themselves on *helping businesses get started* - so *thoughts & prayers* please that it works out!
If you're in Melbourne (south-east suburbs specifically!), it would be the biggest, most beautiful help if you told any foodie friends of yours about it. I'll be doing pop-ups, hopefully farmers markets & the odd delivery. And telling any friends/fam with allergies/intolerances (covered by the vegan/gf overlap) would make my year! Send them the insta with a friendly - we should go :), is just one idea hehe.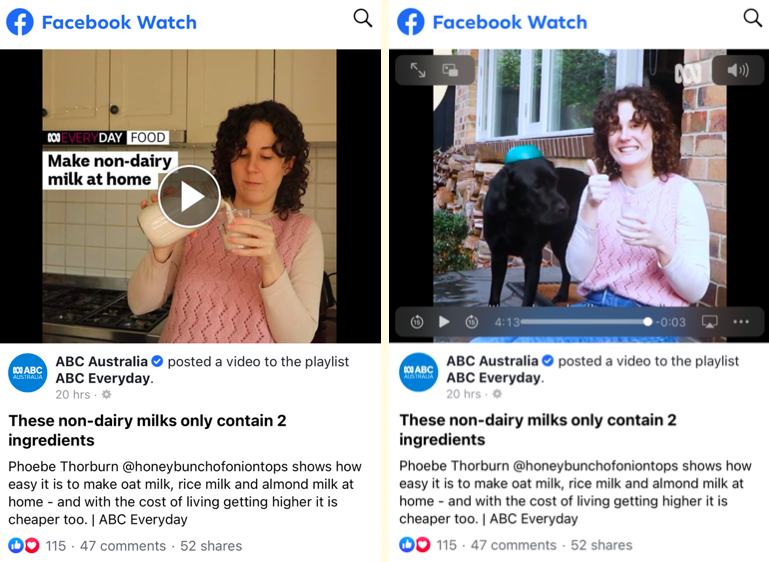 The video I did for ABC Everyday came out on Facebook this week & I think it will hit Insta in a few weeks time because they have a back-log. That link only worked for me if I opened it on my phone, just a heads up. It's so bizarre filming all the content and then sending it to another to edit. I could have had more say I'm sure on the shots used - but it's a messy process doing all the filming yourself & I was pretty nervous through most shots, being my first time (filming something for them). So I've made my peace with it (helped that I turned the audio off heheh). Permission to laugh, I sure did. There are topics I am more passionate talking about (can you tell lol) & I'm optomistic they'll be opportunities to do that with them down the line.
Merlin taste-tests the milk with me in it though - he's a natural!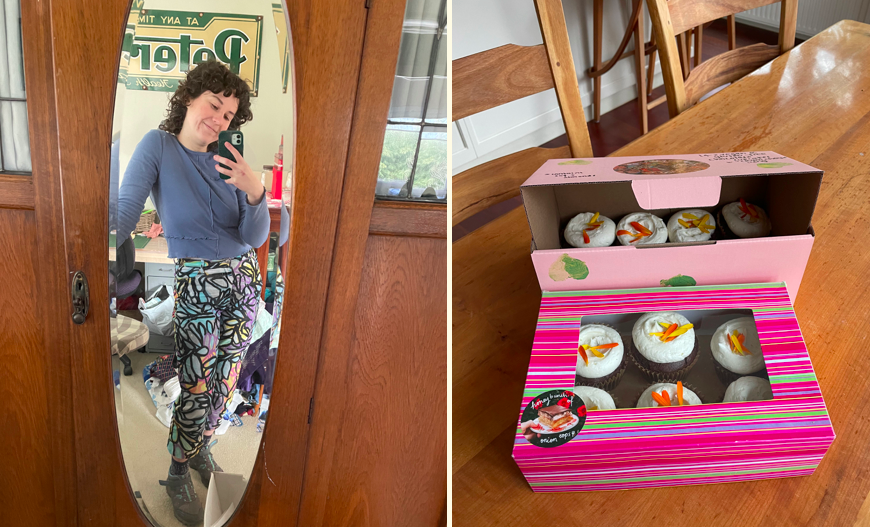 I've had lots of cupcakes order recently & (this isn't work related...) found the time to take up these Gorman pants a friend gave to me.
KITCHEN.

With the help of Kitty Tait's book, Breadsong (see last newsletter) I've cracked the sourghdough code - hooray! My main objective of this is to be able to make vegan/gf sourdough croissants - which need the sourdough for it's superpower-like rise. You need a month-old "mature" starter for that, so I'm tinkering around with other recipes (like baguettes, cinnamon buns, cocoa-hazelnut loafs, focaccia & so on) in the meantime.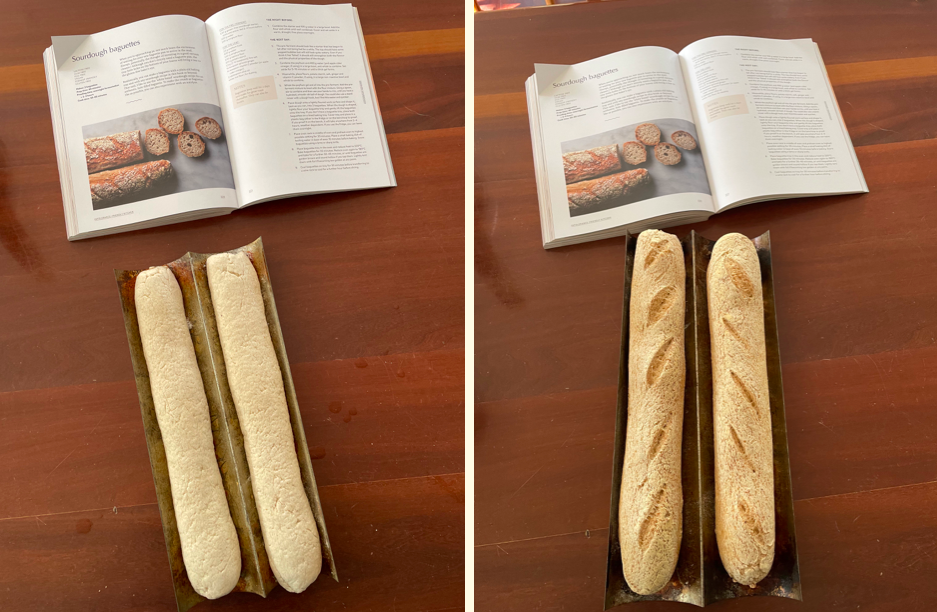 READ.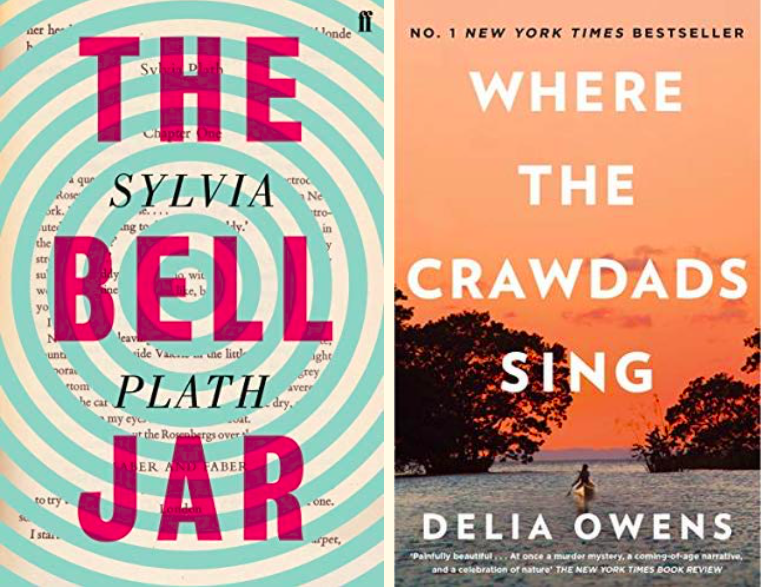 The Bell Jar, By Sylvia Plath
I finally attempted this classic last week. For a loosely autobiographical book set in the 60s, it's uncanny how current the themes (mental health) & familiar the protagonist (what's the point of life vibes) feels. It was a super depressing read, won't lie & I didn't exactly look forward to picking it up each time. But it's a 'glad I read it' number. It's a coming of age-depression-psych-hospital-recovery narrative, which features shock-therapy in a surprisingly ok way. Surprising because it's the 60s, a time of labotomies and female hysteria. It hasn't become an all-time favourite for me, as it does for many - but I do wish I'd studied in school to have gotten the 'full' experience. 7/10.
Where the Crawdads Sing, By Delia Owens
Sometimes I'm happy for any excuse to push me towards a book. It's true this one is gripping and for that I appreciated it. But between the hype for the book & intense dismissal of the movie going around, I'm not sure how I really feel about it. I found it hard to get invested in the characters lives & some of the plot (like how Kya learns to read, paint, write & study the marsh mostly on her own..?) felt a little unbelievable. I think if the effect of the trauma she endured was paid more attention & the plot's timeline was written in a less jumpy fashion - the result would have been a weightier - more affecting read. 6/10.
Hope you have a luscious weekend ahead & I'll see you next week with some luscious recipes in toe.
Phoebe & Merlin
*You can TIP MY WORK or ADJUST YOUR (free/paid) SUBSCRIPTION here