Cheddar & Chive Scones
This recipe was adapted from George Eats' Sweet Scone recipe in their book, Intolerance Friendly Baking. I have many fond memories growing up of a warm cheesy, green speckled scone upon which a cold wad of butter was adorned before each bite. Pure comfort food.
I've made these umpteen times for my microbakery, family, friends and pregnant women (who've requested them!). So many people comment on how well they last. Only needing to be toasted, microwaved, air-fried or oven-warmed to bounce back to perfection.
I prefer the white rice flour pictured below. Yes it's for dumplings - possessing a gummier (rather than coarse) texture. But once these bake, some magic happens where they become wonderfully soft, light & squidgy. It's in some supermarkets, but all asian groceries (I promise!). If you can't find it or don't want to look, don't stress! Just reach for a white rice flour you'd make shortbread with (which all supermarkets definitely have).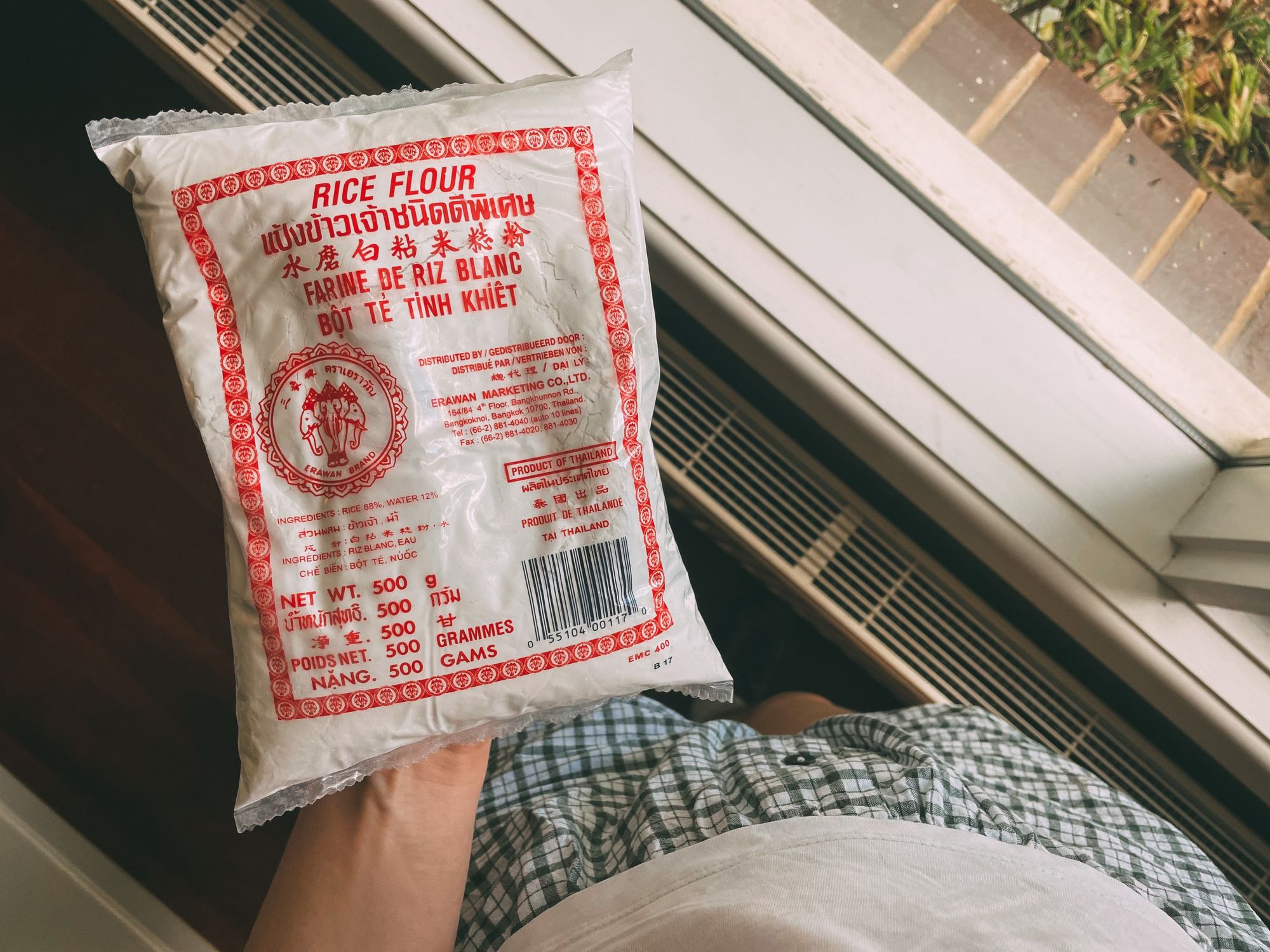 INGREDIENTS

Dry
160g white rice flour (see above)
60g glutinous rice flour
60g potato starch
3 tsp baking powder
1/2 tsp bicarb of soda
1/2 tsp xanthum gum
1 tsp salt
2 tbsp nutritional yeast
Add-ins
2 handfuls (approx. 100g) grated vegan cheddar or parmesan
1 large handful chives, chopped
1 small handful parsley, finely chopped
Wet
100g vegan butter, knifed into knobs
180ml unsweetened plant milk (may need a splash more)
1 tbsp vinegar (white or apple cider vinegar)
Vegan Wash | splash of plant milk & maple syrup, combined
METHOD
Preheat your oven to 180C/360F.
Whisk all the dry ingredients together in a large mixing bowl. The mixture will be extremely dusty so don't be too enthusiastic.
Stir through the Add-ins with a spoon until well combined. Knob the butter into the bowl and work into the dry ingredients with your finger tips. A mostly combined texture with hazelnut-sized butter-hunks remaining is what you're after. Place in the freezer for 10 minutes for the butter to firm up.
Meanwhile, make the buttermilk by mixing together the unsweetened plant milk and vinegar. Set aside. After the 10 minutes are up, stir through the flour-butter mixture until a dough forms. Don't over mix, it can still look a little clumpy. If the mixture is definitely too dry, add another splash of plant milk to bring it together.
Line a baking tray and shape the mixture into six scones, each weighing on approximately 125g (although it will depend on the ingredients used). Place on the lined baking tray (with a finger-width in-between) and brush with the Vegan Wash. Bake in the preheated oven for 25 minutes, or until lightly golden and slightly springy to touch. Let sit for 10 minutes before ripping open and enjoying warm with cold vegan butter.