Vietnamese-Style Sweet Potato, Lemongrass & Sweet Chilli Meatballs
Oh my word. Sticky, fragrant, hearty, lemongrass meatballs - I have been trying to recreate these for a hot minute and here they are, hm! I remember an era when my mum had a pork version of these on hot rotation, dishing them out as an appetiser, every bookclub and the like. Perhaps a 90s/low-fat era number as you baked the "balls" in mini-muffin tins. I was often relegated to extracting them from the pan, which over-time became increasingly non, non-stick. But they were so morishly salty, this didn't bother me as much as it did my mother, as I would happily chip the caramelised remnants, off the pan & devour at the kitchen bench - once they'd gone out.
These are much easier to cook & (welcomingly) a bit more substantial. Vegan mince is a fickle product & there are certainly many doozies on the market. Choose a favourite - Beyond Mince, Impossible Mince certainly work and are gluten-free, while Omnimeat 'pork' mince will probably make these even more addictive (although not gluten-free).
Guidance for this recipe was taken from Recipe Tin Eats, Bun Cha recipe.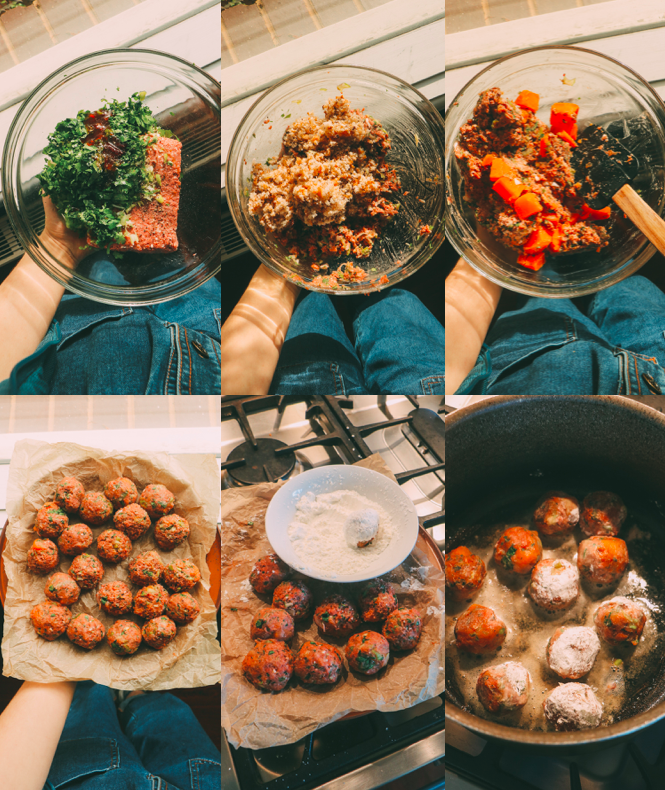 Ingredients
300g vegan mince, I used Beyond Mince (GF if necessary)
4 spring onions, finely chopped
small handful coriander, finely chopped
1 tbsp vegan fish sauce (drop to 1 tbsp if using vegan pork mince)
1  tbsp finely chopped fresh lemongrass or 2 tsp lemongrass paste
2 tsp sweet chilli sauce
1  garlic cloves, crushed or drizzle garlic olive oil
salt & pepper
1  cup gently packed fresh breadcrumbs (GF if necessary)
180g (1 cup) chunks of boiled/steamed sweet potato
light-flavoured vegetable oil
cornstarch/cornflour
To Glaze: sweet chilli sauce, rice wine vinegar (or other vinegar) & toasted sesame seeds
Method
To a large bowl, add the vegan mince, chopped spring onions, coriander, fish sauce, lemongrass, sweet chilli sauce, garlic and a pinch of salt & pepper. Get in there with you hand & scrunch to combine. Add the breadcrumbs and sweet potato chunks to the bowl, then using a spatula, mix to incorporate.
Using damp hands, roll the mixture into meatballs (slightly smaller than a ping pong ball is a nice size, as they are surprisingly substantial) & set aside on a plate. Refrigerate for at least an hour to firm up & for the breadcrumbs to expand.
Heat a generous drizzle of light-flavoured vegetable oil in a non-stick pan & while it's heating up, tip a little cornstarch into a small bowl. Take a meatball & gently toss it in the cornflour, shake off any excess & gently drop into the pan. Repeat with as many meatballs as the the pan will hold - without crowding them too much. Let brown/crisp up on all sides, adding a little more oil as necessary. Transfer to a plate lined with paper towel & repeat to brown all of the meatballs.
Add all meatballs back to the pan (it's ok if they are a little crowded) and turn the heat to low. Drizzle over a couple tablespoons of sweet chilli sauce over the meatballs and giggle the pan to melt & coat the balls. Add a wee splosh of white wine vinegar to the pan and stand back so you don't get a face full of vinegar steam (not fun). Sprinkle over some toasted sesame seeds and giggle the pan once more to finish.