Venetian Biscuit Slice
Venetian's are, by far, my favourite of the Arnott's Biscuit range - which are an big-deal biscuit company here in Australia. Mint Thins, Chocolate Ripples and the assorted creams are indeed super special, but the coconutty, vanillery shortbread, currant & creamy white chocolate top of a venetian - I've always found near addicitive.
I haven't had a Venetian in wee while...  since whenever they were doing the above packaging! I have thought about them a lot recently though, since tasting the Health Lab's Cara-More Balls - which are in their own right, little balls of heaven. But the intense vanillery-biscuitiness of them, instantly drew me back to Venetians - and how with a little bit of tinkering I could capture that beloved flavour for my own daily enjoyment.
Enter my Venetian Slice! The elements might throw you visually at first - but once you wrap your gob around this one, I promise you'll see that it works.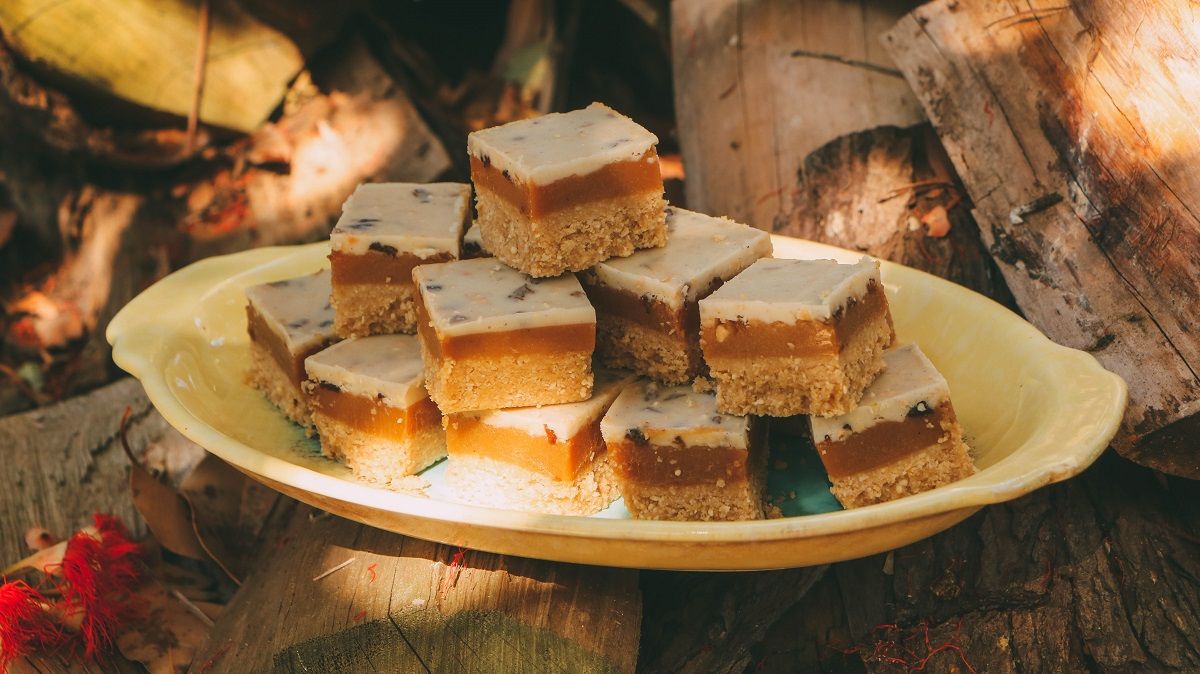 Ingredients
Base
1  scant cup (125g) raw cashews
1 1/2 cups (135g) desiccated coconut
2 tbsp cashew butter
1 tbsp maple syrup
2 tsp coconut oil (hard is fine)
2 tsp vanilla
pinch salt
Caramel
1/4 cup (60ml) coconut oil, melted (refined preferably, but not crucial)
1/2 cup (125ml) cashew butter
1/2 cup (125ml) maple syrup
pinch salt
Top
100g vegan white chocolate
1  tbsp currants (sultanas & raisins will also work)
Method
Line a 20cm/8inch square baking tin (or equivilent) with grease proof paper, so that there is enough overlap on two of the sides that you'll be able to lift the finished slice out.
To make your Base, firstly put the cashews into a food processor, and blitz into  fine crumbs. Add the remaining Base ingredients, and process into a slightly sticky cohesive mixture that holds together when pressed together with your fingertips.
Transfer this mixture to the lined baking tray and press down firmly into one flat layer. Use the base of a cup or a spatula to help if having trouble getting it completely flat & compressed. Place in the fridge.
Make the Caramel by mixing all the relevent ingredients together with a whisk until smooth. Pour over the Base layer, jiggling the pan to form one flat even layer. Place back in the fridge to set.
When the Caramel is firm, melt the white chocolate and roughly chop the currents (or other dried fruit, which are more for looks than anything else FYI). Mix the currents into the chocolate then pour over the caramel. Spread around so it covers the top evenly, then transfer back to the fridge to set completely (minimum 1 hour).
Take the slice out of the fridge, and leave on the counter for 15 mins prior to chopping into smaller pieces with a large serrated knife. Store in the fridge when not devouring & serve fridge cold. Will last approx. 2 weeks in the fridge if you need it to.