Fudgy Brownies
Agh brownies, the ultimate. Rich slabs of sweet, slightly crispy fudginess. Many vegans have had a smidge of trouble working out how to get these to 100% float their boat. Sure, it's easy to whip up a batter that's close enough, bang it in the oven and settle for something that resembles a decent chocolate cake. But standards are high and understandably so honeybunches, because those brownies you grew up with are a major nostalgic hit. They've got to tick a bunch of boxes for the brownie connoisseur to say, 'woah these are bang on, brilliant'!!.
I trialled a few when getting these right honeybunches and i'm pretty choofed with the result. There's my all-time favourite, healthier than usual, yet don't taste at all healthy brownies in my cookbook that I'm beyond happy with and will always stand by, but these are the more copy-cat variety that you should serve at your next party asap!
Here are some fudgy texture side-shots for some perspective on why this recipe is so brilliant.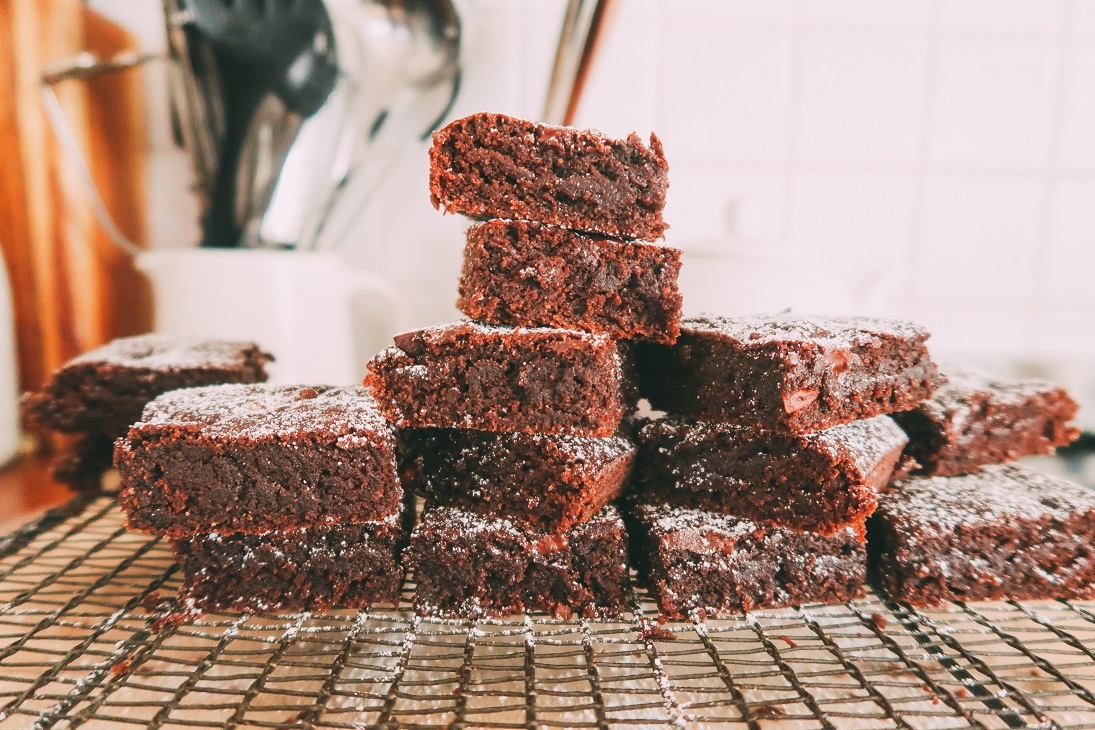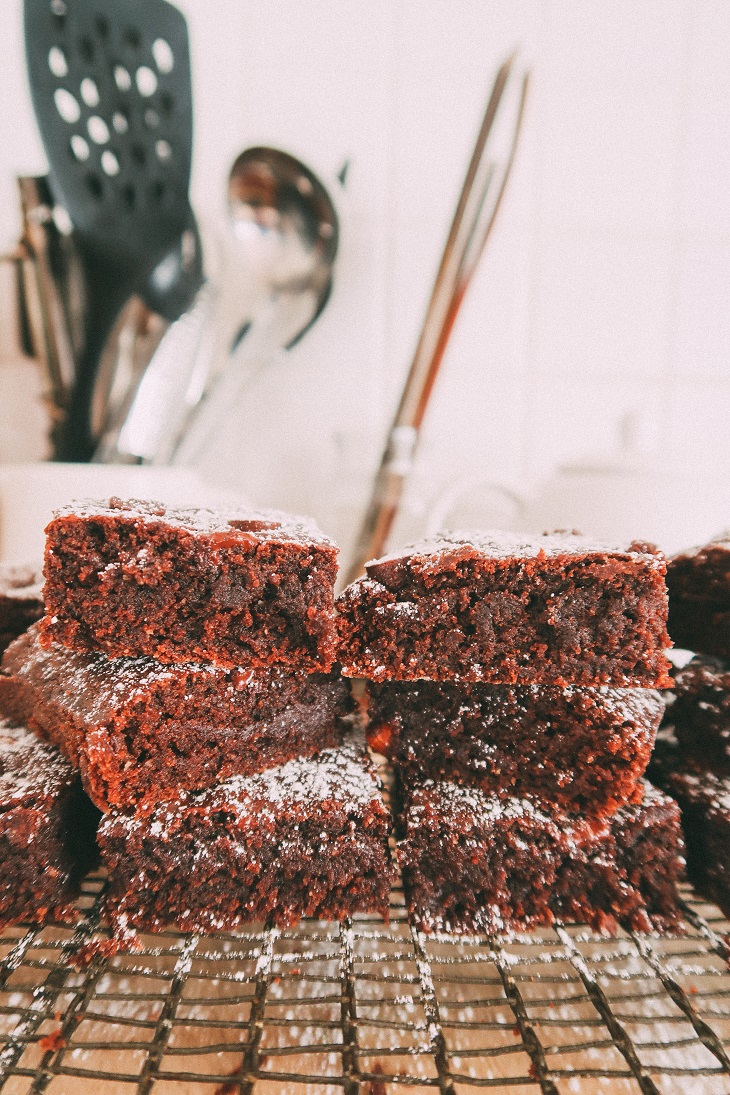 Remember not to over cook them as that will hands down foil your efforts and if you can, dust with icing sugar as this just takes the taste straight back to that brownies at b-day parties type taste that made you shout "bloomin' heck these are good"!! On with the recipe...
Ingredients
1 cup plain flour
1/2 cup almond meal
1/3 cup cocoa powder
1/2 tsp baking powder
1 tbsp ground flaxseed
pinch of salt
1/2 cup plant milk (or water)
3/4 coconut sugar
1/2 cup maple syrup
1/2 cup grapeseed oil (or any light flavoured oil/vegan butter)
1 tsp vanilla (paste, extract, essence all work)
1/3 cup roughly chopped vegan dark chocolate
2 extra handfuls vegan chocolate chips
optional handful of nuts of choice (almonds, walnuts, pecans)
icing sugar, to dust
Method
Pre-heat the oven to 180C.
In a large bowl, sift the first six ingredients (down to and including the pinch of salt), then whisk until combined.
In a medium saucepan, combine the next five ingredients (from the coconut sugar, down to and including the 1/3 cup of chopped vegan dark chocolate) over low-medium heat. Keep an eye on it, whisking every minute or so and wait for the chocolate to melt into the rest of the ingredients.
Combine the wet ingredients into the dry, whisking until smooth. Mix in the extra chocolate chips and nuts (if using) with a spoon.
Grease and flour (or grease and line) a brownie baking tin (mine was 7x10 inches/18x28 centimeters, but a similar dish will work too) and pour in the mixture scraping out every last bit. Smooth out to the edges and bake in the preheated oven for 12-16 minutes. Keep an eye on it as you want it to still be fudgy on the inside - and adjust the cooking times if using a different shaped tin. I find it's done the second after there's no glistening pool of brownies batter in the middle of the pan visible through the oven door.
Leave to cool in the tin for about 10 minutes, then turn out onto a rack to cool. Dust with icing sugar (highly recommended) and then dig in!!