Toscakaka (Swedish Caramelised Almond Cake)
As I get older, my cake-preference leans towards the nutty, fruity and earthy. Buttercreams aren't nearly as attractive as they were at 15, but I still feel that the sweet layer of something-something on top of the cake is the best bit.
This cake has the soft, moist squishiness of a tea-cake and the robustness of a pound cake. It's got a lovely light almond flavour with a fleck of cardamom inspired by the Swedish theme. The stained glass almond caramel feels a little intimidating to execute at first, but I promise you it's kind to beginners. Give the method a glance before you get stuck in, and you'll be fine.
A beautiful cake, one that makes my spirit smile. I hope you enjoy it for many afternoons to come.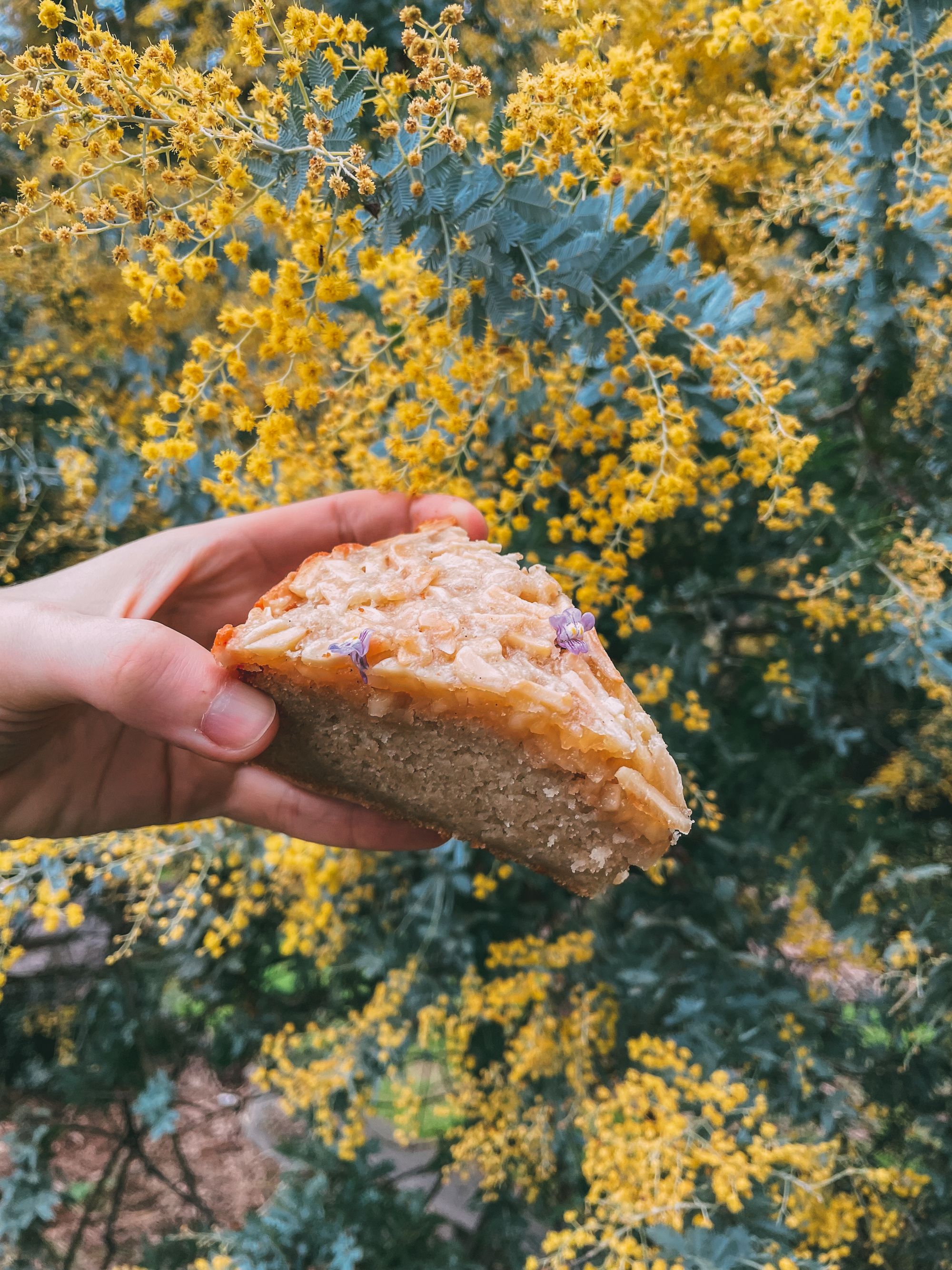 INGREDIENTS
Dry
115g castor sugar
140g bobs 1:1 gluten-free flour mix (i make my own)
90g almond flour (or almond meal)
85g brown rice flour
1  1/2 tsp baking powder
1  tsp bicarbonate of soda
1/4 tsp cardamom
pinch of salt
Wet
135g natural coconut yoghurt
3/4 cup (200g) unsweetened plant milk (with minimal gums)
100g vegan butter, melted
2 tbsp (35g) maple syrup
1  tsp vanilla
1  tsp apple cider vinegar (or other vinegar)
Caramelised Almond Topping
120g slivered almonds (or flaked)
50g castor sugar
50g vegan butter
3 tbsp vegan cream or coconut cream
2 tbsp (20g) bobs 1:1 gluten-free flour mix
1  tsp vanilla
METHOD
Preheat your oven to 160C/320F, fan-forced. Line the bottom & grease the sides of a 21cm/8-inch (or similar) round cake tin.
In a large bowl, whisk all the Dry ingredients together - pressing out any lumps as necessary. Make a well in the center, and add all the Wet ingredients to it. Gently whisk from the center outwards, creating a smooth luscious mixture.
Pour into the prepared cake tin. Smooth over the top with a spatula and bake in the preheated oven for 20 minutes.
Once the cake's in the oven, immediately get cracking with the topping. Dump all the Caramelised Almond Topping ingredients into a medium saucepan and place over medium heat. Stir constantly until the butter melts and the mixture comes together into a smooth, loose mixture. It shouldn't take longer than 2 minutes. Set aside.
Once the 20 minutes are up (the cake will still be very undercooked, you're not wrong there), take the cake out of the oven and spoon/dollop over the sticky almond mixture. Using a knife or off set spatula, spread the mixture as evenly as you can over the cake. It will feel wrong, like you're deflating the cake, keeping it out of the oven for too long etc. etc. but trust me, the cake's sturdier than it looks and all will be fine. Once you've done the job as best you can (don't overthink it), put the cake back in the oven for another 15-20 minutes. When it's done the cake will have a slight bounce when pressed, a skewer inserted will exit cleanly and the almond mixture should be lightly golden.
Leave to cool in the tin for 5 minutes, then remove to a cooling rack and let sit for another 30-60 minutes before tucking in. Keep in an air-tight container (in the fridge if in a warm/heated environment), it should last 4-ish days.