Greek-Style Tofu Souvlaki
This is a fiercely impressive tofu-transformation! I've been playing around with  convincing tofu marinade methods for my upcoming cookbook, Big Mouth (June 2022), in which there is a Lemongrass & Coconut Tofu, which is not to be missed. The same generous submersion in seasoning-principles have been applied here, but in a Greek-direction. The herbs, gentle warmth and subtle 'chickeniness', work so well!
I also love that for a (technically) mock-meat result, the tofu is so gentle rather than tough, gristly and a little sickening (which let's be honest, can be the lingering aftermath of many mock-meats on the market). These aren't heavy on your tum, nor an ordeal for folks with sensitive-systems.
I made The Loopy Whisk's Easy Gluten Free Flour Tortillas to go with these - which were honestly the most delightful tortilla making experience I've ever had, gluten-free or not. The flavour is so mild & wheaty thanks to the maize flour (no cardboardy base notes). They also stupidly flexible and moist thanks to the psyllium husk. But use any wrap - GF or not - of your choosing, or heck ditch it all together in persuit of a souvlaki bowl type situation. This tofu would also be incredible just paired with rice. It's that good.
start this recipe the day before if you can - although a few hours will suffice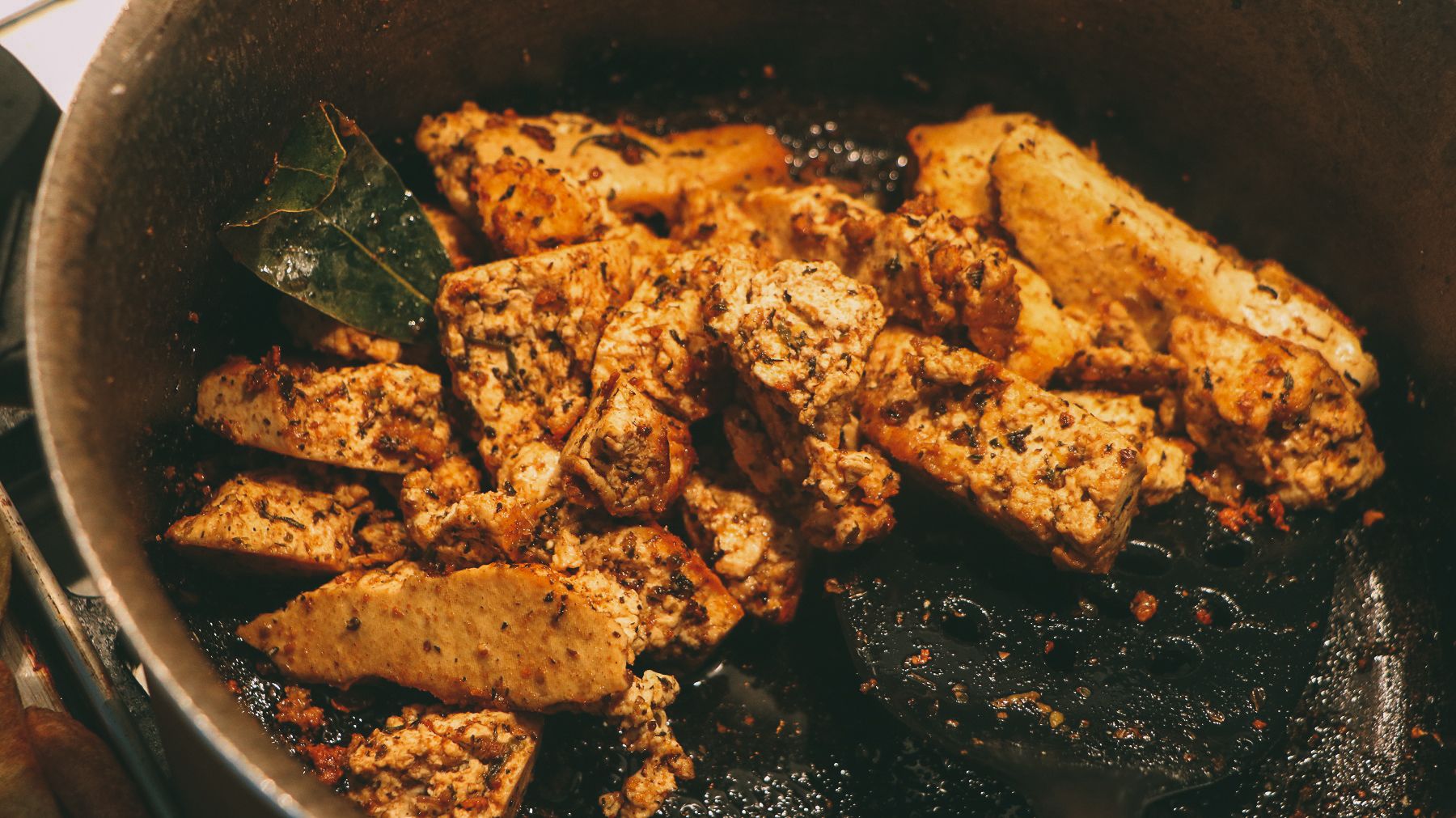 Ingredients
light-flavoured vegetable oil, to cook
Greek-Style Tofu
450g firm-hard tofu, drained
1  lemon, finely zested & juiced
1  sprig rosemary, finely chopped
1  bay leaf
2 tbsp olive oil
2 tbsp garlic olive oil (or sub for regular olive oil & add 2 crushed garlic cloves)
2 tsp dried oregano
1  tsp dried mint
1  tsp ground cumin
1  tsp ground coriander
1  tsp sweet paprika
1  tsp vegan 'chicken' stock powder (I used Massel)
1/2 tsp cinnamon
generous pinch salt & pepper
Tzatziki
150g greek coconut yoghurt (I used COYO, but a natural coconut yoghurt will also work)
small handful mint, finely chopped
1  lebanese cucumber, grated
drizzle garlic olive oil (or 1 clove garlic crushed)
1/2 lemon, juiced
salt & pepper
To Serve - flour tortillas (I made The Loopy Whisk's GF ones, which are terrific!), lettuce, tomato, red onion & french fries (optional)
Method
Start by pressing the drained tofu between a clean tea-towel or many sheets of paper towel until dry. Break up the tofu to do this if in pieces thicker than an inch. Gently break/tear the tofu further into large "chicken-strip" style strips. They will crumble in the marinade/cooking process, so the larger the better.
In an air-tight container add all the remaining Greek-Style Tofu ingredients & stir to combine. Add the tofu pieces and gently toss through the marinade to coat. I used a spatula to do this, then secured the lid on top and gently turned the container upside down to finish tossing. Marinade overnight in the fridge, or at least for a few hours if in a pinch.
When ready to eat, make the Tzatziki by sprinkling a generous pinch of salt over the grated cucumber and leaving it to sit for at least 15 minutes. After which time, squeeze the cucumber of excess moisture and transfer to a bowl. Add the remaining Tzatziki ingredients to the bowl and stir to combine. Chill until ready. Prepare & assemble your To Serve ingredients at this point.
To cook the Greek-Style Tofu, heat a generous glug of light-flavoured vegetable oil in a non-stick frypan. Once hot, add the tofu (any dregs of marinade too) to the pan and cook over medium-high heat (without fussing!) for a few minutes until slightly golden. Gently toss the tofu and let caramelise & crisp on another side. This tofu doesn't cook 'neatly' like little firm strips of chicken, it will break up a little and some sides won't take on any colour - but that's the charm. It's a very forgiving, set & forget style of cooking protein. Serve the tofu in a souvlaki with the Tzatziki and all the fixings, hm!