'The Hella Heavenly HBOT Home-Cookery Cookbook' is HERE!
My new cookbook is officially out and about (well on my MY ETSY) as of today honeybunches, in both a A5 hard-copy format as well as in a PDF file you can download directly onto your computer after purchasing. I started recipe testing for this thing on the 20th of October this year, so I've had to keep the ball rolling at a rather brisk pace to get all the recipes, formatting and design etc. done in time for you to order it for Christmas is you so fancy. Due to this cookbook taking up most of my time, I have not had much time for other HBOT-creations, so I apologise for this blog appearing a little light on the recipe-front, and my YouTube channel appearing equally quiet. It's been for good reason though, as this wee creation has been in the works and I have been working my butt off to ensure it's just one really great cookbook filled with reliable, DELICIOUS recipes - and all the while presented in a wonderfully groovy way.
There are 32 completely vegan & gluten-free recipes in it's pages, and if you are wondering what they might be, catch a glance at the list below...
"Tuna" Risotto Balls
Lemon & Dill Fish & Chips
Seaside Spaghetti
Roasted Cauliflower Pesto Pasta
Timballo w Aubergines (Eggplant)
Mushroom Carbonara
Roasted Cauliflower & Pumpkin Spiced Fritters
Mexican Quinoa Bake
Pumpkin & Potato Gratin
Tofu & Vegetable Satay Skewers
Parmesan Crusted Baked Mushrooms
Basil & Mint Chopped Salad
Staple Bean Stew
Moroccan Pumpkin Chickpea Stew
Roasted Tofu & Veg Pesto Bowl
Swedish Meatballs
Mediterranean Stuffed Eggplant
Ethiopian-esque Curry
Chocolate Beetroot Cupcakes
Chocolate Almond Blondies
One-Bowl Banana Bread
Vegan Cheds (Cheesy Biscuits)
Lemon & Passionfruit Melting Moments
Honey & Cornflake Slice
Mango & Passionfruit Tart
Chocolate & Orange Truffles
Self-Saucing Chocolate Pudding
Choc-Hazelnut Torte
Apple & Berry Crumble
Tiramisu
Mango Lassi
Sensational Chai
While all the recipes are gluten-free by default, there are oodles of swaps that are mentioned in the cookbook for you to make - if not fussed about making them strictly GF. The recipes also have a wholefood emphasis, however taste is prioritised equally so for example in one instance you'll find a bit of caster sugar in the ingredients list - as when I played around with ingredients for my Self-Saucing Chocolate Pudding, that option just undeniably tasted the best.
I made a behind the scenes/cookbook trailer type of video that has more information on the book as well, so if you're interested - catch that one HERE.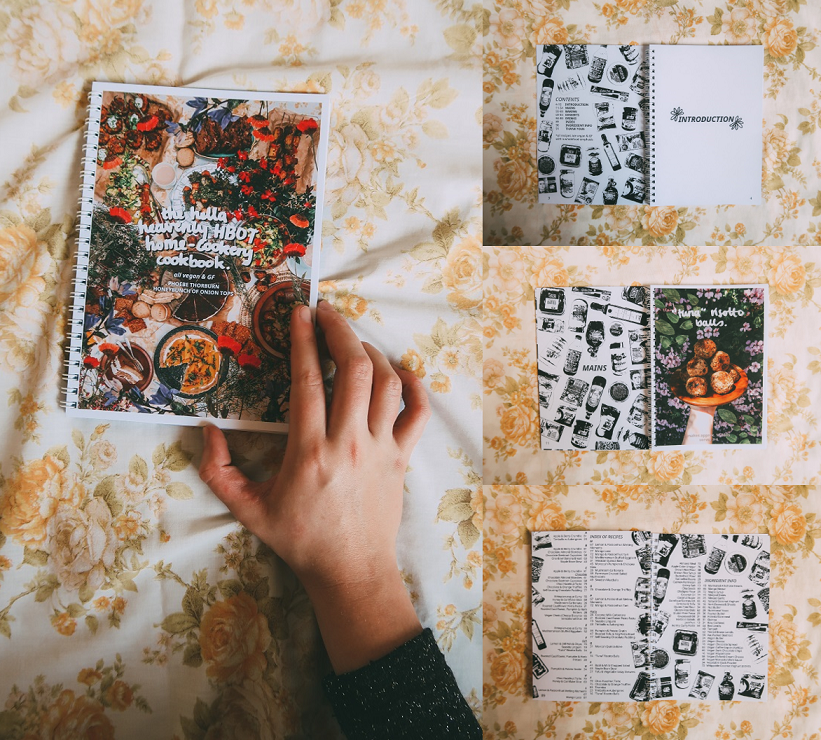 The cookbook is available through The HBOT Shop on Etsy which you can visit HERE.
Thank you for reading Honeybunches! Hope you're doing well xo