Strawberry Lamingtons
These are lil' cubes of feminine heaven. Eating these was a joyous trip back to my first decade of life, when strawberries were a major food group - so much so, that I once ate so many that my butt turned pink. But you didn't have to know that.
What you do need to know is that these beautiful vegan & gluten-free strawberry lamingtons, carry such a powerful berry fragrance, you'll be transported to some easy-breezy, cottagecore-like, house in the hills, when your teeth sink right down into them. Inner calm in a cube!
Keep in mind these are not a super light lamington. Being gluten-free and vegan, they're a moister & more substantial kind of pillow. They're *chefs kiss* in their own right & have been met with rave reviews by avid (normal) lamington lovers.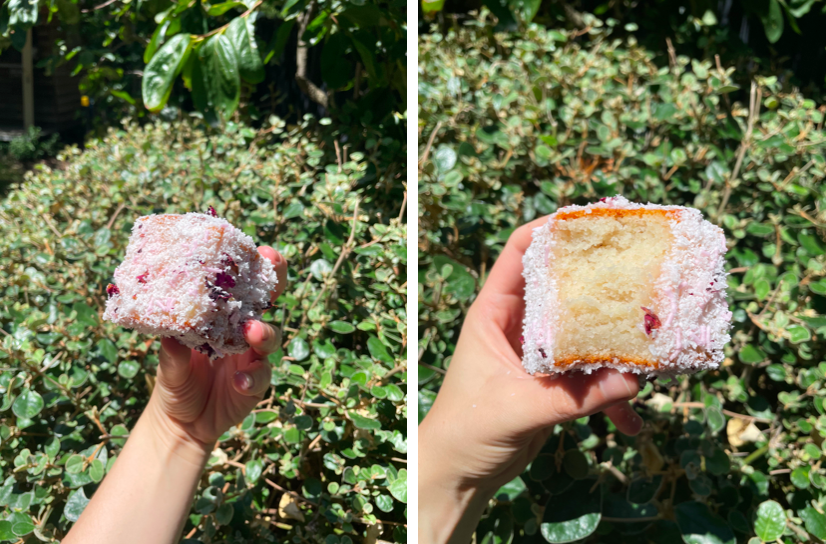 Ingredients
Vanilla Sponge
1/2 cup (125ml) light-flavoured vegetable oil
1/2 cup (140g) apple puree
1  2/3 cup (400ml) unsweetened plant milk (with minimal gums/additives added, the more natural the better)
1  tbsp vanilla
1/2 cup (115g) castor sugar
2 1/2 cup (300g) self-raising flour (GF or not)
2 1/2 cup (300g) almond meal/flour (crucial that it is at room temperature, and not used directly from the fridge/freezer)
pinch of salt
Strawberry Jelly Icing
30g vegan butter
4 tbsp (50g) vegan strawberry jelly crystals
1  cup (250ml) boiling water
2 cup (300g) icing sugar, sifted
To Coat
130g desiccated coconut
dried rose petals (optional)
vegan pink sprinkles (optional)
Method
Preheat your oven to 180C/360F.
Make the Sponge first, by adding the vegetable oil, apple puree, milk, vanilla and castor sugar to a large bowl & whisking until the sugar has dissolved and everything's combined.
Sift in the flour & then add the almond meal (it doesn't sift well, you can press out lumps with your hands before adding if concerned) and salt, and whisk gently until smooth. Don't over mix, for this will exacerbate gumminess if working with GF flours.
Pour into a greased and lined 20cm/8inch square cake tin (or similar), smooth over the top and bake in the preheated oven for 35-40 minutes or until golden, firm to touch & a skewer inserted comes out clean. Transfer to a cooling wrack after 5 minutes and let it cool completely. You can speed things up towards the end of cooling time by banging it in the fridge/freezer.
When the sponge is at room temperature, make your Icing by placing the butter & jelly crystals in a medium bowl. Pour over the boiling water & whisk to melt the butter & dissolve the crystals. Sift in the icing sugar (alternatively, you can bang the icing ingredients into a blender, to get it ultra smooth) and whisk to form a smooth, very runny strawberry icing.
Cut your sponge into even cubes (I chose to make 9 large lamingtons). Place the  coconut and any other ingredients you wish to coat these in into a shallow bowl. Dip the sponge into the icing, let the excess drip off (I gripped it with forks for this), then coat in the coconut. Refrigerate when not eating, best consumed day-of making or within 3 days.