Peanut Butter Chocolate Fudge Brownies
These are next-level Honeybunches! I know I've done brownies a lot, but bloomin' heck these are something else. They've got that wonderful sugary cracked top, chewy edges and a fudgy interior. Feel free to swap out the peanut butter for raspberries, chocolate-hazelnut spread or crushed nuts. All would be phenomenal - as the brownie base is genuinely as good as it gets! Feel free to double the recipe too, just be sure to cook them for longer. This recipe is adapted from a recipe for Raspberry Ripple Brownies in my new postcard series on my Etsy shop - The HBOT Shop. See more about that at the end of this post, but for now, it's brownie time.
Ingredients
80g vegan dark chocolate
1/4 cup coconut oil
1/2 cup brown sugar (or coconut sugar)
1/4 cup maple syrup
1/3 cup aquafaba (the water in a can of chickpeas, lentils or beans)
1 tbsp black coffee
1 tsp vanilla
3/4 cup plain flour (GF or not)
2 tbsp desiccated coconut
1/4 cup brown rice flour
pinch of salt
1/4 cup peanut butter
Method
In a heat-proof bowl, add the dark chocolate (broken up into pieces) as well as the coconut oil, and place in an oven heating up to 180C (350F). After 3-5 minutes, remove and stir to finish melting the mixture. Be careful not to burn the chocolate in the oven.
Add the melted chocolate mixture to a large bowl along with the brown sugar, maple syrup, aquafaba, black coffee and vanilla. Whisk until smooth.
Add the plain flour, desiccated coconut, brown rice flour and salt to the bowl, whisking gradually from the center outwards until smooth and fully incorporated.
Pour the mixture in a greased and lined 18cm/7-inch square pan (or similar) and dollop over the peanut butter. Run a knife through the peanut butter and brownie mixture, creating a marbling effect. Sprinkle with a little salt to finish. Bake for 30 minutes in the moderate oven (for preference on the slow setting - not fan-forced).
Let cool for at least 15 minutes in the pan before removing and serving.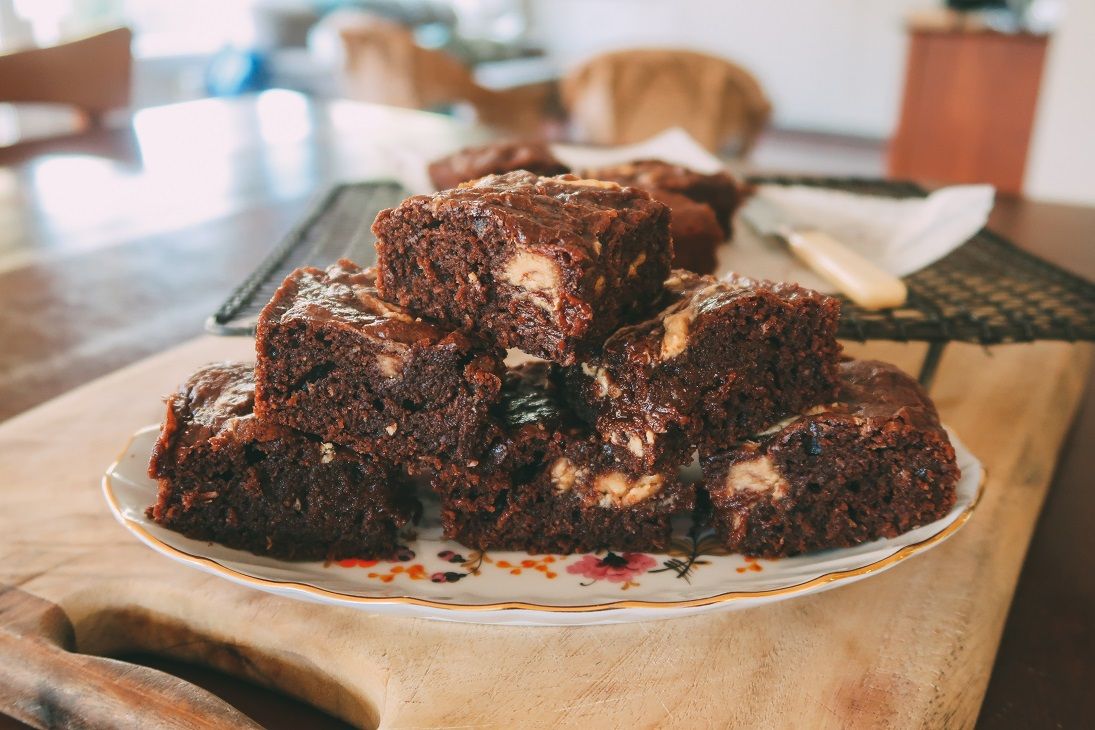 I've just released a Postcard set on my Etsy shop. There are 6 different postcards with recipes on the backs of each and space to write a lovely message to loved ones near and far. Find out more about them HERE.