my pop up sold out in 25 minutes!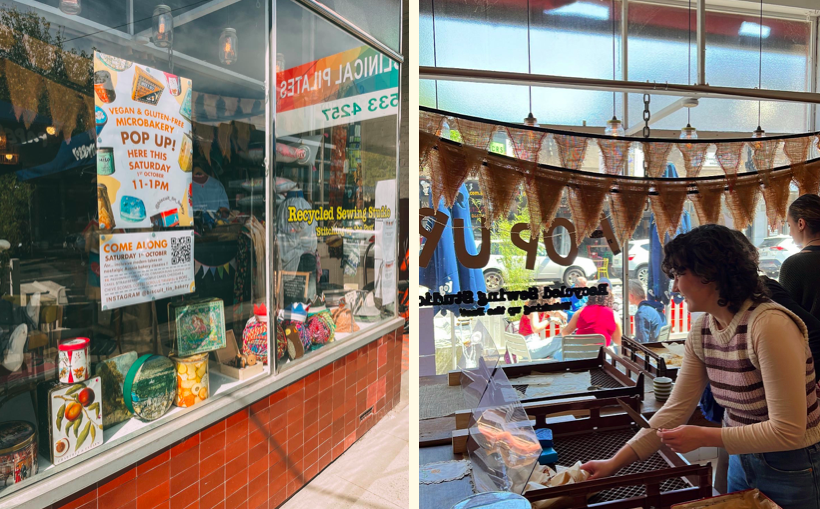 I'm in *how to process things* mode at the moment. Been staring at the screen for a hot minute, when I want to be outside in the sunshine with Merlin, so bare with - while I try to articulate the events of the past week.
Firstly, the pop up yesterday was a huge success in that everything sold out in 25 minutes. There was a decent queue & sadly most people missed out because everything flew out the door. I felt awful that people travelled only to miss out & even more awful that I failed to let people know by posting we'd sold out on my WrOnG insta account (gAh!). Just goes to show the brain was truly struggling by that point.
I made a little TikTok last week mentioning the launch & the algorithm did its work! 30K ppl saw it & I got a lot of last minute interest. When I remembered to ask how people heard about it (mostly those I didn't recognise), most said "from TikTok." But there were many faces familiar from HBOT-ness over the years & one  (hey Jo!) all the way from Canberra who happened to be in Melbourne, popped  by!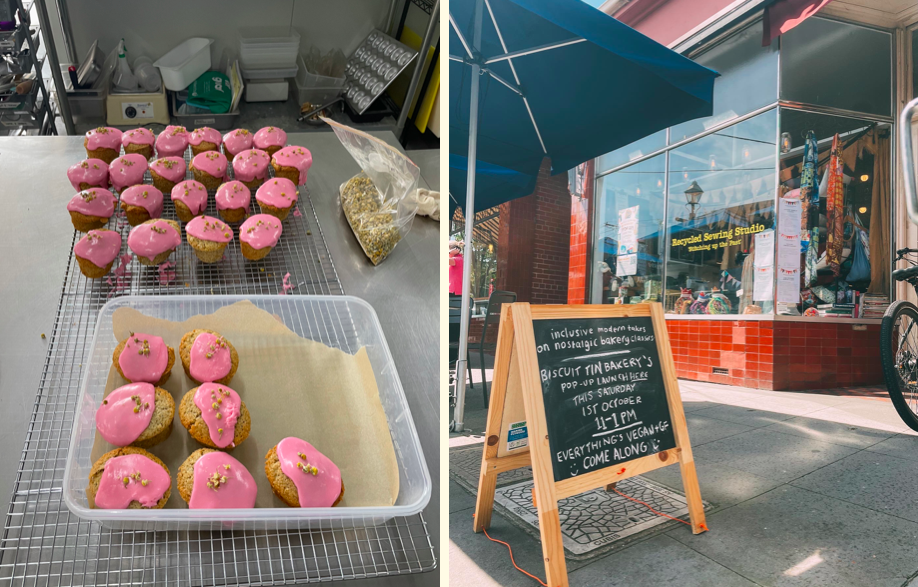 The beautiful weather, buzz of selling out so fast, seeing so many lovely, encouraging people & having heaps of help & support in the set-up/selling part - well and truly made up for the peak stress of the 48 hours before.
No less due to Merlin somehow swallowing another dog's medium-sized tennis ball (whole) on Thursday evening, while at the park with mum. We took him to the emergency vet & he couldn't bring it up so after an awful discussion about the risks and whether or not to resuscitate etc. they operated to remove it. He got through it & is ok, just not himself and sporting a line of staples down his abdomen, a singlet to stop him itching & huge cone.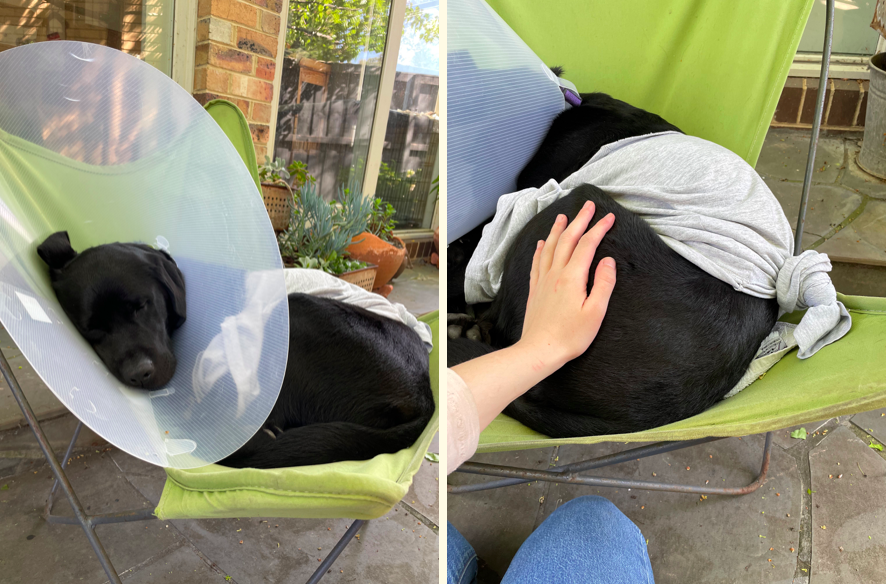 It meant that I didn't get much sleep Thursday night - before a massive day of baking. It felt like my priorities had completely 180-ied, except I couldn't do anything about it because I had to bake-bake-bake. I did the worst baking of my life as a result. The oven was also v hard to work with and just the general navigation of a new kitchen took up a lot of extra mental effort that I did not have. My dad helped with the cleaning up Saturday morning & ensured I got to Hampton in time. In the end, it revealed 101 things I would do differently (as it was bound to) - but I guess everything was compounded by the sheer level of exhaustion/stress about Merlin.
I got like 2 photos of the actual day, so apologies I have next to none to show you - my friend took heaps of gorg ones on a proper camera so they're coming (next newsletter)! Despite my embarrassment over how shabby everything looked (to me), the feedback was really good. On one hand - I'm so grateful everything sold fast so I didn't have to look at it & be reminded of how I was not coping. I know there are so many simple things I can do next time to make it infinitely more enjoyable for me too. Starting with making bigger batches of LESS things!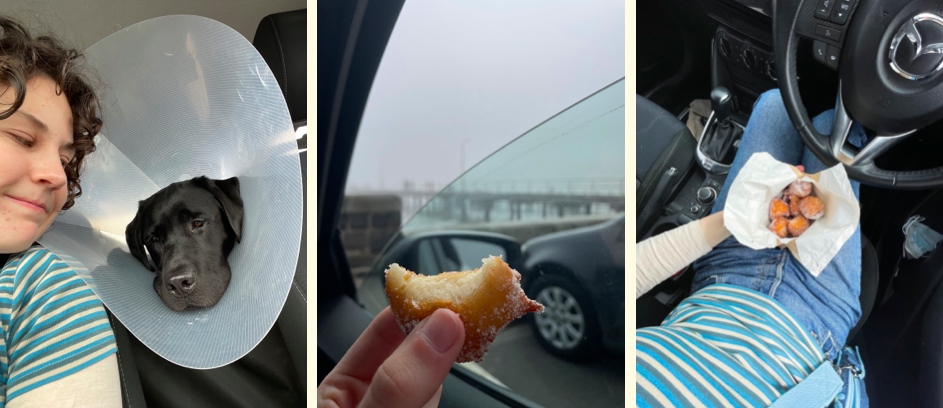 I probably won't decompress or shake out all of the stress for a while - I know it won't (it's can't) be that stressful again. But I truly do need a few days to think of anything-but & rest. This morning Merlin & I went for a little drive to get Sicilian Donuts from Ninna's Kitchen. He can't go on walks now, but I think he enjoyed the wind in his... cone (?), and the change of scene as we made on a start on them looking out to sea on one of the foggiest mornings I can ever recall. Fitting reflection of my inner state.
One last weird thing - as I was picking flowers for the cakes in the dark on Saturday morning, there was an injured Magpie who let me pick it up. I brought it inside for a bit before realising I didn't have the time to be of help - so I perched it in my neighbours garden and let them know (it soon flew away). But as silly as it sounds, it was the pick me up I needed. I know Magpies aren't v loved elsewhere (like in the UK for example) - but the ones we have here are pretty bad-ass and it was the grounding/center-ing animal moment I needed. And maybe a good-luck charm.
I leave you with these wattle-bird chicks growing away in our garden at the moment. How cute!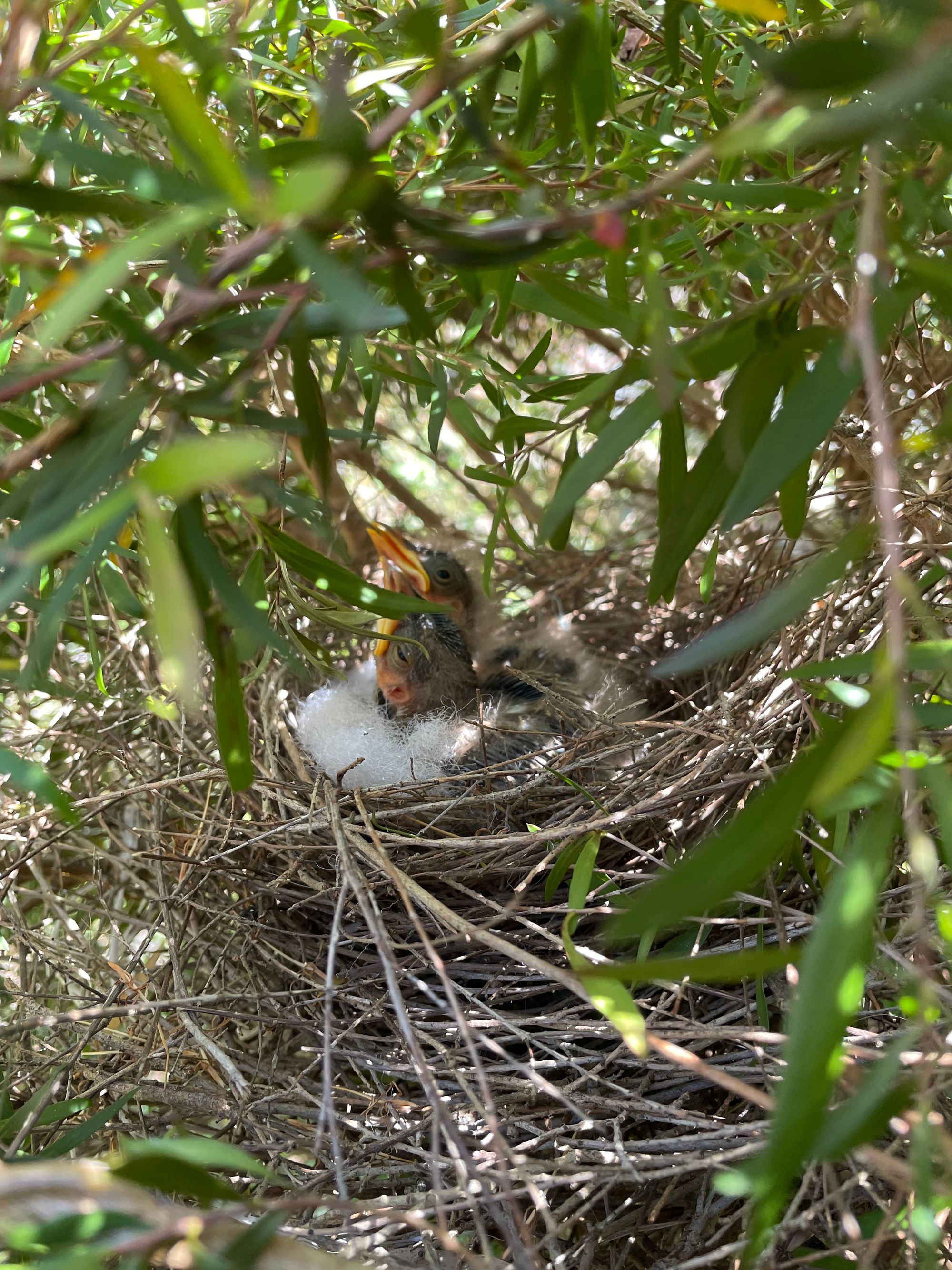 Thank you for reading & being here!
Phoebe & Merlin x
You can TIP MY WORK or ADJUST YOUR (free/paid) SUBSCRIPTION here 🖋️