Lentil Sausage Rolls
This is perhaps the most-loved recipe I have developed, with it being one I reguarly whip up for functions, events, picnics, parties and whatever else. They are so dang tasty, full of flavour, texturally on-point, morish and actually full of goodness when you consider that the base is merely oodles of brown lentils and oats. Yep, it's a savoury porridge essentially - yet how those ingredients result in such delicious vegan sausage rolls will always be a mystery.
This is a little sneak-peak from the cookbook - and will be the only recipe I'll be sharing. However, good-gracious it's a goodie :))!! This new and improved version is quicker to make, has less tricky ingredients to get your hands on, and has an even better texture than the previous recipe. I do hope you get your mouth around at least a couple of these in your lifetime, they're incredibly good - and yes the horn tooting is now over, on with the recipe ->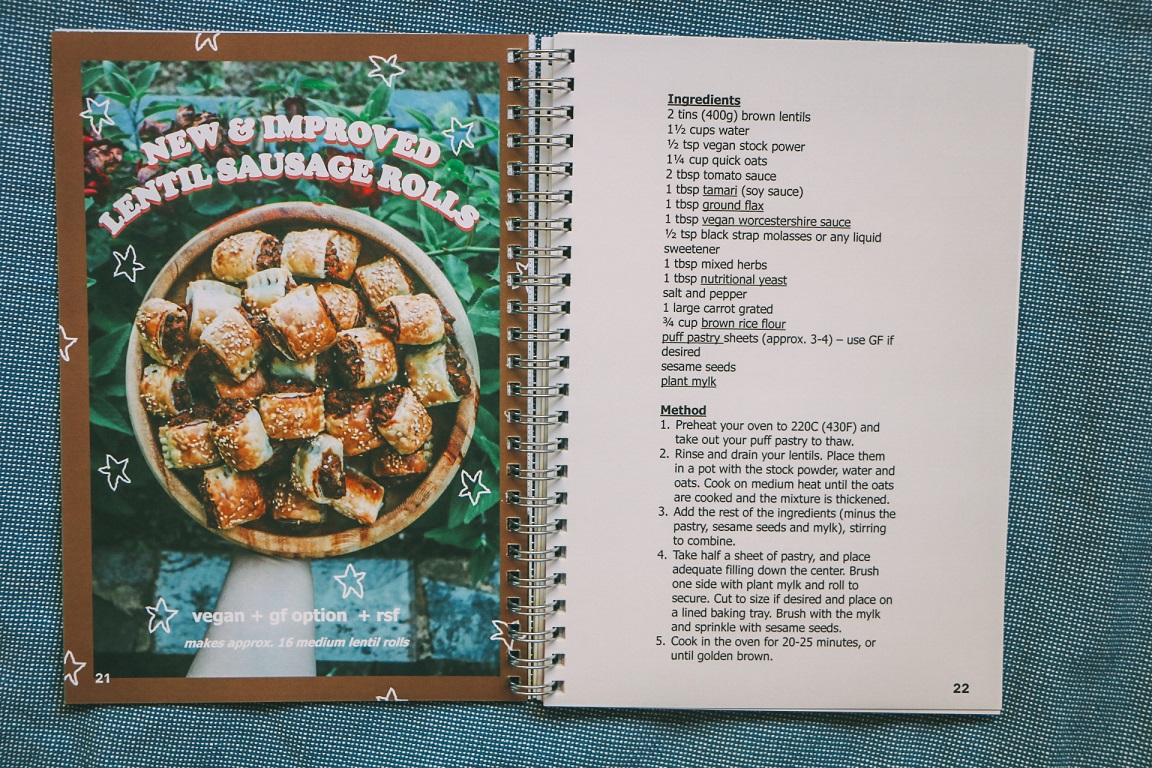 Ingredients
2 tins (400g) brown lentils 11⁄2 cups water
1⁄2 tsp vegan stock power 11⁄4 cup quick oats
2 tbsp tomato sauce
1 tbsp tamari (soy sauce)
1 tbsp ground flax
1 tbsp vegan worcestershire sauce
1⁄2 tsp black strap molasses or any liquid sweetener
1 tbsp mixed herbs
1 tbsp nutritional yeast
salt and pepper
1 large carrot grated
3⁄4 cup brown rice flour
puff pastry sheets (approx. 3-4) – use GF if desired
sesame seeds
plant mylk
Method
Preheat your oven to 220C (430F) and take out your puff pastry to thaw.
Rinse and drain your lentils. Place them in a pot with the stock powder, water and oats. Cook on medium heat until the oats are cooked and the mixture is thickened.
Add the rest of the ingredients (minus the pastry, sesame seeds and mylk), stirring to combine.
Take half a sheet of pastry, and place adequate filling down the center. Brush one side with plant mylk and roll to secure. Cut to size if desired and place on a lined baking tray. Brush with the mylk and sprinkle with sesame seeds.
Cook in the oven for 20-25 minutes, or until golden brown.