Hoppin' Johns with Tofu
Hoppin' Johns is a black-eyed pea & ham-hock stew traditionally eaten on New Year's Day in America's southern states. Being nearly May at the time of writing, here in the southern hemisphere this is a far from the traditional offering. Nor is it helped by my addition of tofu to this 1800s recipe. But as winter approaches here & cravings for bowls of warming nourishment emerge from the shadows, maybe you can spare my quirky timing.
I've added tofu because without the usual ham-hock inclusion I found myself "beefing" it up so to speak with tofu - so that it would convincingly fill me up. I grated my tofu, because I was interested to test out that technique, but you can cut it into cubes, rip it into chunks - whatever you like.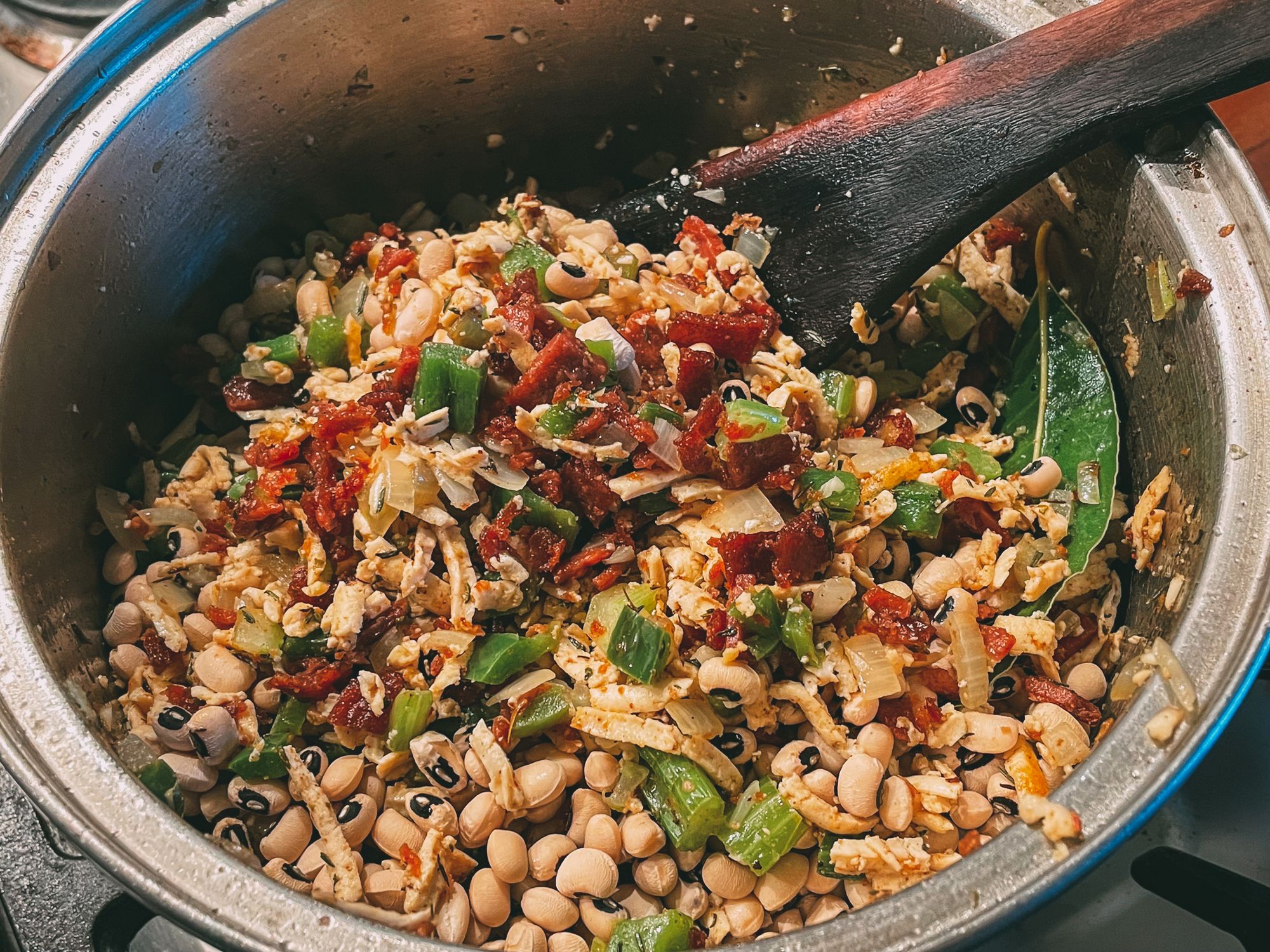 INGREDIENTS
sunflower oil (or other light-flavoured vegetable oil)
120g vegan bacon (Sunfed is GF), diced small
350g firm tofu, pressed dry & grated (or chopped into cubes, chunks etc.)
knob vegan butter
1  small onion, diced small
1  small green capsicum, diced small
2 sticks celery, diced small
1  bay leaf
2 tsp cajun seasoning
2 tsp dried thyme
2 cloves garlic, crushed
225g dried black eyed peas
1 litre hot water
salt, pepper, little sugar - to season
To Serve: long-grain rice, spring onion, avocado & lime juice
METHOD
Heat a glug of sunflower oil in a large bowl and once hot, add the vegan bacon. Saute over medium heat until the bacon is crisp, then add the grated tofu and cook until there's colour on some of the strands. Remove to a plate and put the pot back over the heat.
Add the knob of butter to the pot, along with the chopped onion, capsicum, celery and bay leaf. Saute until the veg is starting to soften. Add the cajun seasoning, dried thyme and garlic. Saute until fragrant and well combined.
Add the dried black eyed peas and hot water to the pot. Bring to the boil, then reduce the heat to a simmer & cook for approximately 1 hour, until the black eyed peas are tender and soft. Add more hot water during this time as needed, to ensure the beans are fully submerged. Add the bacon and tofu back to the pot for the last 10 minutes or so, if you do this any earlier they might start to disintegrate.
Before serving, season with salt & pepper to taste (remember the cajun seasoning is already quite salty) and a little sugar to make the flavours pop. Serve over rice & finish with spring onion, lime juice and sliced avocado.