Gluten-Free Buttery Miso Vegemite Noodles
These might not look like much, but close your eyes, go to your memory-smell bank and see if there's anything under cheesy-mite-scrolls. Now bring up all the best noodle experiences you've ever had. Oo! And add the feeling of being brought comfort food when unwell on there as well. This is a delicious umami-amalgamation of all that.
I've been spying Hetty McKinnon's Buttery Miso Vegemite Noodles (from To Asia with Love) for a while now - unsure if there was a gluten-free noodle out there that would gallantly hold ramen's fort. Yes you can purchase gf-ramen made from rice - but in my experience it doesn't really *hold* the sauce/grip it with gusto - rather it just slimes amongst it.
Well I found my answer! Wok ready "fresh" rice noodles. They're chewy like ramen/udon and although they look a little greyer than their wheaty counterparts, they do the job!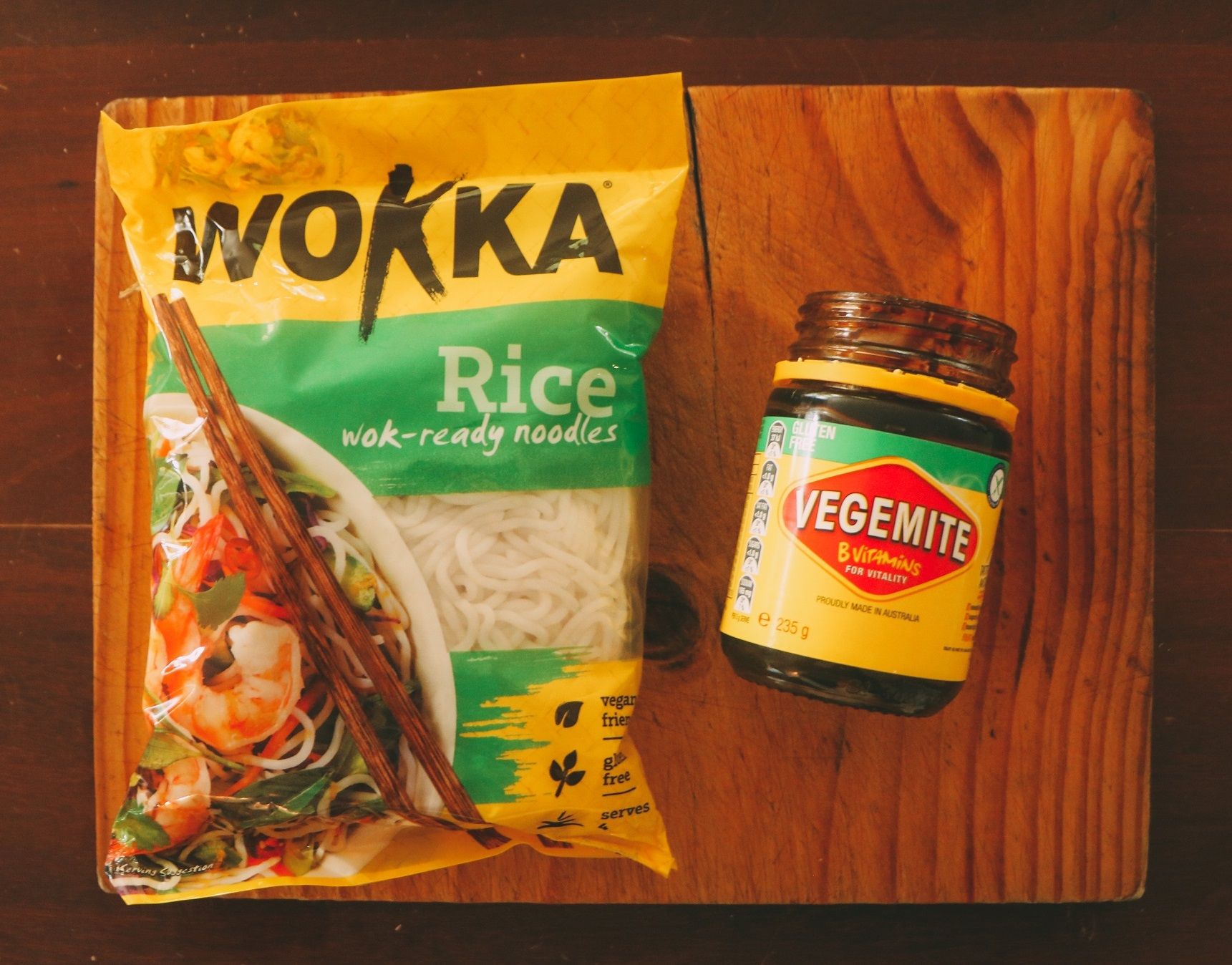 Pick up some gluten-free vegemite and you're ready to go-go. Gohd, this recipe is good! Thank you Hetty for your asain-australian magic! This is my version of her genuis recipe, adjusted to my salty preferences, while also vegan & gluten-free.
Ingredients
1 x 440g packet gluten-free wok-ready rice noodles (can sub for ramen)
60g vegan butter (I used nuttelex)
1  tbsp gluten-free vegemite
1  tsp white miso
1/2 tsp vegan chicken stock powder
pepper
1  spring onion, finely chopped
vegan cheddar cheese, to serve
Method
Boil your noodles in salted boiling water for 2-4 minutes, untangling with chop-sticks until tender and plump. Drain and rinse so they don't clump together.
In a medium fry-pan, melt the butter into a bubbly puddle, swirling round the pan. Take off the heat, and add the vegemite, miso and stock powder. Gently whisk into the butter to melt into a smooth 'sauce' of sorts. The miso will take the longest to disintegrate.
Add the noodles to the pan and gently toss everything together to combine. Season with pepper and sprinkle over the spring onion and a little cheddar cheese, before serving. You're in for one warm hug of a meal, enjoy!