Artichoke "Crab" Cakes
You can't mess these up. They're crunchy seafood-esque flavour bombs which fall into all the cliché categories, of crowd favourite, family favourite etc. etc. They're a simplified (while amped up) adaptation of Hot For Food's recipe which I included in my first cookbook.
Made with mostly shelf-stable ingredients, they're quick to throw together on a weeknight. I like to make them as small as my hands (and patience) can manage, when I'm just cooking for one, & eat them wrapped in a lettuce leaf dunked in peppery aioli. So good.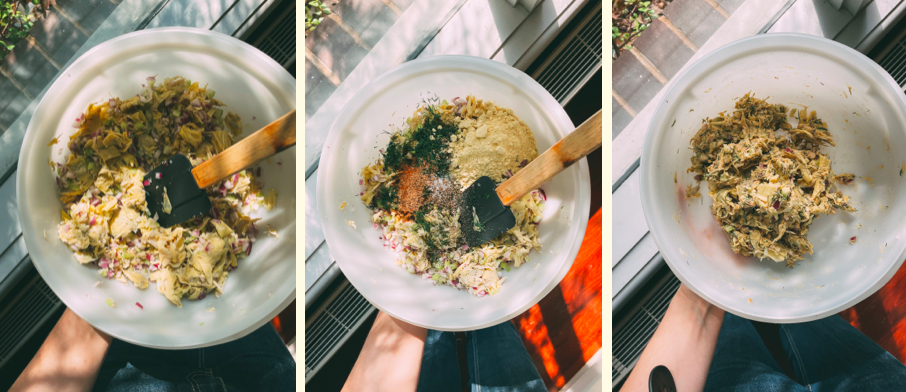 INGREDIENTS
1/2 red onion, finely diced
1 celery stalk, finely diced
2 x 400g tins artichoke hearts (or 2 1/2 cups worth), drained
1/4 cup unsweetened plant milk
1/2 lemon, juiced
1/2 cup chickpea flour
2 tsp coconut sugar, or other sweetener
2 tsp old bay seasoning (or 1/4 tsp celery salt)
small handful dill, finely chopped (or 1 tsp dried dill)
salt & pepper
Crumb
1/4 cup unsweetened plant milk
1/4 chickpea flour (or tapioca starch, cornflour)
GF breadcrumbs, amount will depend on how many cakes you make (eg. store bought or GF bread blitzed into crumbs - my preferred)
2 tbsp light-flavoured vegetable oil
Aioli
1/4 cup vegan mayonnaise
1  garlic clove, crushed
1/2 lemon, juiced
small handful dill, finely chopped (or 1/2 tsp dried dill)
salt & pepper
METHOD
Preheat your oven to 200C/390F.
Wash the drained artichoke hearts under warm water for a minute - massaging & breaking them up with your hands. You want a crumbly, meaty texture. This process will rid them of any "tin"/marinade taste they came in, so they can take on other flavours. Squeeze dry (really well) with your hands or in a tea-towel bon-bon.
Add to a large bowl, along with the red onion and celery. Mix to combine. Add the remaining ingredients and mix with a spatula (or your hands) until it reaches a chunky pasty consistency.
With damp hands, squeeze into dense patties of your desired size (I'd say urge on the smaller size, as they go up a size in the crumbing process). The mixture should make 8-16.
Put the crumbing flour, milk & breadcrumbs into separate dishes and crumb each ball in the order of flour-milk-breadcrumbs, pushing the breadcrumbs into the balls to form a secure, thick crumb. Place the cakes on a lined baking tray. Brush with a little oil & bake in the preheated oven for 15 minutes, before flipping, brushing with the remaining oil and baking for another 10 minutes.
Meanwhile, make the Aioli by combining all the Aioli ingredients in a small bowl and refrigerating until needed. Serve with the golden "crab" cakes.