Copycat KOJA Chocolate Peanut Butter Bars
KOJA bars are incredible. They're not as famous as your Cliff, Lara or other big names - but we have them here & they're pretty special. If you've ever had one, you'll know they taste a lot like fudge, but are a lot less sweat. They don't seem to melt because they're full of peanuts & they fill you up considerably.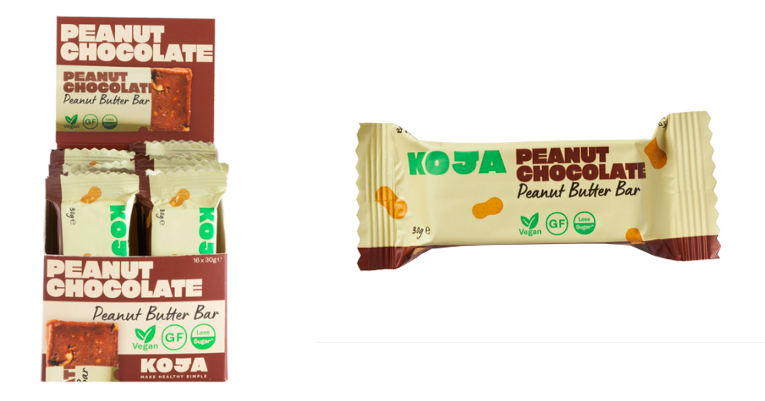 I was munching on one, one afternoon, when I turned the packet over & read the ingredients. Surely you could recreate these I thought. The recipe it practically printed out for you! As it turns out - with two attempts, you can! My recipe might not be as shelf-stable as theirs, which I suspect is down to a type of non-oil PB they use, but the taste & out of fridge experience is super spot on.
Goes without saying making a batch is far more economical too!
This recipe is in grams, due to how I went about testing it.
Ingredients
200g smooth peanut butter
150g rice malt syrup (or other liquid sweetener, although might change texture)
60g cacao butter
20g vegan dark chocolate (approx. 2 squares)
15g tapioca flour
20g cashew butter
1 handful unsalted roasted peanuts
1 handful buckwheat groats/kernels
1 handful cacao nibs
1 tbsp coconut sugar
1  tsp vanilla
pinch of salt
Method
Line a small brownie/slice tin (mine was 25x8cm or 10x3 inches) with grease proof paper, allowing overhang to remove your slice with.
To a medium saucepan, add the peanut butter, syrup, cacao butter, chocolate, tapioca flour and cashew butter. Put over low heat, gently stirring everything together until melted, combined & smooth.
Take off the heat and add the remaining ingredients (or the add-ins you fancy). Stir to combine. FYI, you add the sugar at this stage so it gives the bars a little crunch, hm!
Pour the mixture into the prepared pan, and refrigerate for at least 3 hours to set. Cut into bars & store in the fridge for up to a month or more.