Chocolate Peppermint Mousse Layer Cake
This is one stella-dessert Honeybunches! Chocolate at it's finest. The textures are a delight, the mint's not too minty. While it looks a bit intimidating to make, it's actually very do-oable. A heavenly chocolate short crust biscuit base sandwiches together a layer of choc-mint mousse with crunchy surprises of choc-mint biscuits dotted throughout. The top is layered with lusciously light minty cream and the whole thing is finished with flakes of shaved chocolate. Sublime. I'm getting quietly confident at the vegan/gf layer cake concept. I think a black forest variety will be next. Agh I'm salivating, time for the recipe!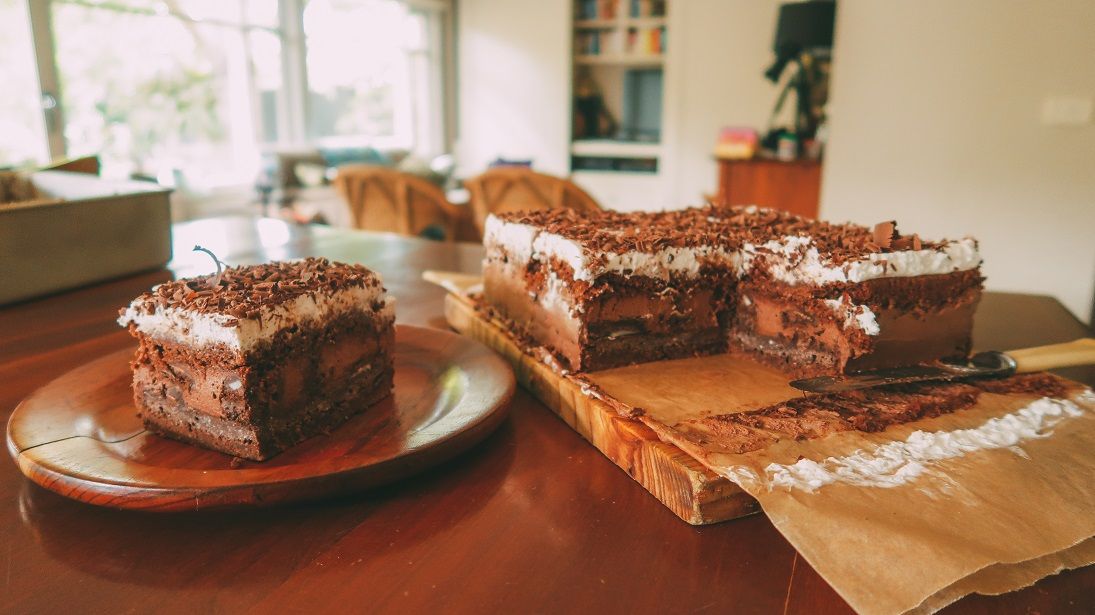 Make a day in advance, or leave at least 3 hours chilling time
Ingredients
Chocolate Short crust Biscuit Base
1 1/4 cups (125g) almond meal/flour
1 cup (135g) plain GF flour (or regular plain flour)
3/4 cup (100g) icing sugar
2 tbsp (30g) cocoa powder
pinch salt
150g cold vegan butter
Chocolate Mint Mousse
1/2 cup plant milk (I used soy)
1 tps agar agar powder
80g dark mint vegan chocolate (or use regular dark chocolate with 1/2 tsp of peppermint extract), chopped
300g silken tofu, drained
2 tbsp (30g) cocoa powder
2 tbsp nut butter
1/2 cup maple syrup
145g packet (or similar) vegan/GF mint slice biscuits (I used these), roughly chopped
Peppermint Cream
1/4 cup (or 1/4 tub) tofutti cream cheese (or similar vegan cream cheese)
1 cup natural COYO yoghurt
1 tbsp maple syrup
1/2 tsp peppermint extract
dribble vanilla essence
To Top
dark vegan chocolate shaved with a peeler/grater, enough to top
Method
Start with the short crust layers, by pre-heating your oven to 180C. Sift the almond meal, flour, icing sugar, cocoa powder and salt into a large bowl, and whisk to combine. Add the butter to the bowl, and using a fork or your hands, pinch the butter into the flour to combine. Switch to a wooden spoon when it becomes really buttery, and bring together into a very buttery mixture. Line and grease two 20cm square (or similar, alternatively you can bake them in the same tin one after another). Divide the mixture between the tins and with an oiled spoon spread out to the edges. It will appear that there is not enough, but there is the perfect amount to form a thin layer. Chill in the freezer for 10 minutes, before baking in the pre-heated oven for 20 minutes. Remove from the oven and set aside to cool. Remove the bases from their tins to a wire rack once cool enough to handle to speed up the process.
Meanwhile, make the mousse filling by pouring the plant milk and agar into a small saucepan. Stirring constantly, heat over medium heat until the agar has dissolved and the milk is just below boiling point (aka a few bubbles appear). Immediately take off the heat and tumble in the chopped dark mint chocolate. Whisk until the chocolate chunks melt completely into a glossy ganache.
Pop the remaining Chocolate Mint Mousse ingredients (bar the biscuits) into a blender or food processor, along with the ganache you just made. Blend until ultra smooth, scraping down the sides as necessary.
By this point your biscuit bases should have cooled considerably (if still slightly warm that's okay). Start assembling by first relining one of the tins with ample baking paper (so that you have two sturdy handles for removing the cake with). Pop one crust into the bottom of the tin and sprinkle over half the chopped mint slice biscuits (or similar). Pour over the mousse mixture and then sprinkle over the remaining mint slice biscuits before topping with the other short crust biscuits base. Gently press down so that the layers are sandwiching together. Pop in the fridge.
Make your Peppermint Cream by adding the cream cheese and natural COYO to a bowl and whisking with electric beaters until thickened and fluffy looking. Add the maple syrup, peppermint extract and vanilla essence. Whisk to combine, then spread over the top of the short crust biscuit biscuit base. Cover the top with cling wrap and transfer back to the fridge for 3 hours or overnight.
Before serving, sprinkle over the shaved/grated chocolate. Remove with those sturdy baking paper handles, cut with a knife dipped in hot water (if you can be bothered) and tuck in.