Vegan & Gluten-Free Cheesymite Scrolls
These have been super requested, and I get why! Layers of cheesy vegemite (or Marmite, Promite - I'm not puritanical about my yeast spreads) in a soft pillowy dough, is a hoot and bloody comforting! These were a strong feature of my childhood and many Australians who's diet was 15% Bakers Delight (one of two main bakery chains here).
These are my good-enough, 8/10, quick mix version. I don't think they're the BEST possible vegan and gluten-free cheesymite scrolls out there, I'm still working on that. But they're incredibly good & will satisfy your tastebuds, no doubt! Reheat the leftovers to return them to their optimal squidgy-cheesy state. Happy days :)
PRO TIP - DO NOT MAKE THESE ON A HOT DAY :)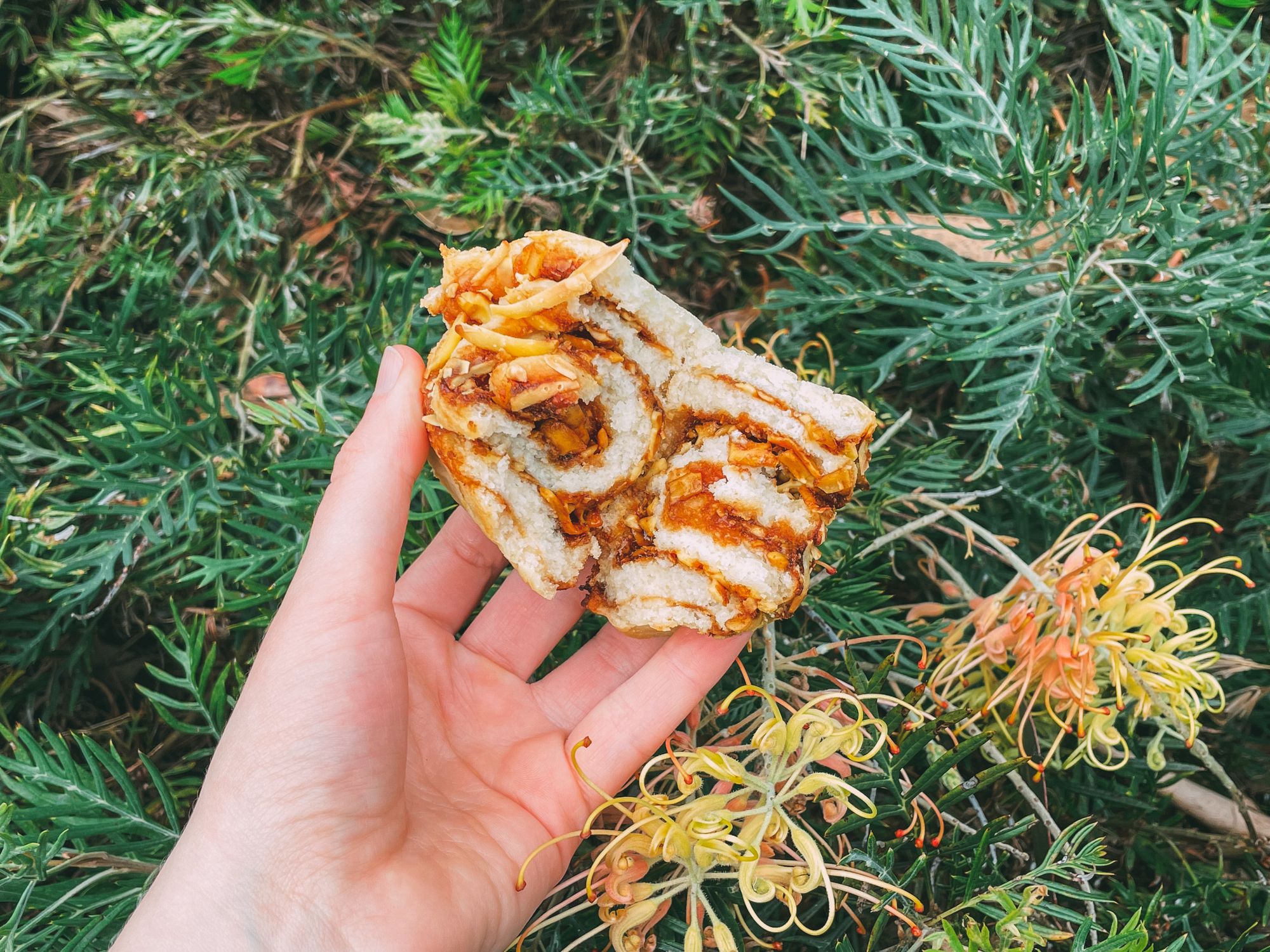 INGREDIENTS
170g white rice flour
70g glutinous rice flour
70g potato starch
12g (3 tsp) baking powder
1/2 tsp bicarbonate of soda
1/2 tsp xanthum gum
pinch of salt
100g vegan butter, (Nuttelex Buttery works well)
180ml (3/4 cups) unsweetened plant milk
3 tsp apple cider vinegar
To Spread
40g vegan butter
40g vegemite (gluten-free, if required)
200g vegan cheddar shreds
Other: tapioca starch (or another starch) & vegetable oil spray
METHOD
In a large bowl, combine the flours, potato starch, raising agents, xanthum gum and salt. Whisk to combine (it will get a little dusty). Add the vegan butter and rub it into the flours with your fingertips until the mixture resembles coarse crumbs. Refrigerate for 30 minutes to chill the butter (this is crucial, it's a fussy dough!).
After the 30 minutes, preheat your oven to 180C/360F. Measure out your plant milk and add the apple cider vinegar to form a buttermilk.
Take the butter/flour mixture out of the fridge and add the buttermilk mixture. Stir everything to combine into a wet, airy dough. It will look too wet to handle, that's ok.
Prepare a baking tray with baking paper and then rip off another large piece to roll the dough out on. Sprinkle generously with tapioca starch and rub more starch into a rolling pin. In a small bowl combine the extra vegan butter and vegemite, forming a soft brown spread.
Tip the soft dough onto the starchy piece of baking paper, and move it around, covering it in the starch to make it workable (no longer buttery to handle). Re-starch the baking paper and then gently roll it out (or press with fingertips) into a 25x30cm/10x12inch rectangle. Spread over the butter/vegemite mixture using an offset spatula, then sprinkle with the vegan cheese shreds, ensuring even coverage. Slice into 6-8 LONG strips (from short side to short side) and then carefully roll them up one by one using a dough scraper or similar to help if sticking. The dough is REALLY SOFT so be gentle with yourself (all roughness will resolve in the oven). Slide the dough onto a tray to put back in the fridge if it's becoming too hard to handle. Arrange the scrolls so they are touching each other, this way they won't unfurl in the oven. Refrigerate the scrolls once more for 10 minutes (again, it's worth it!).
Spray the rolls with vegetable oil (optional), then cover with tin foil & bake in the preheated oven for 15 minutes. Remove the foil and bake for another 15 minutes. Best eaten day off, otherwise reheat before eating.