Olive Oil, Orange & Bergamot Cake
Oh brother, get your cake forks ready. The combination of olive oil & bergamot (earl grey) was taken from a cake I saw resting on Jolene's shelves (an iconic group of London bakeries). As I was attempting a version myself, I added orange for fragrance and freshness, and the result is the loveliest tea cake I've ever gobbled up. Every time I've made this, it's been gobbled up in 48 hours (which for this cake-jaded household, is significant!). It's not too sweet & has a tight, lightly chewy crumb.
This is a one-bowl, aquafaba free gluten-free cake recipe! Which if you know anything about the fickleness of gluten-free baking, will grab your attention. It's simple, fast to throw together and doesn't contain any odd ingredients. Although you do need to use Bobs 1:1 mix for the exact same result. If you use another GF mix, then I'm sorry it will come out different. Whether that's good different, I don't know. But since Bobs is available at most health food stores and independent supermarkets these days, I hope this stubborn-insistence doesn't grind your gears too much.
I generally keep my vegan/gf baking recipes close to my chest because of my microbakery, so this one feels like a gift! I hope you enjoy it as much as I do.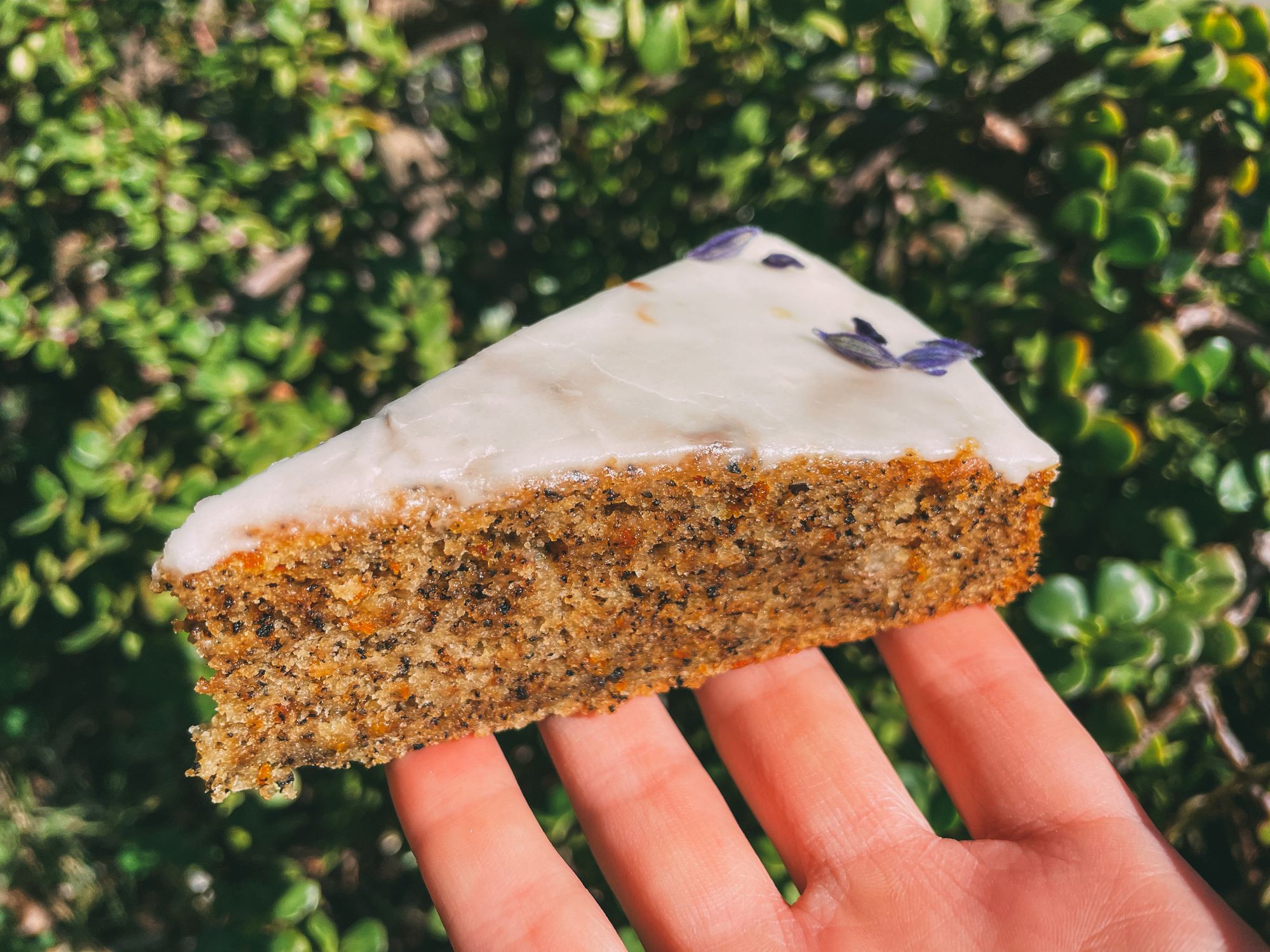 INGREDIENTS
Dry
zest of 2 oranges, finely chopped
6 earl grey tea bags, leaves only
115g castor sugar
140g bobs 1:1 gluten-free flour blend (I make my own)
90g almond meal/flour (room temperature)
85g brown rice flour
1  tsp baking powder
1  tsp bicarbonate of soda
1/4 tsp xanthan gum
pinch of salt
Wet
135g (1/2 cup) plain non-dairy yoghurt, eg. coconut, soy, almond
180ml (3/4 cup) non-dairy milk (with minimal additives)
50g olive oil
50g light flavoured vegetable oil OR vegan butter, melted
1  tsp vanilla
1  tsp apple cider vinegar (or other light coloured vinegar)
Icing
12g coconut oil (refind or not), melted
juice of 1/2 orange (use one zested for the cake)
100g icing sugar
METHOD
Preheat the oven to 160C/320F. Grease & line a 24cm/9inch (or similar) round cake tin.
In a large mixing bowl add the orange zest, earl grey tea and castor sugar. Using your hands or a spatula, work the orange and bergamot perfume into the sugar for a couple of minutes. Add the remaining Dry ingredients to the bowl and whisk to combine. Press out any almond meal lumps with your hands/spatula. Make a well in the centre of the bowl.
Add the Wet ingredients to the well & whisk from the centre outwards to gently combine. The mixture will be thick, this is correct.
Spread the mixture into the greased & lined baking tin and smooth over the surface with your spatula. The mixture will even out as it bakes, so don't fret about spatula-tracks. Bake in the preheated oven for 30 minutes, or until coming away from the sides of the pan and showing slight spring-back when lightly poked with your finger. Set aside for 10 minutes, then remove to a cooling rack to come to room temperature.
Once cool, make the Icing by whisking the melted coconut oil, orange juice and icing sugar together in a small bowl until smooth. Spread the icing over the cake to the edges, letting it spill over the sides. It should set in a couple of minutes, in which time it's ready to eat. You can store this cake at room temperature or in the fridge (it will stay moist in both climates).