Vegan Spiced Tofu Benedict // GF + RSF
05 / 08 / 2018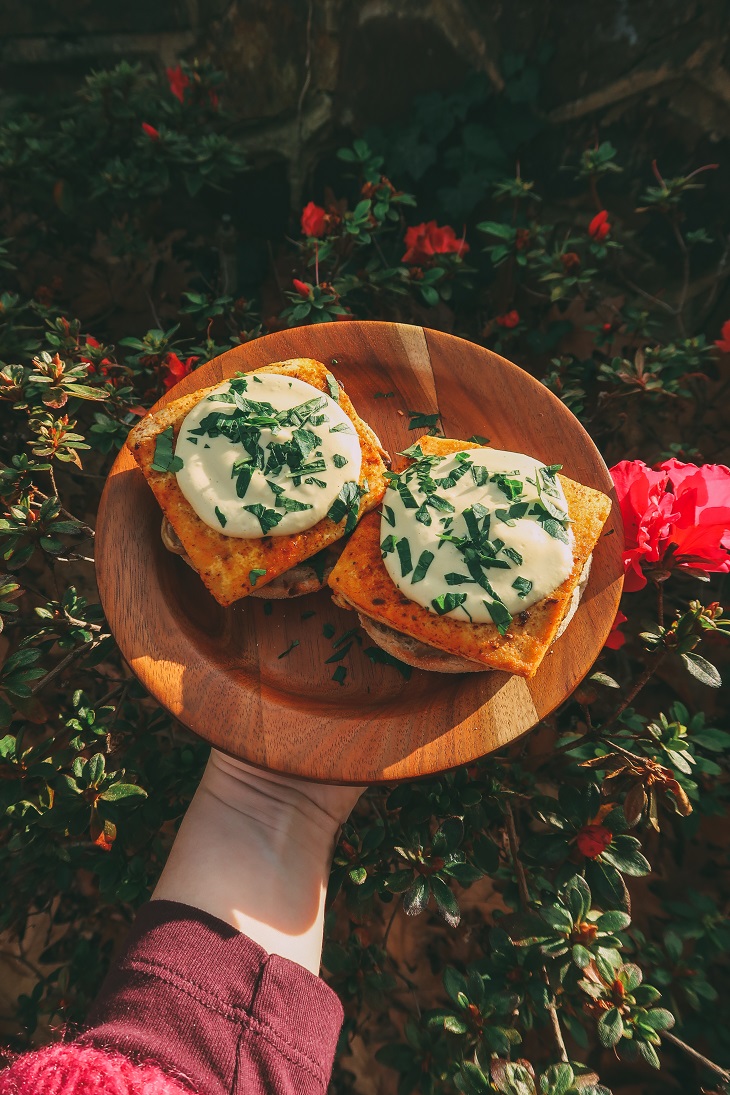 I have to be honest here and say that eggs benedict was never a real favourite of mine pre-vegan days so when it came to veganizing it for my favourite film ever This Beautiful Fantastic I was slightly hesitant. But with most vegan food recreations, your tastebuds are more than willing to give the vegan version a go. And as an alternative to tofu scramble or any other number of vegan "egg" focused breakfasts - this one does pretty darn well for itself. The sauce is so simple to whip up making this whole thing come together in no time at all. Plus a neat little stack ontop of an English Muffin is one lovely looking breakfast/brunch to behold. Enjoy honeybunches!!
Makes enough sauce for 6+ vegan bennedicts
Ingredients
2/3 cup almond meal (otherwise known as almond flour or ground almonds)
3/4 cup unsweetended soy milk
1/2 tsp vegetable stock powder
1 heaped tbsp nutritional yeast
1 tsp dijon mustard
2 tbsp grapeseed oil (or any light flavoured oil)
1 lemon, juice only
1 tsp white wine vinegar
sprinkle of turmeric
pinch of black salt (or regular salt, if that's what you have)
pinch of pepper
firm tofu
paprika
turmeric
black salt & pepper
to serve: sauteed mushrooms, spinach, tomato & english muffins if desired.
Method
Make the hollondaise to begin with by combining the ingredients from the almond meal all the way down to and including the "pinch of pepper" in a high powdered blender until smooth and combined.
Transfer the sauce to a small saucepan and gently heat until warmed through, then set aside/keep on low heat until needed.
Take your firm tofu and cut off as many slices (around 1 cm thick) as you are wanting to top your english muffins with. Take some paper towel and press firmly on each side of the tofu to draw out some excess water.
Next sprinkle each side of the tofu with the paprika, a little turmeric for colour (not a lot as you'll taste it pretty easily), black salt & pepper - rubbing the spices and seasoning in with your hands.
Heat a little oil in a non-stick pan and fry off your tofu slabs for a couple of minutes on each side until looking slightly brown & golden and smelling fab.
Serve your tofu "eggs" on toasted english muffins with some sauteed mushrooms, spinach and even tomato if you fancy. Finish with the hollondaise sauce and tuck in. Deeelish!
---