Vegan "Cheesy" Popcorn // GF + Refined Sugar Free
18 / 08 / 2016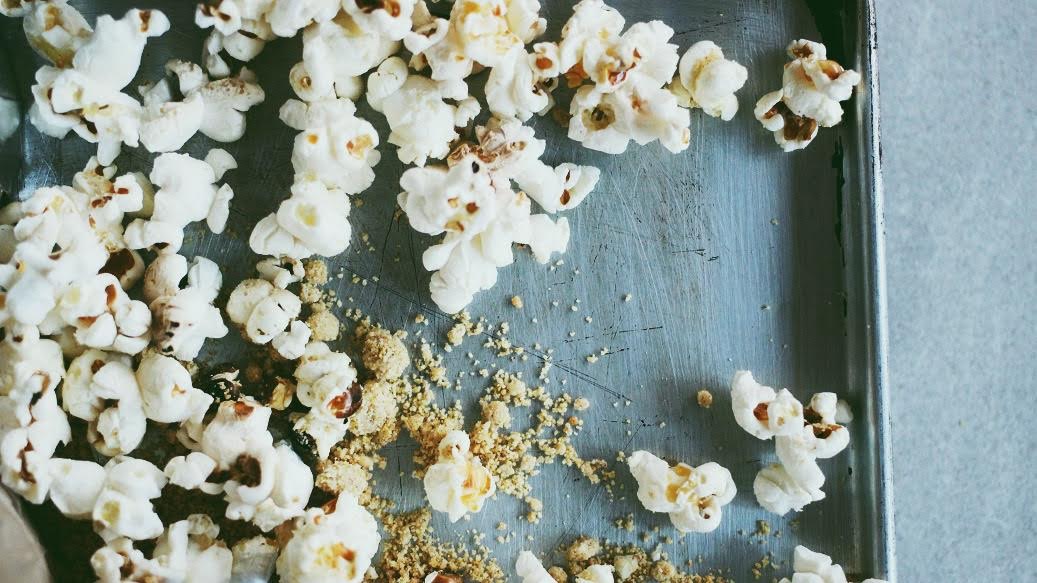 There are so many possibilities to the world of popcorn - it's incredible. This is a "cheesy" variety for you all, but I would expect to see a variety of different flavours in this space in the future. Cinnamon Crunch, Choc-Caramel, Salty-Sweet, ahh the list goes on. But focus, focus!! This recipe is pretty delicious and like all my best recipes it came into being out of the blue - when I had a weird thought and then "bam" it all came together all to easily. The recipe is quite fool-proof too - so if you continue to label yourself as someone who can't cook then do not fear, this is the one for you!! The earthy corn puffs with this salty subtle "cheesy" flavour works a treat, making it the perfect snack and party feature. I'm sure people will be coming back for more - and most importantly, not batting an eye-lid at the vegan ingredients. Score!!
Ingredients
1/3 cup raw cashews
1/3 cup raw almonds
1/3 cup nutritional yeast
1 tsp garlic powder
1 tsp salt
1/2 cup popcorn kernels
1 tbsp grapeseed oil/any light flavoured oil
Method
To make the Parmesan that you will be sprinkling onto the popcorn, simply blitz the first five ingredients in a blender/food processor until it resembles the 'non vegan' cheese variety.
Grab a large fry pan or any non-stick pot with high-ish edges. Place on the heat and add the oil - waiting it to become very hot.
Once the oil has a few small bubbles appearing near the surface, add a few of the kernels and wait until they pop. Add in the rest of the other kernels and cover with a lid, shaking and tossing the pot so the kernels don't burn. This is the hardest part of the recipe as you need a bit of strength and patience.
Once all the kernels have popped (or you no longer hear any popping sounds) remove the pan from the heat. Toss through the Parmesan either in the pan or in an another bowl - so that the kernels get the "cheese" in amongst it's divots and grooves. If you find that it is not really sticking, you can always try lightly spraying the popcorn with water, yet be careful not to over-do it, as it can easily make the popcorn go soggy.
Store in an air-tight container and enjoy!!
---