Movie-Night Loaded Vegan Hot-Dogs // RSF
07 / 04 / 2018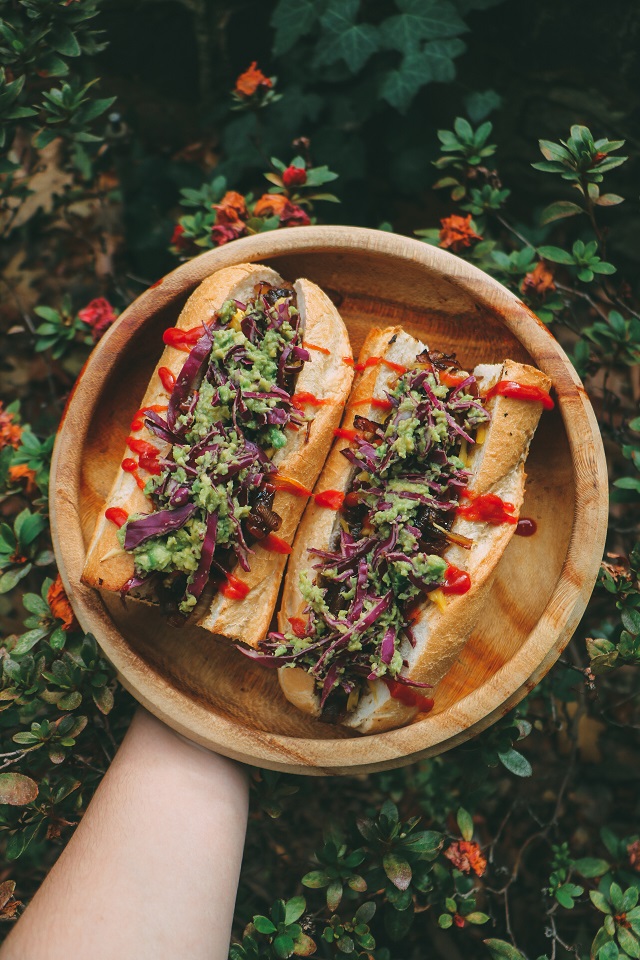 There is something incredibly satisfying about anything that's labelled as 'loaded'...I think anyway. It means maximum flavour and a party for your taste-buds!! These are super chill, yet mega scrumptious loaded vegan hotdogs that are sure to impress your friends. I say chill as the recipe is mostly a guideline as you might just want to make one or 10 - who knows, and this "recipe" will help you achieve your vegan hotdog dreams. The crunch, savoury-ness, sweetness, bitterness, everything-ness is mega swell here honeybunches, and if you don't like mustard, swap it out for pesto for an even more impressive bun of your dreams.
Serves - as many as you want it too
Ingredients
vegan sausages
bagette or hot dog buns
onions, cut into half-moons
coconut sugar
red wine vinegar
avocado
lemon juice
salt & pepper
red cabbage (thinly sliced)
vegan cheese, grated
mustard
tomato sauce
Method
Start by caramelising your onions. Whack a pan on the heat (with a little olive oil for best results) and then saute your onions (1 medium onion per person is a good start) until soft and slightly brown. Keep them going over medium heat, adding 1-2 tbsp of coconut sugar and a generous glug of red wine vinegar to help it along and to de-glaze the pan. They are ready when dark in colour and tasting insane (about 15 minutes).
Meanwhile, cook your sausages according to the packet instructions, or just in a pan with a little oil until crunchy on the outside.
Cut open your buns, set aside, and grate your vegan cheese, setting that aside too.
Turn your oven on to it's highest heat/the grill setting.
Make your guacamole by mashing your avocado (1 avocado for four people works) until smooth with a fork. Mix in a squeeze of lemon juice and a generous pinch of salt & pepper as well. Finely shred a handful or so of red cabbage, break apart with your hands and mix thoroughly into the guacamole. Set aside.
When your sausages and onions are done, build up your hot-dogs by spreading the insides of the buns with a little mustard (if desired), adding a sausage, a generous amount of caramelised onions and then a sprinkle of vegan cheese shreds. Place in the pre-heated oven for about 5-7 minutes, or until the buns are slightly crunchy and the cheese it slightly golden.
Top the sausages with the guacamole mixture and drizzle with tomato sauce to finish. Voila! Enjoy honeybunches!!
---