Falafel Summer Rolls // Vegan + GF + RSF
25 / 01 / 2017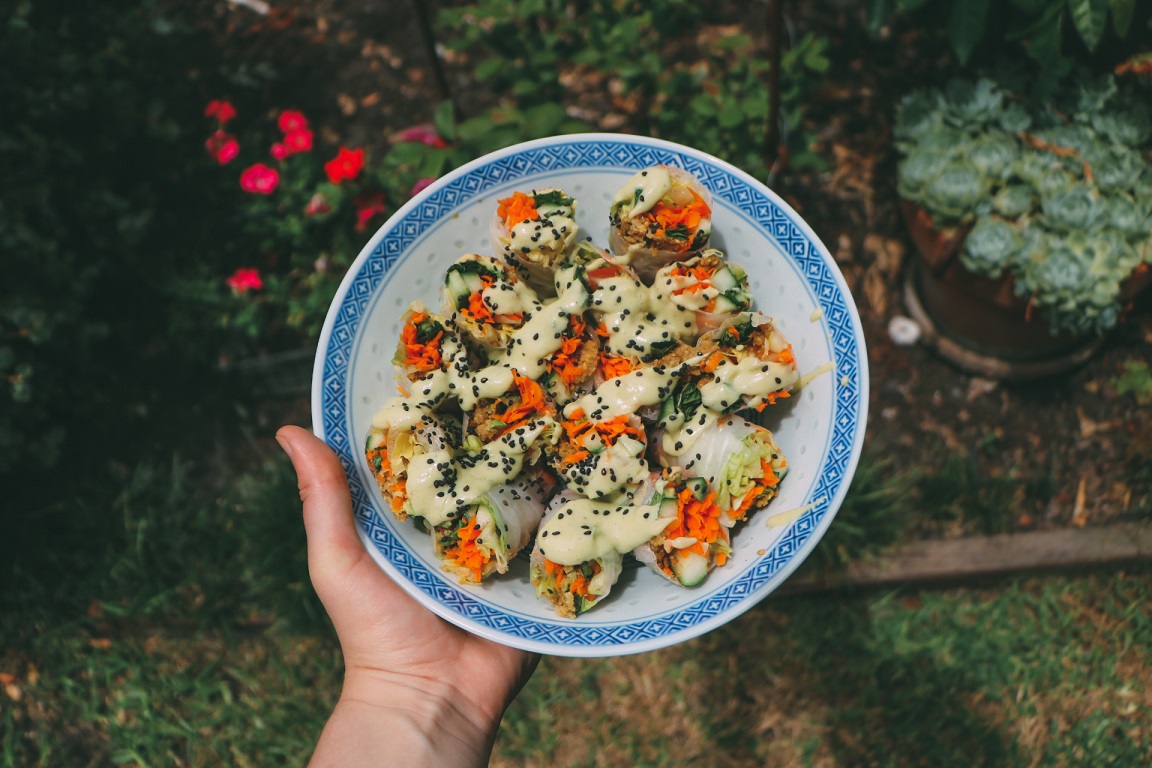 Now I am pretty sure you won't have had a falafel summer roll in your life. It is a slightly wacko fusion of cuisines, but I have to say it works perfectly. The rich earthy-ness of the falafel in these rolls is wonderfully balanced with the other salad ingredients that go with it. It's very much like a lighter wrap, that is just perfection when teamed with this ranch sauce. I've been eating these all summer long, and I highly recommend you do too (if you're currently in the southern hemisphere that is, yet if not then the falafel in them kind of makes them suitable to all seasons - do they not?). Make a big batch, as your friends will be wanting more I promise :))
Serves 4
Ingredients
1 x packet of GF vegan falafel mix (try health food isle), or pre-made vegan ones
1 packet of rice paper sheets
1/4 iceberg lettuce, sliced into shreds
2 large ripe tomatoes
1/2 avo, sliced thinly
1 1/2 cucumbers, cut into thin strips
2 carrots, grated/shredded
1/2 mint bunch, leaves picked
1/2 basil bunch, leaves picked
RANCH SAUCE
1 ripe avocado, flesh only
1 cup unsweetened almond milk
1 lemon, juiced
1 tbsp apple cider vinegar
1 tsp maple syrup
1/2 tsp garlic powder
1/2 tsp onion powder
1/2 tsp dried oregano
1/2 tsp salt
1/4 tsp dried dill
(recipe for sauce adapted from 'But My Family would Never Eat Vegan' By Kristy Turner)
Method
Start by preparing the falafel mixture according to the packet instructions. When ready to cook, scoop out the mixture and place in a large zip-lock bag. Cut a 1cm snippet in one corner, and lay down to rest somewhere while you heat a tbsp of oil (or you could do oil free) in a large non-stick pan. Once oil is hot, squeeze out 8cm-ish worms of the mixture. Repeat until the pan is covered in falafel worms, and flip once when crispy. Repeat with remaining mixture, and set cooked falafels aside until needed on a plate lined with paper towel to absorb any excess oil.
Next, make your sauce by blending all ingredients in a blender until smooth. Pour in a jar, secure lid and place in the fridge to chill until needed.
Get all your filling ingredients out (including your cooked falafels) and ready at your rolling station. Boil the kettle and prepare a shallow large bowl with warm-hot water to soften the rice paper sheets with.
Now it's time to start rolling, so get out a board and place a wet tea towel over it. Start to soak a rice paper sheet, and remove when soft, but not mushy. Line up a little of each filling in a 3cm x 10cm rectangle a little off centre. Fold up from the bottom, start rolling away from you, then flip each side, and continue to roll away - all the while ensuring tightness to create a compact roll. Set aside on a plate, and repeat with the remaining roll ingredients.
If not serving immediately, cover with a wet tea towel. Otherwise, serve with the sauce - and enjoy!!
---