Vegan & Gluten-Free Vanilla Cupcakes w Chocolate Buttercream
25 / 01 / 2019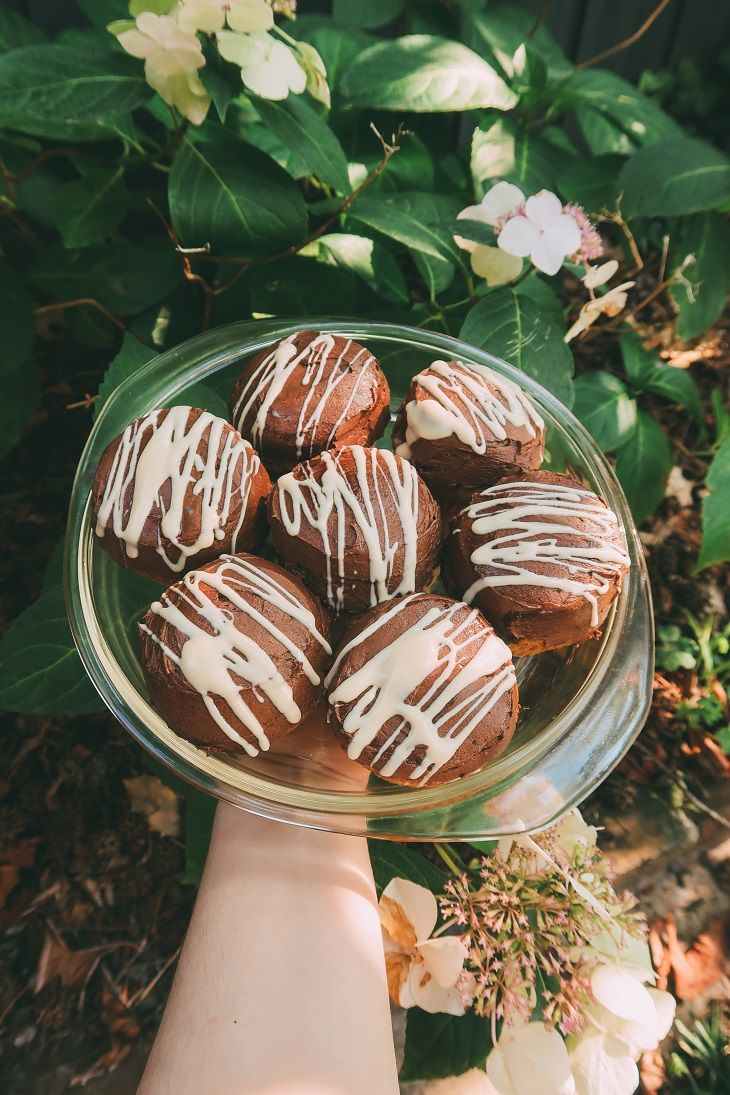 Gluten-Free cupcakes are a pain up the bum to do if I'm being frank. Well all gluten-free baking is a pain if we want to speak the truth here. But hey - it's still possible and these cupcakes are definetly grand to boot, so if you have a GF pal around, brighten their day with these beauties. Or alternatively, whack this epic icing on any cake of your choice, as it's seriously good. It's a proper buttercream and one that I am definetly going to turn to for every baking need I have around the corner. Okay I hope this recipe helps you out honeybunches, and makes your tastebuds sing!
Makes 12 Cupcakes
This is a recipe from one of my early experiments in vegan AND gluten-free baking. It's still a good recipe, but it's a little dry and I've improved upon my techniques since publishing. I leave this recipe up though for those who've made it and loved it, as well as to show my progession in this department over time.
Ingredients
1 1/2 cups GF plain flour
1 cup caster sugar
pinch of salt
1/2 tsp xantham gum
2 tsp baking powder
1 tsp bicarbonate of soda
1 1/2 cups unsweetened plant milk
1/3 cup grapeseed oil
1 tsp vanilla (paste/extract etc. your choice)
Chocolate Buttercream
1/3 cup vegan butter
1/4 cup vegetable shortening, softened (I used COPHA, and I'm in Australia)
1/2 cup cocoa powder
1 tsp vanilla
1/3 cup unsweetened plant milk
2 1/2 cups icing sugar
Method
Preheat your oven to 180C.
In a large bowl, sift the first six ingredients together (aka the dry cupcake ingredients). Whisk to combine & finish by creating a well in the center.
In another bowl, combine the remaining cupcake ingredients. Mix the wet mixture into the dry by pouring it into the well and gently mixing by broadening your circle to incorporate the dry ingredients without creating many lumps. Ensure there is no flour left at the bottom of your bowl.
Pour the mixture into 12 lined (or greased) muffin/cupcake holes, so that they are about 3/4 full. Bake in the pre-heated oven for 25-30 mintutes or until a skewer inserted comes out clean.
Meanwhile make your icing by beating your butter and shortening together until smooth & combined (with an electric mixer if you have one). Add in the cocoa powder & vanilla, beating again until combined. Then add the plant milk along with the icing sugar in the same go, and then beat everything together to combine. Feel free to add the icing sugar in increments if that works best for you. Chill until needed.
Once your cupcakes have cooked and have cooled to room temperature, ice them with the buttercream and enjoy!
---