Tofu Veggie Rolls // Vegan + GF + Oil Free
02 / 01 / 2016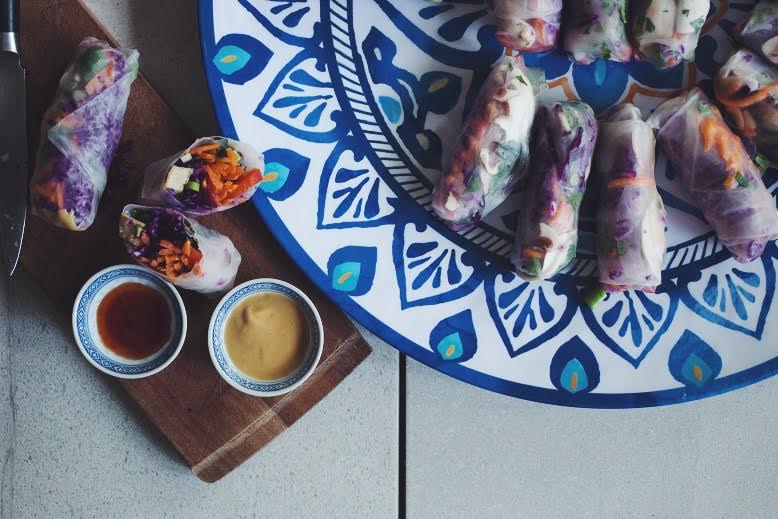 These are a staple in life. Have one of these in your hand and you can conquer the world. Okay not quite, but they are the absolute best and if you haven't tried them we can still be friends, but just make them ASAP, okay? Okay. They are mostly raw, and could easily be made without cooking the tofu - it's actually pretty much the same, only I cook it just so there is something warm in the rolls. Idk - personal choice I guess. This is my absolute favourite combination of veggies, but experiment and find your own. This recipe makes enough for 4, or 24 rolls.
MY TOP FIVE TIPS:
To form a fast assembly line, place the next rice paper sheet in the water before you are about to roll the rice paper you are working on.
Always maintain a pressure towards you while rolling the roll away from your body. Sounds confusing, but this is how you achieve a taught roll.
Have the mushroom, carrot and cabbage take up the majority of the filling.
Make the tofu the star of the roll, and hence stop production when it runs out. Save the rest of the veggies for a another dish (aka - salad, tofu scramble or sandwich)
The more the merrier - although you might run and hide halfway through rolling seeing the mountain of ingredients that remain, you'll thank me when you're done, as they go fast.
Ingredients
rice paper
green onions finely chopped (5 ish)
1/2 red capsicum sliced into sticks
1/4 purple cabbage finely sliced in a food processor
6 mushrooms finely sliced in a food processor
2 large carrots peeled and grated
mint finely chopped
coriander (cilantro) finely chopped
200g of teriyaki tofu cut into strips (approximately 24) and pan fried
Method
Prepare all your vegetables and place them on a tray.
Prepare your station with the veggie tray, a bath of warm water and a boiled kettle near bye to keep it hot, a board with a damp tea towel laid on top, and a plate to put the finished awesomeness on.
Start by soaking the rice paper in the water. It should hold its shape and not be floppy on removal. Assemble veggies in a small rectangle shape, towards your side of center. Roll by pulling the bottom up and gently pulling the filling tight by pushing it towards you. Now roll half way, flop the left and right side in and continue rolling until complete.
Continue until all the tofu has been used, remembering my top five tips mentioned above.
---