The Ultimate Comfort Vegan Toastie // GF + Nut Free + Soy Free
27 / 01 / 2017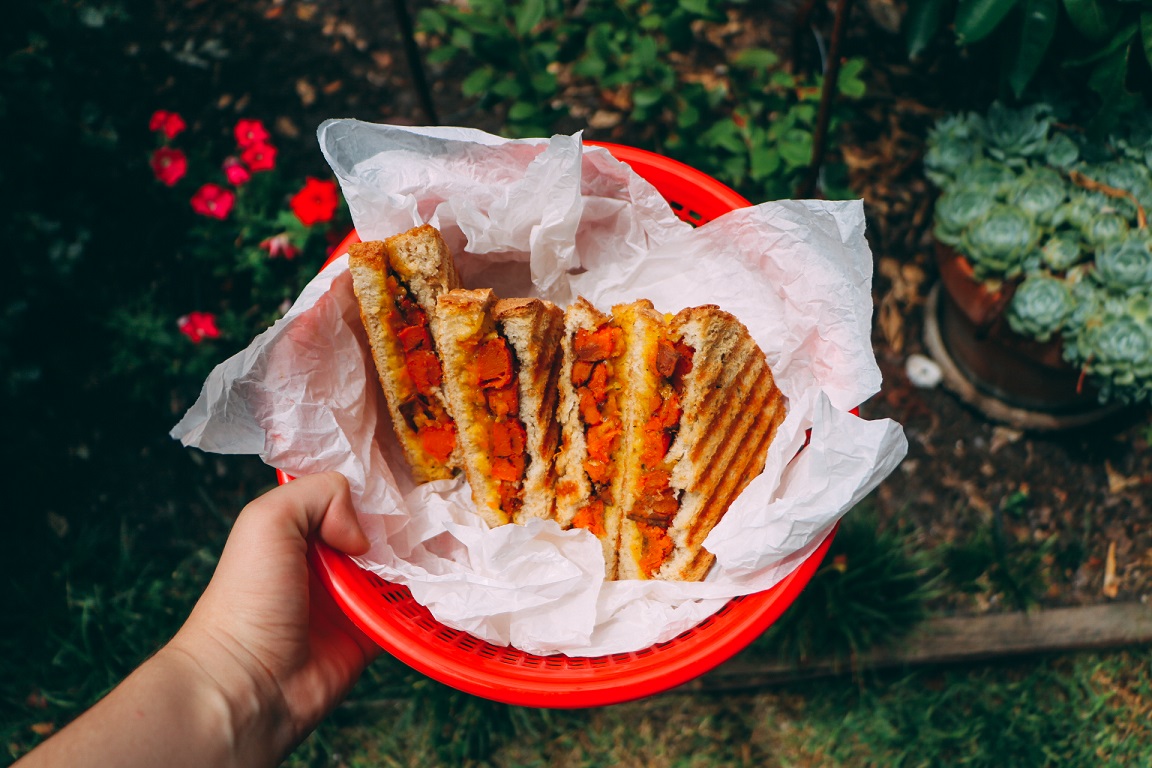 I don't drink, yet I imagine from all the Hollywood movies that have clued me in on what people like to eat the morning after - this could be a solid option. It's the ultimate comfort (and convenience) food wrapped into one. I hate to make yet another HP reference, but it really does take on Butterbeer's loveliness of serving the purposes of a "warm hug". It's incredibly simple and can be made up with leftovers in the fridge. If you'd like to make this GF then opt for a sourdough or GF loaf, while if oil free is your priority then use up some leftover nacho cheese sauce you have in the fridge. You can also use any dip of your choosing, yet keep in mind it is the vehicle for adequate seasoning. So while you can't exactly taste all the flavours of the dip, it will ensure your Toastie is seasoned to perfection.
Makes 2+ Toasties
Ingredients
1 large sweet potato, cut into cm chunks
1 1/2 tsp oregano/Italian herb mix
1 tsp sweet paprika
1 tsp onion powder
1/2 tsp garlic powder
2 slices of vegan cheese (or leftover cheese sauce)
3 tbsp starch based vegan dip (I used carrot and coriander)
nuttelex/vegan butter (optional)
4 slices of quality bread (homemade/sourdough/GF etc.)
Method
Pre-heat the oven to 200C. In a large bowl combine the sweet potato chunks with all the spices. Toss until coated, then spread out on a lined baking tray. When the oven is suitably hot enough, cook for 30-40 minutes, until thoroughly tender and golden. Set aside.
Grab your slices of bread, and spread out the chosen dip thickly onto two pieces. Top with one slice of vegan cheese on each, and then take your remaining two pieces and smoosh a generous amount of potato onto each slice with a fork.
Bring the two side of the sandwiches together, then (if desired) thinly spread the exterior sides of the sandwiches with your vegan fat of choice.
Turn on and heat up your sandwich press/waffle iron/frying pan, and once warm, toast your toasties into perfection. Ensure the cheese is gooey and melted, then remove, slice into 2 triangles, pop on a plate and devour.
---