The Best Overnight Oats // Vegan + GF + Refined Sugar & Oil Free
29 / 02 / 2016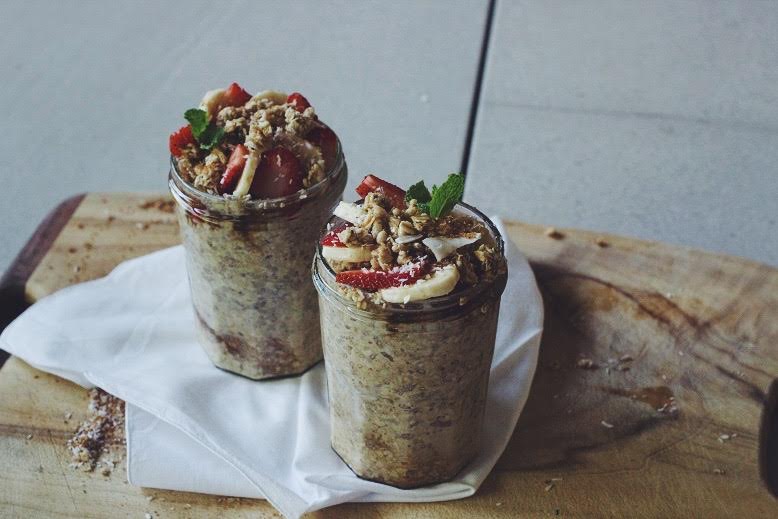 Last year in the cold winter months, I had oats every morning for breakfast. As you can imagine, by the time spring had sprung I was utterly over them. I soon made my way to become a smoothie obsess-or and have never turned back since. Okay well that's not true. One morning I was getting up absurdly early and new I would need some fuel that would last me for hours. So I returned to the trusty oat train, yet this time for the overnight variety. It's an understatement to say these were a pleasant surprise. I was head over heels in-love. They are not dehydrating like I found regular oatmeal to be, and posses a sweeter, light, vanilla-ry taste that is just heavenly. Topped with fruit and other textural amazingness, this is a breakfast that's on the regular 'round here. So good!
Makes 2 serves
Ingredients
1 1/2 cups quick oats (GF if desired)
1 tsp cinnamon
2 tbsp chia seeds
2 tbsp maple syrup
1/2 cup apple puree
plant mylk
fruit and additional toppings (e.g. banana, strawberries, coconut, additional sweetener, granola)
Method
Take 2 glass jars and divide the first 5 ingredients between them. Mix with a spoon.
Take your plant mylk (oat works wonders) and slowly start adding to the oats while stirring, until a gloopy, runny mixture forms. Top with another thin layer of mylk so you can't see the oats and then top with their lids.
Refrigerate overnight, or for a minimum of 6 hours.
To serve, simply loosen the oats and add whatever toppings float your boat. Enjoy!
---