Teriyaki Udon Noodles // Vegan + Oil Free
09 / 06 / 2016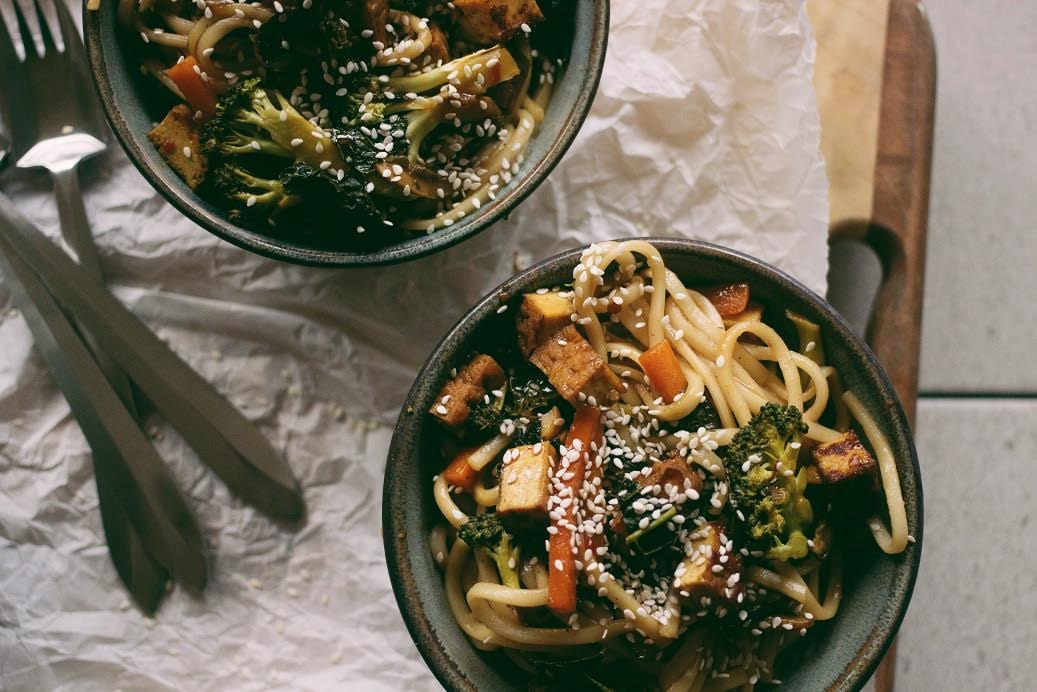 I am pretty sure that udon noodles are loved by all. They are a little thicker than rice noodles and just taste delicious. It's one of those foods that fulfils any comfort food craving, whilst having an Asian-fusion vibe - which let's be real, is pretty delicious!! These little strands aren't GF nor made with whole wheat flour, but they are pretty simple on the ingredients scale which is a plus, and can often be found to be made with organic ingredients which is another bonus. The dish is made with things you can easily have in your pantry on standby. Then you'll only really need to make sure you have some Teriyaki tofu on hand (pre-marinated, in the healthy refrigerator section of the supermarket), and you're good to go. If you can't find this pre-marinated deliciousness where you live then pick another asian-y tofu (just not satay...that wouldn't work here) and embrace that flavour instead. It's a pretty accommodating dish and one which is like a vacuum for your vegetable draw.
Serves 2-4
Ingredients
270g dried Udon noodles
200g teriyaki tofu (Macro brand, if from Australia), cubed
2 cups finely chopped vegetables (e.g. broccoli, zucchini, kale, carrot, mushrooms and capsicum)
1 1/2 tbsp tamari/soy sauce
1 1/2 tbsp rice wine vinegar
1 tbsp sweet chilli sauce
1 tsp curry powder
splash of water
sesame seeds to serve
Method
Prepare your udon noodles according to the packet instructions. Once tender, rinse with cold water and put aside until needed.
In a large fry-pan, dry fry the tofu until browned and golden. Add the chopped vegetables and toss until slightly softened. Add the remaining ingredients (minus the sesame seeds), and caramelise over medium heat until sticky and the vegetables are tender, but not mushy.
Combine the sticky vegetables with the noodles, by tossing them together. Serve with sesame seeds sprinkled on top.
---