Super Serious Cereal Surprise // Vegan + GF + Low Fat
23 / 02 / 2016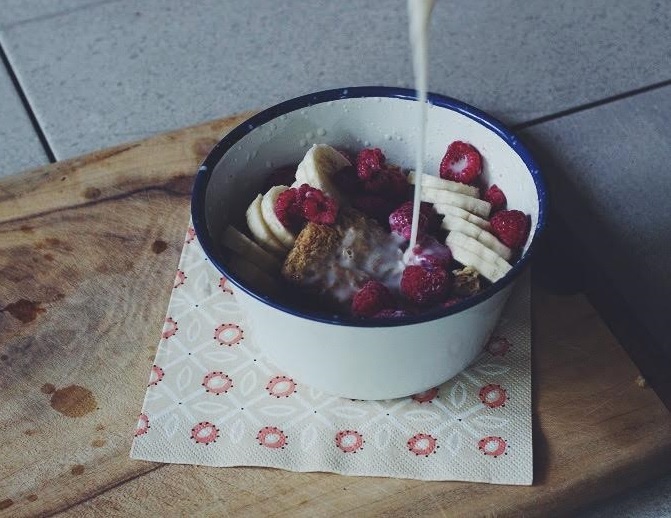 If you are in the loop of the vegan community, then you will be aware that the next 'BIG THING' is cereal. Cereal in abundance and in bowls as big as your head. Having tried to steer myself away from really processed foods and stick to a whole food diet, I wasn't planning on becoming engaged with this obsession. However, I realised that we had some weetbix and old rice bubbles one day, which then triggered a realisation of how amazing this combination is. It's funny because on a standard Australian (western) diet, I would have not thought to play with the textures and layers as much as I am now. Having your base, then layers of interest really make it ridiculously tasty, so if you are sitting there reading this with your eye-brows raised thinking 'dude, it's just cereal', well try it and then get back to me. As a once in a while occasion, I am loving it as a snack or a mini meal :)!!
So why is my version special? Well, also in another effort to use things up in our pantry, I found some Cadbury drinking chocolate which happens to be vegan (I know!!!), and realised that I could add it to my cereal to make it reminiscent of a hot chocolate surprise my dad used to make for my brother and I when we were growing up. He put some Milo (an Australian chocolate malt powder) at the bottom of our hot chocolates, but I've just stuck with the 'chocolatey-ness at the bottom' vibe, and it's worked out quite well. Your cereal turns from vanilla to chocolate as you eat it. Okay so here's what you do...
All ingredients are in desired quantities.
Ingredients
vegan drinking chocolate
GF weetbix
vegan granola/other crunchy cereal
fruit (e.g. bananas and raspberries)
plant mylk (oat works wonders here)
Method
Place a scoop of the drinking chocolate in your bowl and top with the weetbix, then crunchy cereal and fruit.
Pour over the plant mylk and devour immediately - unless you favour a soggy bowl of mush.
---