Super-Good Vegan Carbonara // Oil Free + GF + RSF
05 / 09 / 2017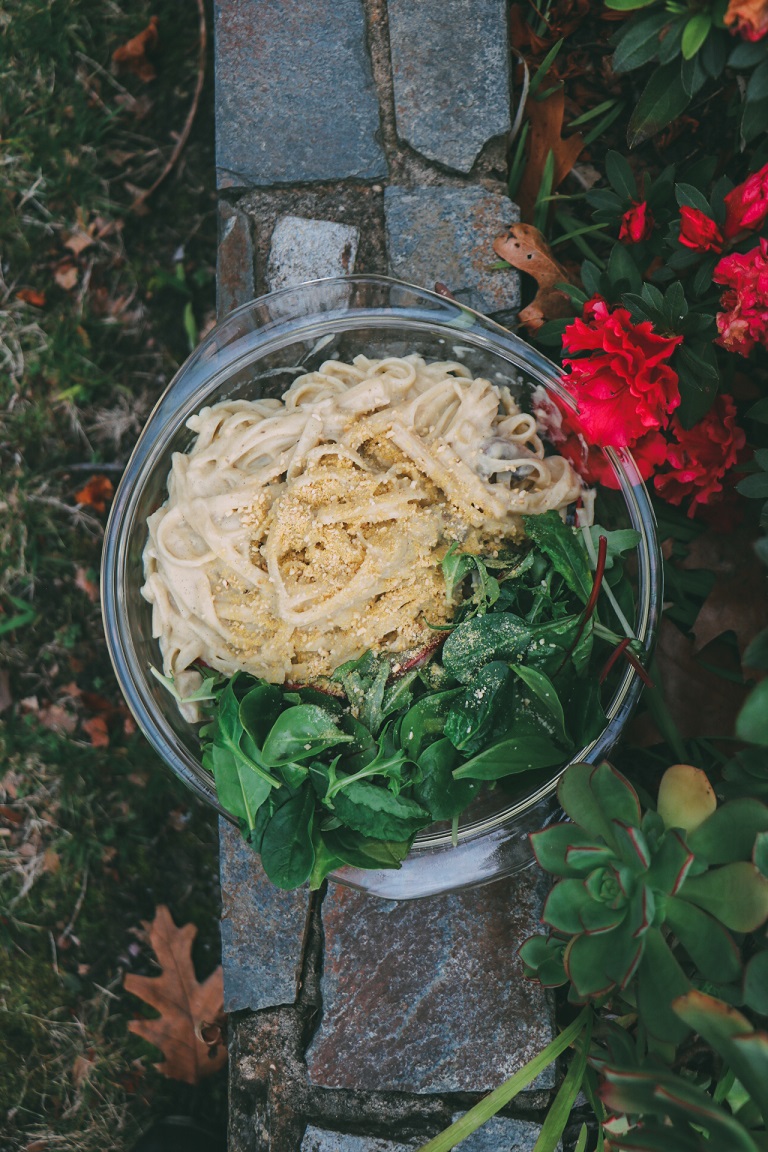 Cashews really are wonder giblets - how the heck they turn different spices and some starches into a thick cheesy sauce is beyond me, but my goodness is it lucky they do. We vegans, don't have to miss out on any thick cheesy pasta goodness because of the little white kidney nuts and that's a pretty special thing. I try to always have some soaking in the fridge so a speedy and delicious pasta sauce, delicious dessert or whatever ya' fancy making with them, isn't far away. I highly recommend you do the same, yet if your blender has got plenty of oomph then I'm sure you can get away with not blending them at all. Enjoy this silky and fabulously plantiful carbonara honeybunches, my fam all groaned (in a good way) upon tasting it. So I think that's a decent enough sign for you to get in the kitchen!!
Serves 3-4
My favourite carbonara recipe of mine is in my 2nd cookbook (with the yellow floral cover) found through the link in the side bar. It's a mushroom carbonara. However, I leave this recipe published as it's still delicious, just different. Also I think it's nice to show the evolution of my cooking and recipe development over time.
Ingredients
2 medium cauliflower florets (1 cup)
1 small zucchini, peeled and roughly chopped
1 medium potato, peeled and diced
2 tbsp nutritional yeast
2 sliced pickled jalapeno
3/4 tsp salt
1/4 tsp ground pepper
1 heaped tsp minced garlic
1 heaped tsp dijon mustard
sprinkle of dried herbs
1 tsp dried onion powder
1/4 drained soaked cashews (or not soaked depending on your blender) - for 30 mins minimum
2 lemons, juice only
250g+ GF fettuccini (or your favourite GF pasta)
2 small onions, peeled and sliced
4 large portobello (or similar) mushrooms, thickly sliced
Method
Start by boiling your cauliflower, zucchini and potato together in one pot until tender. This will take around 7-12 minutes.
In a large pot, water saute your onion and mushroom slices until soft. The mushroom will exude all its juices, yet don't worry, the water will evaporate and deliciousness will remain.
Add a small knob of vegan butter (if you aren't fussed about keeping this dish oil free) to deglaze the pan - then once melted and smelling unbelievably good, turn off the heat.
Now is a good time to get your pasta cooking, or at least turn on the kettle to do so. Cook according to packet instructions and drain.
In a high-powered blender add a splash of the cooking water from the boiled veg, then add the drained tender vegetables themselves. Also add the nutritional yeast, jalapeno, salt, pepper, garlic, mustard, herbs, onion powder, cashews and lemon juice, then blend until ultra smooth. Add to the mushroom and onion pot, with a few splashed of pasta cooking water, turn on the heat to a medium-high setting and bring to the bubble, before reducing to thicken for 5-10 minutes.
Add the drained pasta to the pot and ensure the sauce get's amongst the noodles. Sprinkle over with vegan parmesan and serve. So ridiculously good!!
---