Strawberry Oasis Pie // Vegan & GF
11 / 02 / 2021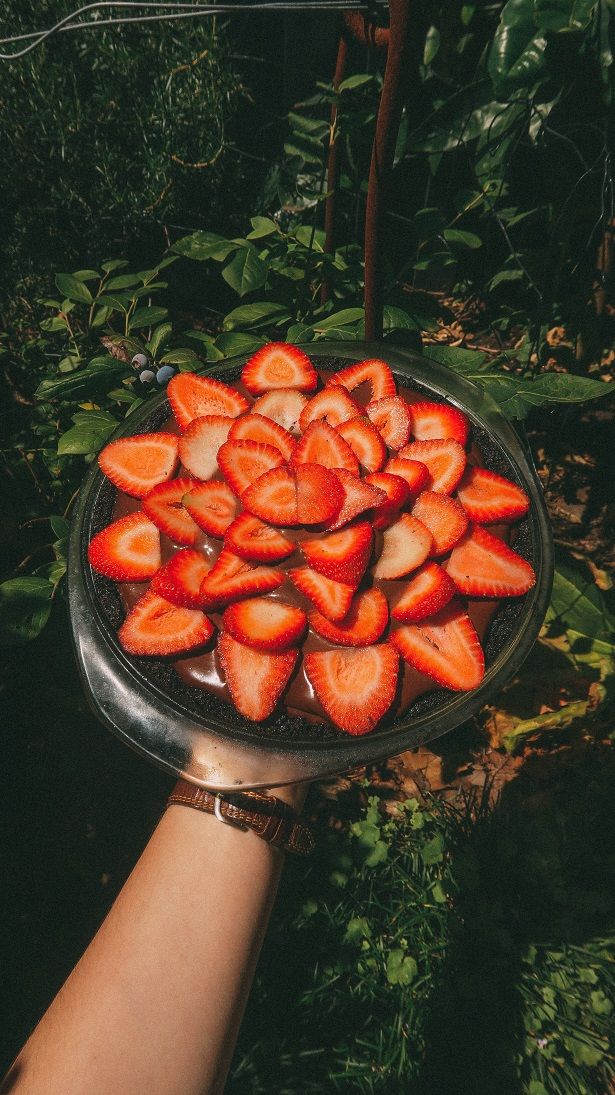 Hoooli-dooli does this pie work! I personally feel that strawberry and chocolate (on their own, and indeed when paired together) are fairly basic, safe, family friendly flavours. Of course sophistication can be bestowed upon them and taken to the next level - which in this instance the cinnamon and allspice most certain do. And incredibly well! This is one stellar dessert you didn't know was out there. Spiced chocolate custard encased in a volcanic Oreo crust and topped with fresh slithered strawbs, magic! Enjoy.
Makes 1 x 21cm (8 1/2 inch) pie
Serves 6-10
Ingredients
Crust
240g vegan & gluten-free Oreos (or OG Oreos for non GF)
50g vegan butter, melted
salt
Custard
90g vegan dark chocolate, chopped
1 x 270ml coconut milk
1 cup favourite plant milk (I used an almond & coconut milk by Nutty Bruce)
1 tsp ground coffee (or instant coffee)
1 tsp ground cinnamon
1 tsp allspice
1 tsp vanilla
1/3 cup (75g) castor sugar
1 knob vegan butter
2 tbsp cocoa
1 1/2 tbsp (25g) cornflour/cornstarch
Ganache
1/4 cup plant milk
90g vegan dark chocolate, chopped
To Top
1 x punnet strawberries, tops removed & thinly sliced
Method
Pre-heat your oven to 180C. Blitz the Oreos in a food processor. Pour in the melted butter and add a pinch of salt. Blitz again to form a wet sand consistency.
Press the mixture into a greased 21cm (8 1/2 inch) pie dish, so that it forms one even layer across the bottom and up the sides. Bake in the pre-heated oven for 10 minutes.
Meanwhile, make your custard by placing all the custard ingredients sans the cornflour into a large pot. Place over gentle heat and stir until the mixture has combined, the chocolate has melted and the sugar's dissolved. Mix the cornflour with another splash of plant milk, and whisk to combine. Pour into the hot chocolate mixture and stir continuously until the mixture thickens into a thickened custard (it will still be pourable). Take off the heat and let cool for 15 minutes.
Once the base has cooled to the touch, pour in the cooled custard mixture. Smooth over the top and refrigerate.
Once your pie mixture is set on top, make your Ganache by heating the plant milk in a small saucepan until a few bubbles appear (it won't take long so keep an eye on it). Take off the heat, topple in the chocolate and whisk to combine.
Pour the ganache over the top of the pie and decorate with strawberries. Pop the pie back in the fridge to chill, so that it has at least 3 hours in total (preferably six) to set. It will cut a little messily, no matter how much time it's had in the fridge, but will taste incredible!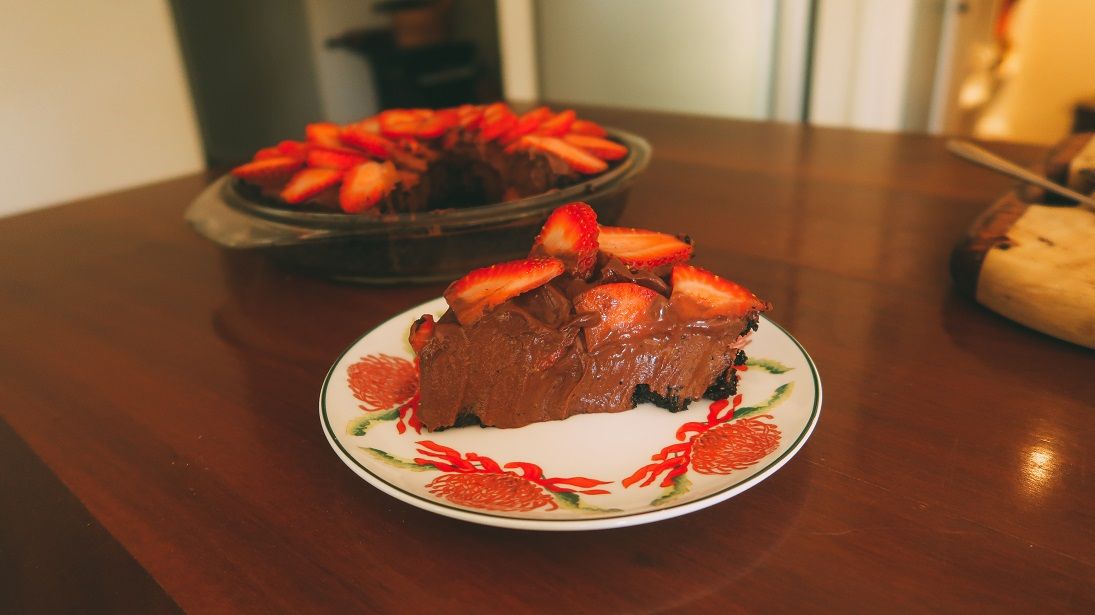 ---