Strawberry Almond Friands // Vegan + Oil Free + Refined Sugar Free
21 / 06 / 2016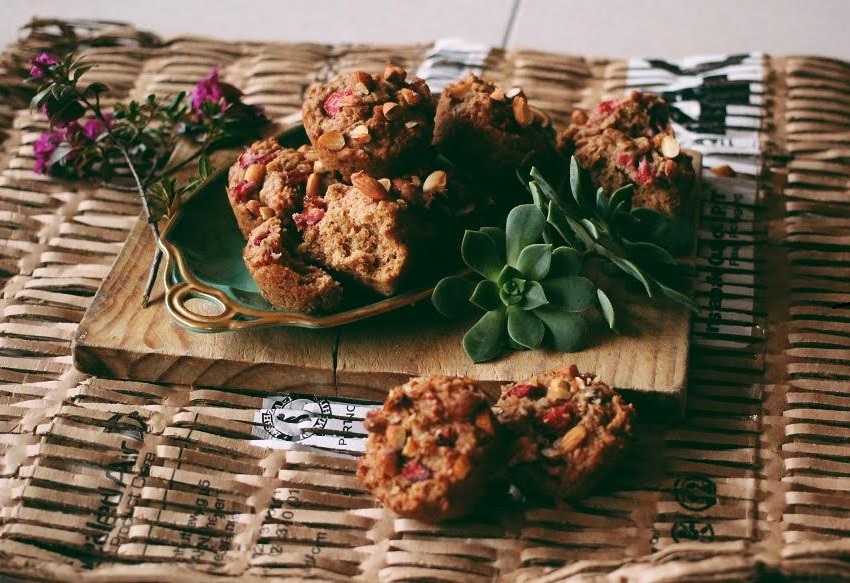 Friands, a fancy French word that alludes to a little oval muffin, packed with butter, eggs and sugar - creating the moistest, most delicious parcel of heaven. Well you're in luck today people, because this gives you the same effect - except...well...it's oil free and actually full of great ingredients that are full of goodness (and vegan obvs). The possibilities are endless with vegan baking I must say. You hardly miss the old fav's, because if you are like me and constantly trawling blogs and cooking until your cooking limbs cannot wield any longer - you find replacement recipes for about everything. EVERYTHING!! It's incredible and exciting!! The vegan cooking field is where it's at folks. I'm pumped!! Anyhoos, these little pockets are not in the traditional friand shape, but certainly taste the same. Suitable for the gluten sensitive, these will absolutely hit the spot - without the breakouts, food coma or headache that might happen otherwise.
Makes 9-10 Friands.
Ingredients
1/2 cup brown rice flour
1/2 cup almond meal
1/2 cup spelt flour
1 tsp baking powder
3/4 cup coconut sugar
3/4 plant mylk
1 tsp apple cider vinegar
1 tbsp chia seeds
4 tbsp almond butter
1 tsp vanilla
10 strawberries, diced and tossed in 1 tbsp flour of choice
handful of almonds, chopped
5 strawberries, diced
Method
Pre-heat the oven to 180C fan-forced.
In a large bowl, combine the first five ingredients with a whisk until smooth.
In a smaller bowl, combine the next five ingredients with a whisk until smooth. It is perfectly fine however, if lumps of almond butter still remain.
Mix the wet into the dry and stir together with a spoon. Add in the tossed strawberries and gently bring together.
Line or grease a 12 muffin hole tin and divide the mixture amongst 9-10 of the holes. Sprinkle over the remaining diced strawberries and the chopped almonds. Poking them into the surface a little.
Bake for 20 minutes in the pre-heated oven or until golden. Delicious straight out of the oven, or consumed within the next 3 days.
---