Spiced Apple Oat Biscuits // Vegan + GF + Oil Free + RSF
10 / 12 / 2016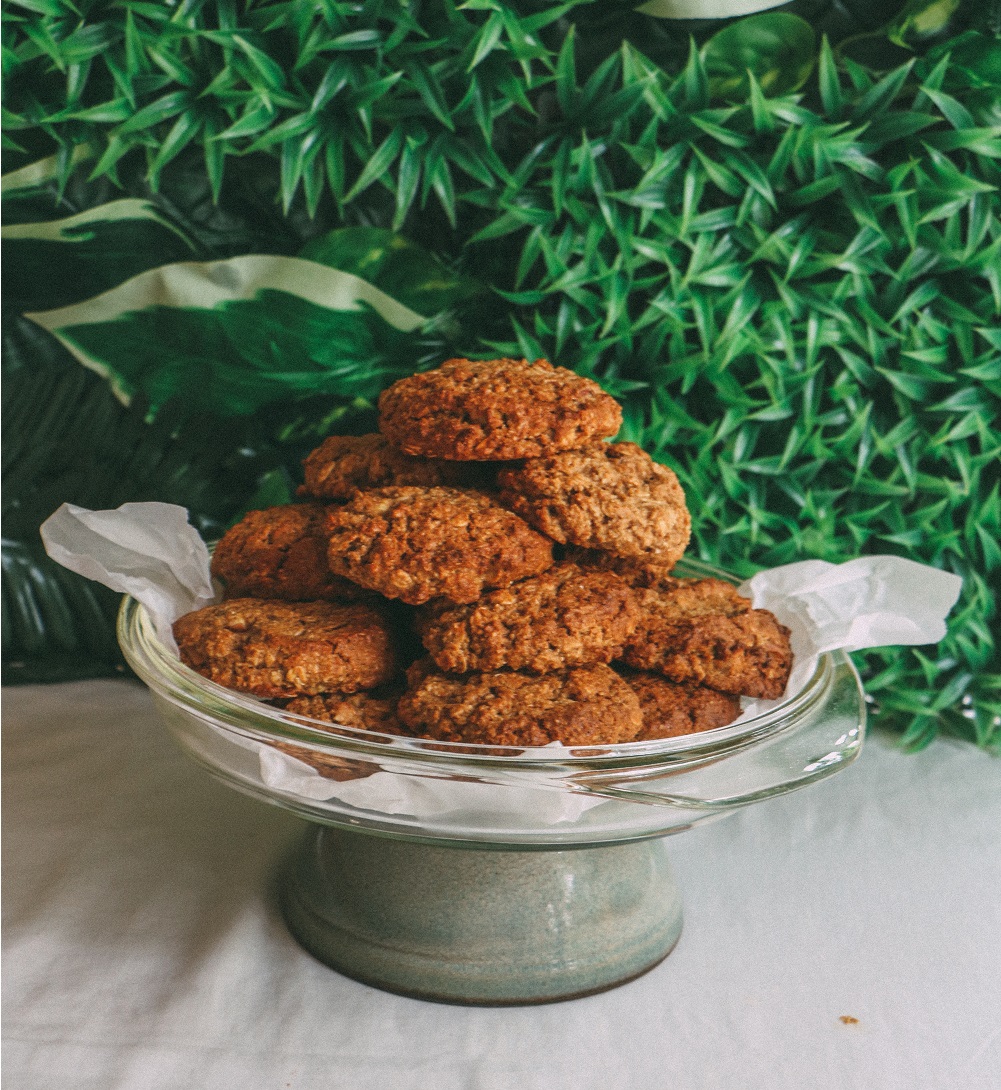 My Grandma (or nanny, as we call her) is a marvelous cook. From an early age, she has been responsible for extensive and delectable feasts at Christmas time, birthdays, family dinners and everywhere in between. Afternoon tea would often arrive every so often in a tin of some sort. Biscuits were usually the choice of the day, but on occasion we would get these amazing pecan and apple mini muffins. They tasted like the symbolic food of autumn and I've had fond memories of them ever since. In the HBOT kitchen, I had a go at vegan-i-fing this memory in biscuit form, and my-oh-my did they turn out good. They might not look like anything special, but I promise you that they are like a spectacularly pleasant warming hug from a loved one. Did I mention they happen to be ridiculously wholesome and free of inflammatory foods? I'm rather pleased with the end result!
Makes 20 biscuits
Ingredients
2 cups oats (1 cup quick, 1 cup of rolled - of your own combination of both)
3/4 cup oat flour
1/2 cup buckwheat flour
1/2 cup coconut sugar
2 tsp cinnamon
pinch of nutmeg
pinch of allspice
1/2 tsp bicarb
1 apple finely diced, core removed
1/2 cup maple
1/2 cup apple puree
1/2 cup nut butter
1/4 cup plant mylk
1 tsp vanilla
Method
Pre-heat the oven to 180C fan-forced.
In a large bowl, combine all the dry ingredients (first 9), ensuring that the apple chunks are coated in the dry mixture.
In a smaller bowl, combine the remaining wet ingredients (5 in total) until smooth. Use a whisk to fully blend the nut butter.
Mix the wet into the dry, and using a wooden spoon, bring together. It will be stiff. If you would like, you could add a couple of handfuls of chopped pecans/walnuts at this point.
Grab two lined trays and spoon out 1/4 cup sized spoons worth of mixture. Repeat until no mixture remains. Spread out with wet fingers into a cookie shape.
Place in the pre-heated oven for 10-15 minutes, or until golden brown. Leave to cool for 15 minutes, before munching.
These keep for 4-5 days.
---