Scruffy yet Scrumptious Pizza Pinwheels // Vegan + RSF
25 / 02 / 2018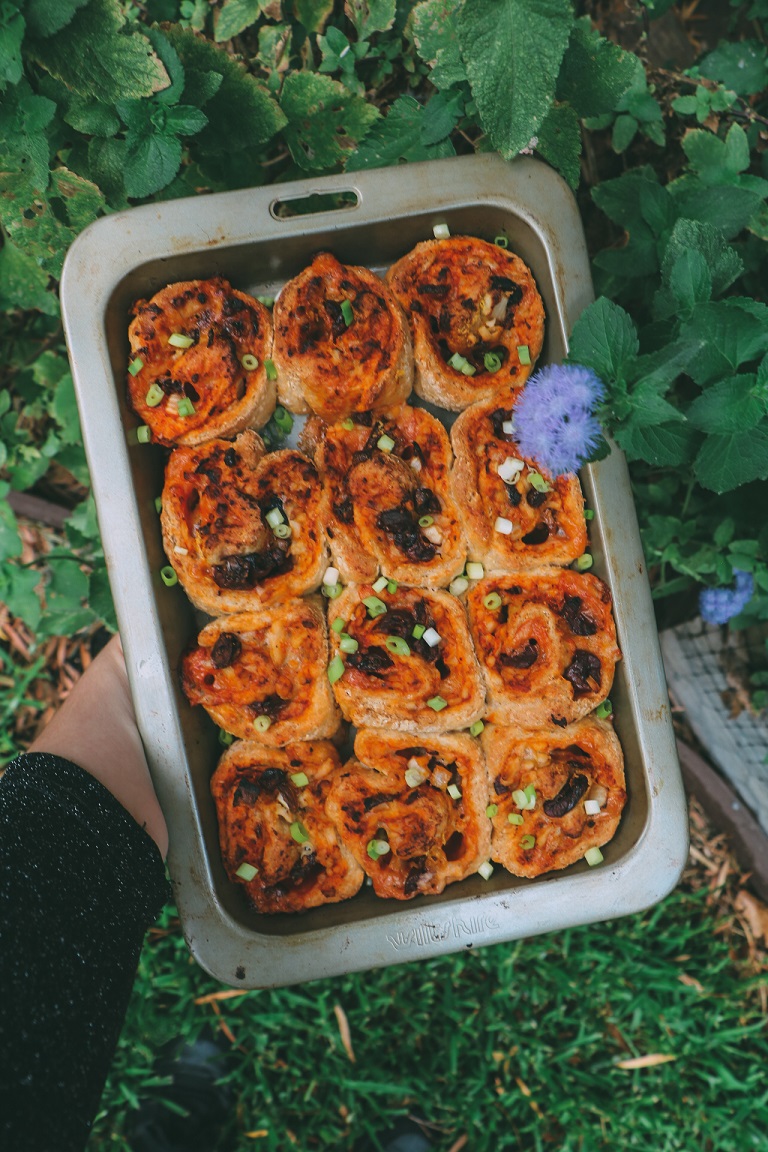 Pinwheels might be a childhood thing, but in this case I kind of don't care. Which is a good thing I think. They are the perfect side-accompaniment to take with a hearty salad to work, school or wherever you trot off too. I'll definitely try making wilder ones in future, yet this is where I'm starting. Pizza Pinwheels like what I had growing up. They fluffy, soft, hearty & incredibly simple to make. I promise you won't stuff up this recipe. Now I'm off to add pesto in one lot and chocolate hazelnut spread in another... woohoo!!
Makes approx. 12-15 pinwheels.
Ingredients
3/4 cup warm water
1 heaped tsp instant dried active yeast
1 tsp coconut sugar
2 cups wholemeal flour
1 tsp salt
1 tbsp olive oil
tomato pizza/pasta sauce
vegan cheese, grated
nutritional yeast
onion, finely chopped
pitted olives, chopped
Method
Combine the water, yeast and sugar together with a whisk in a large bowl and then let sit for 5 minutes in a sink with some water in it (or in a warmish place).
Once foamy, add 1/2 cup of the flour and whisk until smooth, add the remaining flour 1/2 cup at a time switching to a spatula and then your hand to knead until combined. When you have a ball of dough, knead a couple of times, then place in a slightly oiled bowl (the same one is fine). Let sit in similar conditions to the yeast mixture for an hour to rise.
Once the hour is up, roll the dough into a rectangle that is under 1 cm thick. Top generously with the pizza/pasta sauce, cheese, nutritional yeast, onion and olives, before tightly rolling (from the longest side to give you a longer, over fatter log shape). Cut into disks about an inch thick, then place in an oiled dish.
Pre-head the oven to 200C, while you let the pinwheels sit for 30 minutes to rise further. After the 30 minutes, cook the risen pinwheels for 20-30 minutes until lightly golden. Devour after 5 or so minutes.
---