Raspberry and Coconut Balls // Vegan + GF + Raw
14 / 01 / 2016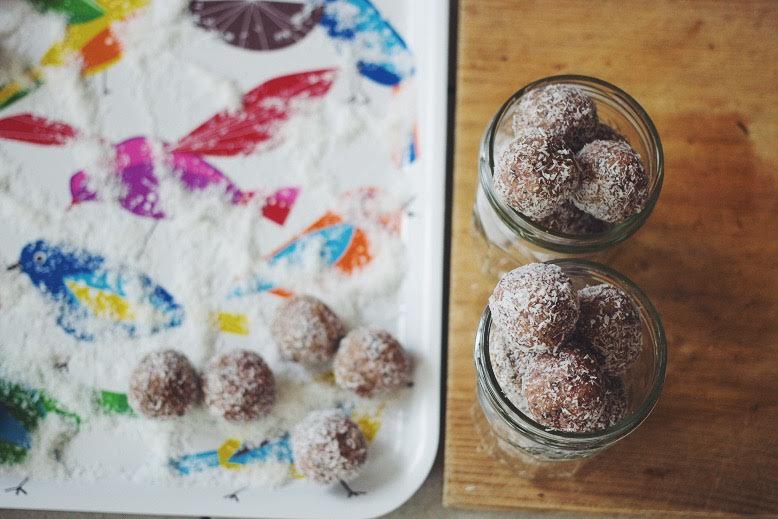 This recipe came from practically eating at least half of these delicious balls at a meet up organised by 'a girl named ally'. I didn't know who brought them, but they were incredible. While chatting to a friend, they just disappeared down into our stomachs all to easily, haha it was a fun day. They kind of intrigued me because I had never had a ball of the non-chocolate variety that tasted so darn good. When I have plenty of dates and are in the mood for stocking up my snack supplies then I just go down the cacao, almond butter and chia seed route. But if you are willing to broaden your horizons (I recommend it!) then these should be your next stop. Without a recipe they came together all too easily, and really don't take long at all to make. Plus they last for yonks so get makin'!
Ingredients
1/2 cup quick oats
1.5 cups medjool dates
1.5 cups desiccated coconut + extra for coating
2 tbsp chia seeds
1 tbsp flax meal
1 tsp vanilla
1/4 cup coconut oil
3/4 cups frozen raspberries
Method
In a food processor combine all the ingredients (except the raspberries) until combined. The mixture should hold together when pinched. You might need to scrap down the sides so it mixes evenly.
Add in the raspberries and combine again.
With damp hands (as this prevents the ball mixture sticking), roll heaped tbsp's worth of mixture and place on a tray. The mixture makes about 25 balls. Roll in additional coconut and then store in the fridge to ensure they are firm.
---