Pumpkin Spiced Scones // Vegan + Oil Free + Sugar Free
07 / 06 / 2016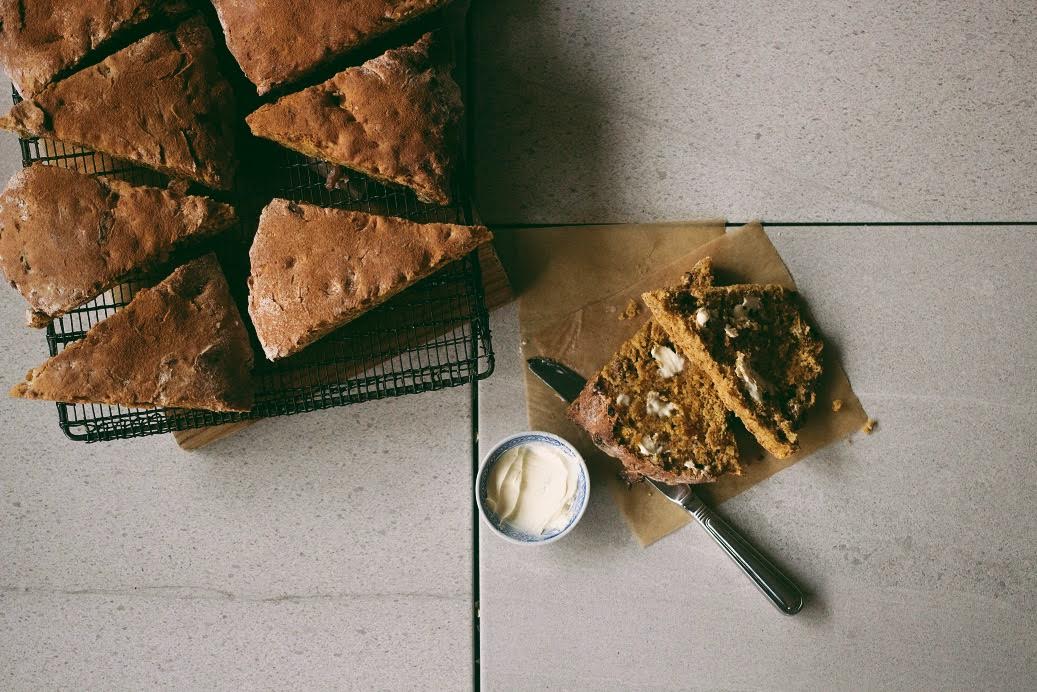 Scones are what seem like a universal thing, just one where each part of the world likes to shape their scone differently. I mean who cares, squares or triangles, no one is going to wage a war over it - I just think it's odd. Even though my homeland shape these little buggers into squares or rounds, I have gone with the somewhat groovier triangle for today. These warming pumpkin wedges of glory are too good to pass by, even if they don't look much to the eye. You could glaze these beauties, but they are doing rather well on the healthy-charts, so I thought I wouldn't upset that with a sugar-filled drizzle. Being oil-free you might think they won't be moist - but I assure you they are, and you don't miss the coconut oil or nuttelex one bit. Enjoy straight out of the oven with some vegan butter for the savory folk or maple for the sweet lovers amongst us.
Makes 8 large triangle scones.
Ingredients
2 1/2 cups spelt flour
2 tsp baking powder
1 tsp cinnamon
1/2 tsp mixed spice
pinch of salt
1/4 tsp turmeric
1/2 cup chopped pecans/walnuts
1/2 cup sultanas/raisins
1/2 cup pumpkin, pureed
3/4 cup maple syrup
1 tsp vanilla
1/2 cup coconut mylk/cream
1 tbsp flax powder
3 tbsp water
Method
Pre-heat the oven to 200C fan-forced.
In a large bowl combine the first eight ingredients with a whisk.
Prepare your flax egg by combining the flax with the water in a small dish and leaving to sit for 10 minutes. In a separate medium bowl, combine the remaining ingredients, including the flax egg once congealed. Whisk until smooth.
Make a well with a spatula in the flour mixture and pour in the wet ingredients. Bring together with a spatula and then your hands until a soft dough forms. You may need to use more spelt flour to achieve this.
Line a baking tray with baking paper and place the dough in the centre, punching down to make a round circle of dough about one inch thick (or 3-4 cm). With a knife, lightly slither lines into the top surface, creating eight triangles.
Place in the pre-heated oven for 20-25 minutes or until golden and risen. Best eaten immediately or toasted, with some vegan butter.
---