Pumpkin, Ricotta & Spinach Pasta Bake // Vegan + GF + Oil Free
05 / 08 / 2016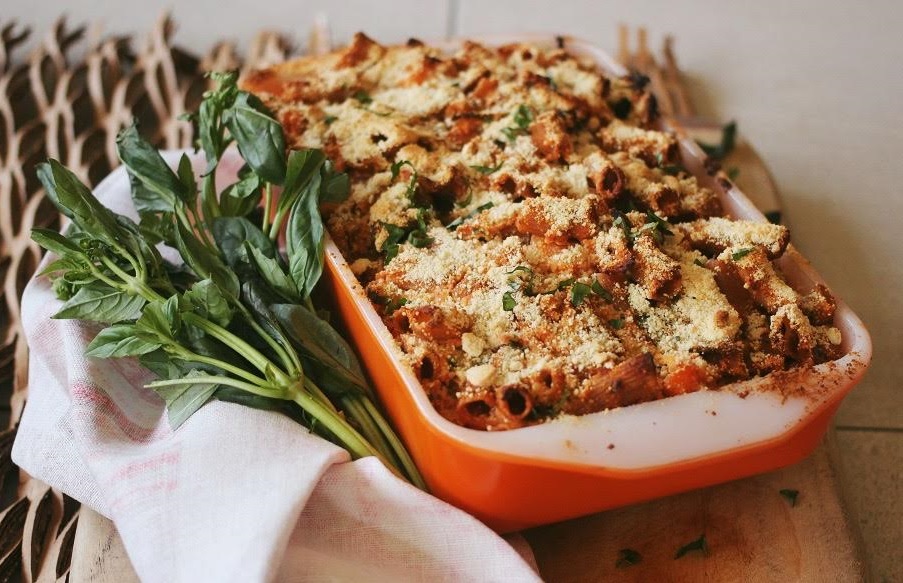 Sometimes a cosy starch filled meal is exactly what's required. I find that this is the perfect weekend nourishment. Plonk it in the middle of the table and let everyone serve themselves, it works a treat. While the flavours used here aren't all that sophisticated, they are popular, hence why so many of you asked for the recipe, when it cropped up in a What I ate in a day video of mine. We all have slightly different tastes, so if you prefer a little more sophistication, saute up some mushrooms and caramelised onion and add that to the mix. Or you could go the sage and pine nut route - equally delicious, but not always to everyone's fancy. This thing also makes a great packed lunch surprisingly enough. It sort of sets into a slice, making it portable and (mostly) mess free. Yay!!
Serves 4-6
Ingredients
400g penne pasta (GF if sensitive)
250g cubed butternut pumpkin
300g firm tofu
juice of 1 lemon
handful of basil
2 garlic cloves, minced
salt & pepper
4 tbsp nutritional yeast
400g vegan tomato pasta sauce
1/2 vegan parmesan (This Recipe, or bought)
50-100g spinach
Method
Preheat your oven to 200C.
In a large pot boil the pasta and cubed pumpkin until the pasta is just cooked. Even on the chewy side is good here.
In a food processor or blender, combine the tofu, juice, basil, garlic, salt, pepper and nutritional yeast until it resembles ricotta. Alternatively you can crumble the tofu in a bowl with your hands, and add in the remaining ingredients. Although you will have to chop the basil finely before combining.
In a large bowl, or the empty pasta pot you boiled it in - combine the pasta sauce and ricotta until combined, so there are no clumps of "cheese" left. Add in the spinach, pumpkin and pasta, stirring to coat.
Grease a large baking dish if not non-stick, then fill with the pasta mixture. Press down on the surface lightly to compact, and then sprinkle over the vegan parmesan. Don't be shy with it - it tastes amazing!!
Bake in the pre-heated oven for 20 minutes, or until crispy on top. This re-heats well too. Enjoy!
---