Provincial Lentil Stew // Vegan + GF + RSF
17 / 12 / 2020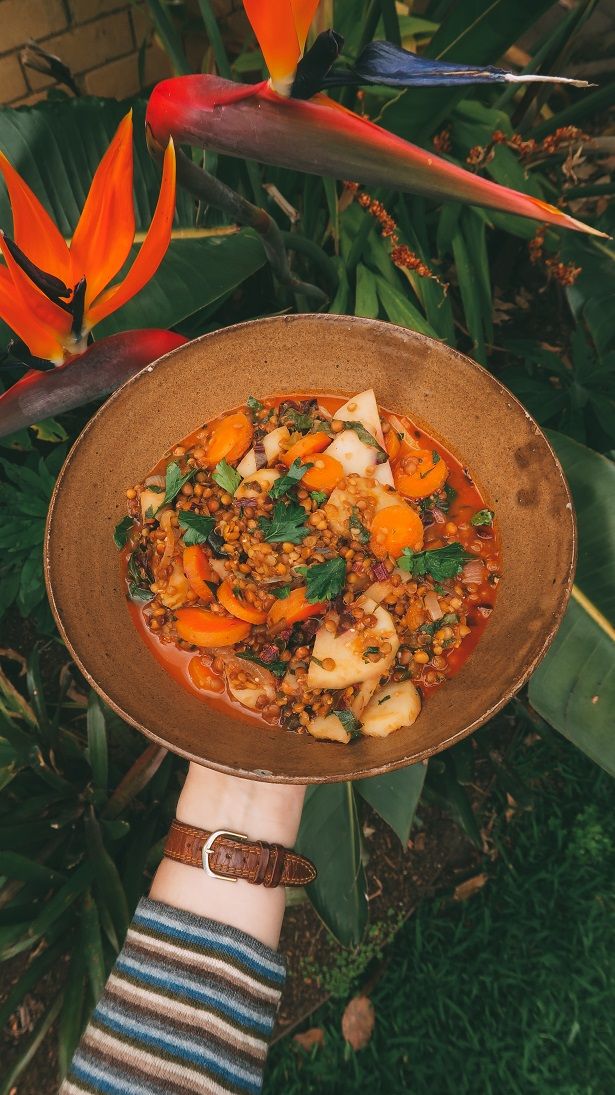 Stews can demand a lot of your time and pre-planning abilities. Simmering for hours, transforming themselves. Well, while I think they have their place (obviously - there's my Bourguignon to show for it), it's nice to a quicker recipe that carries the same effect. A cozy, nourishing bowl of wholesomeness. This one definitely ticks those boxes Honeybunches. Serve as is over some mashed potatoes, or as part of a broader spread - with a simple pasta, antipasto vegetables and salad.
Serves 6
Ingredients
olive oil
1 red onion, diced
2 cloves garlic, minced/diced
2 carrots, chopped into chunks
2 sticks celery, chopped small
2 potatoes, peeled and chopped into chunks
2 x 400g tins brown lentils, drained & rinsed
2 bay leaves
1 tbsp tomato puree
3 cups hot water
1 vegetable/"chicken" stock cube
1 tsp dried thyme
1 tsp tamari (or soy sauce for non-GF)
1 tbsp nutritional yeast
salt & pepper
handful parsley, chopped
To Serve: mashed potatoes, pasta, antipasto vegetables and green salad.
Method
Heat a glug of olive oil in a large non-stick pot (or a deep fry-pan would also work), then add the onion and garlic. Over low heat, sauté until nearly soft and fragrant. Add the carrots and celery, stirring occasionally until they start to soften.
Add the potato chunks, bay leaves, tomato puree, water, stock cube, thyme, tamari and nutritional yeast. Stir to combine. Bring to the boil and then reduce to a simmer for 20 minutes or until the potatoes are tender and the broth reduced.
Add the tamari and season to taste. Sprinkle over the chopped parsley and serve however you like.
---