Parmesan Marinara Pasta // Vegan + GF + Oil Free
15 / 01 / 2017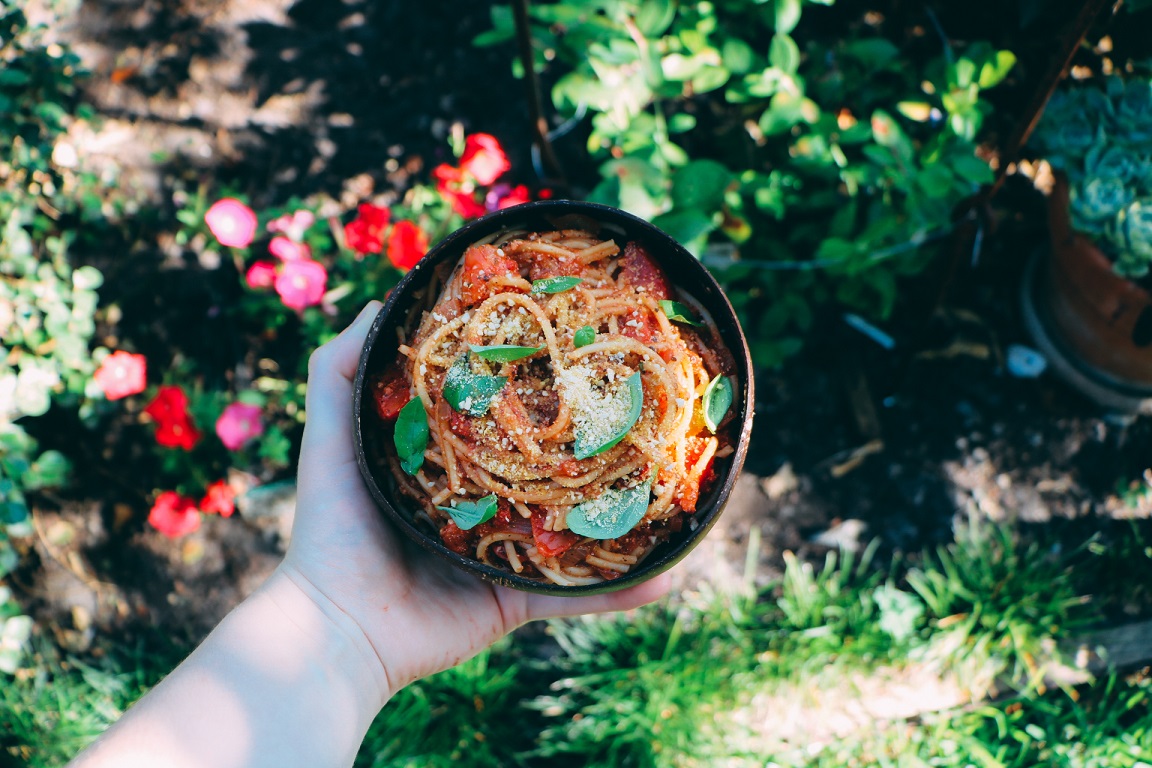 While on one hand, it can be a total bummer that if you are in an Italian restaurant/travelling Italy or just having a lazy Tuesday dinner, the option that A) is vegan and B) is guaranteed to fill your ridiculously hungry stomach is often tomato pasta. It can get slightly repetitive and boring, even though it is delicious. So say you are like me and go through phases of adoration for this food because it's just so easy to over do it sometimes. You've taken a hiatus and now you want to dip your toes back in that pond so to speak - well this is the recipe for you pal!! It's so incredibly delicious and well balanced, it will absolutely fill that craving without any of the "get-through-half-of-it-and-you-suddenly-get-sick-of-it" feeling. Also, while I've said it serves two, if you're really hungry just eat it all bro! yum :)
Serves 2
Ingredients
170g GF vegan spaghetti pasta
1 medium white onion, thinly sliced
3 garlic cloves, minced
1 cup passata
1 fat ripe tomato
1 tbsp black olives, finely chopped or as tapenade
1 tbsp Italian herb mix
2-3 tbsp vegan parmesan (recipe found here)
2 tbsp fresh basil, lightly chopped
Method
Cook the pasta according to the packet instructions. Once al dente, drain and set aside (yet reserve a splash of the cooking water).
Meanwhile, in a non-stick fry-pan, water saute the onion and garlic until soft. Then add the Italian herbs, passata, olives and tomato. Bring to the boil and reduce for 5-10 minutes.
Tip the pasta (with reserved cooking water) into the sauce and toss to combine. Sprinkle in the parmesan and basil, then give one last toss.
Serve immediately and enjoy!
---