One Pot Comfort Ramen // Vegan + Oil Free + RSF
14 / 03 / 2017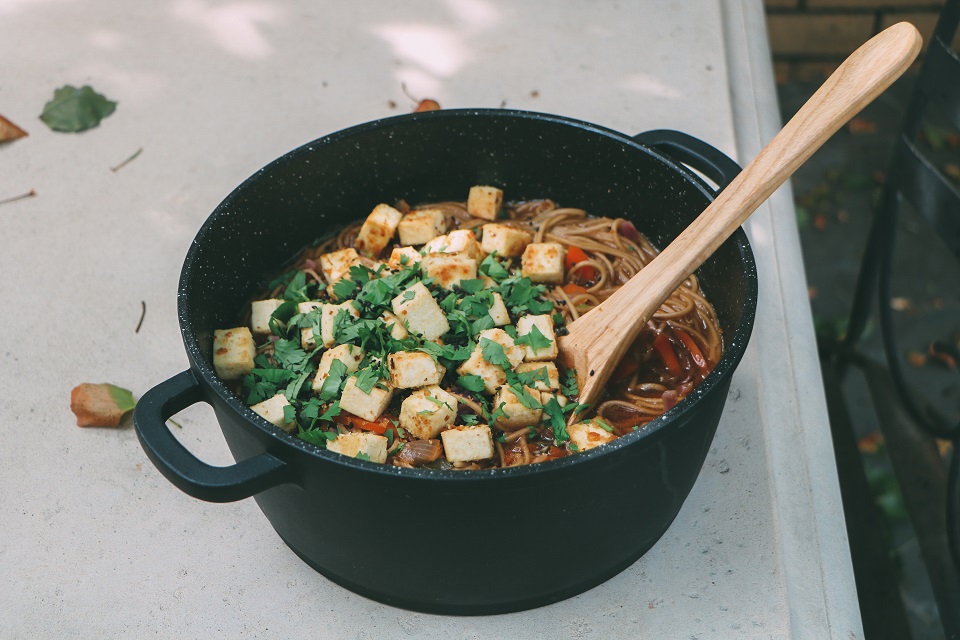 SUPER DUPER EXCITED ABOUT THIS RECIPE PEOPLE!! Purely for the fact that I'm not a ramen expert at all - yet what would you know, I just whipped up a hella delicious ramen noodle recipe that ticks all the boxes and (in my opinion) is wonderfully balanced in flavours. It's been triple tested and enjoyed by the extent of my fam with big smiles all round. I tried to simplify the process down a bit, so you have less dishes at the end, yet don't have to compromise on flavour. Nor do you have to wait as long for the end product... hooray!! It can be most definitely put on the table in 45 minutes - success :)
While the broth may look a little ... dark by the end of the cooking process - rest assured, that that's only because of the purple cabbage bleaching into the broth. What you end up with, is a comfort bowl of good health to make your insides (taste buds included) sing with glee. Yippee!!
Serves 4 people
Ingredients
1 tbsp garlic, minced
1 tbsp ginger, minced
1 onion, diced small
2 carrots, halved and sliced diagonally
1 cup red cabbage, shredded
2 pak choi, shredded
small handful of dried mushrooms, re-hydrated in 200mls of hot water
6 cups vegetable stock
3 tbsp tamari
1 tbsp white miso paste
dribble of sesame oil (optional)
270g packet of ramen noodles (or enough for 4 people)
OPTIONAL TOFU
200g firm tofu, squeezed dry with paper towel (just with your hands for 10 seconds or so if fine)
1-2 tbsp panko bread crumbs
2 tbsp olive oil (if desired)
TO SERVE
cilantro leaves, chopped
sesame seeds
Method
In a large pot, add the first 6 ingredients with a splash of water, and water saute until reduced in size, and the cabbage has softened.
Add the water only, from the soaked dried mushrooms, as well as the stock, tamari, miso and sesame oil (if using). Stir and cover the pot, bringing to the boil and simmering for 20 minutes.
Meanwhile prepare your tofu, if you are using, by cutting it into bite sized cubes, and adding it to a bowl. Add the panko crumbs and toss with your hands so they become lightly coated with the crumbs. Heat a non-stick fry pan over high heat and add the oil (if using), then the crumbed tofu tossing occasionally to develop some colour to the exterior of the cubes (10+ minutes).
Once the 20 minutes is up, stir once more and add the ramen noodles. Return the lid to the pot and cook for 5 minutes, or until tender and delicious. Adjust flavours if you so desire, otherwise tip in the crispy tofu to the pot, plonk it in the middle of the table and let people add their own noodles and broth to their bowls. Top with cilantro and sesame seeds if desired.
---