Mushroom & Nut Loaf // Vegan + GF + RSF
22 / 03 / 2020
I can't believe I haven't posted a nut loaf recipe on this blog until now! I mean, I rarely have them because they feel a bit typical and unimaginative in the 'what's for dinner' department. But when done well and not solely comprised of nuts so that they become ludicrously rich - they can actually be very delicious. I acknowledge that sometimes putting together a menu plan when people coming over that's completely vegan can be very daunting, as you suddenly don't have the 'main' component - which is usually meat. So consider this one very handy recipe, that would make a sublime center piece on a fancier occasion or weeknight.
Makes 1 loaf
Serves 4-6
Ingredients
1 1/2 cups raw nuts (I used mix of cashews, walnuts, pecans, almonds & brazil - but it's a very flexible recipe - so use what you have on hand)
1/4 cup sunflower seeds
olive oil
1 onion, finely diced
4 garlic cloves (or 1 tbsp minced garlic), chopped
2 cups mushrooms, chopped small
1 cup pumpkin, cubed small (1cm square type size)
1/2 vegan stock cube, e.g. 'chicken' or vegetable
1 tsp smoked paprika
1 tsp dried thyme
2 tsp italian herb mix
1 sprig rosemary, leaves only
2 tsp ketchup/tomato sauce
1 tsp dijon mustard
1 tbsp ground flaxseed
pepper
1 cup breadcrumbs (GF or not)
To serve: gravy and cranberry sauce go wonderfully with this
Method
Preheat your oven to 180C.
In a large fry-pan, add the nuts and sunflower seeds, toss and toast for a few minutes until lightly golden on a few sides and smelling mighty-fine. Keep an eye on them as they can burn easily.
Remove the nuts from the pan and blitz a couple of times in a food processor, or alternatively chop by hand (when they've cooled slightly mind you), or bash with a rolling pin inside a plastic bag. Set aside.
In the fry-pan, add a generous glug of olive oil and add the onion and garlic. Sauté until starting to soften. Add the mushrooms and sauté until they start to release their juices.
Add the pumpkin cubes, the 1/2 a stock cube and cover with water. Bring to the boil, give everything a stir, then cover the pan with a lid (or a tray if you don't have one) and cook until the pumpkin has softened. Add more water if need be. It should take about 5 minutes.
Remove the lid/tin and let any extra water bubble away. Add the herbs and the rosemary, stirring for a minute or two. Take off the heat.
Using the fry-pan as a mixing bowl now, add the nuts to the pan, along with the ketchup, dijon, ground flax and a generous sprinkling of salt. Mix to combine. Add in the breadcrumbs and mix once more to combine (with your hands if necessary).
Spread the mixture into a lined loaf pan (can't really go wrong with the shape/size, it will just affect the height of the finished loaf) and cook in the pre-heated oven for 45 minutes to an hour. Serve with sides you'd generally have with a 'roast', or however you'd like to serve it. Go to town!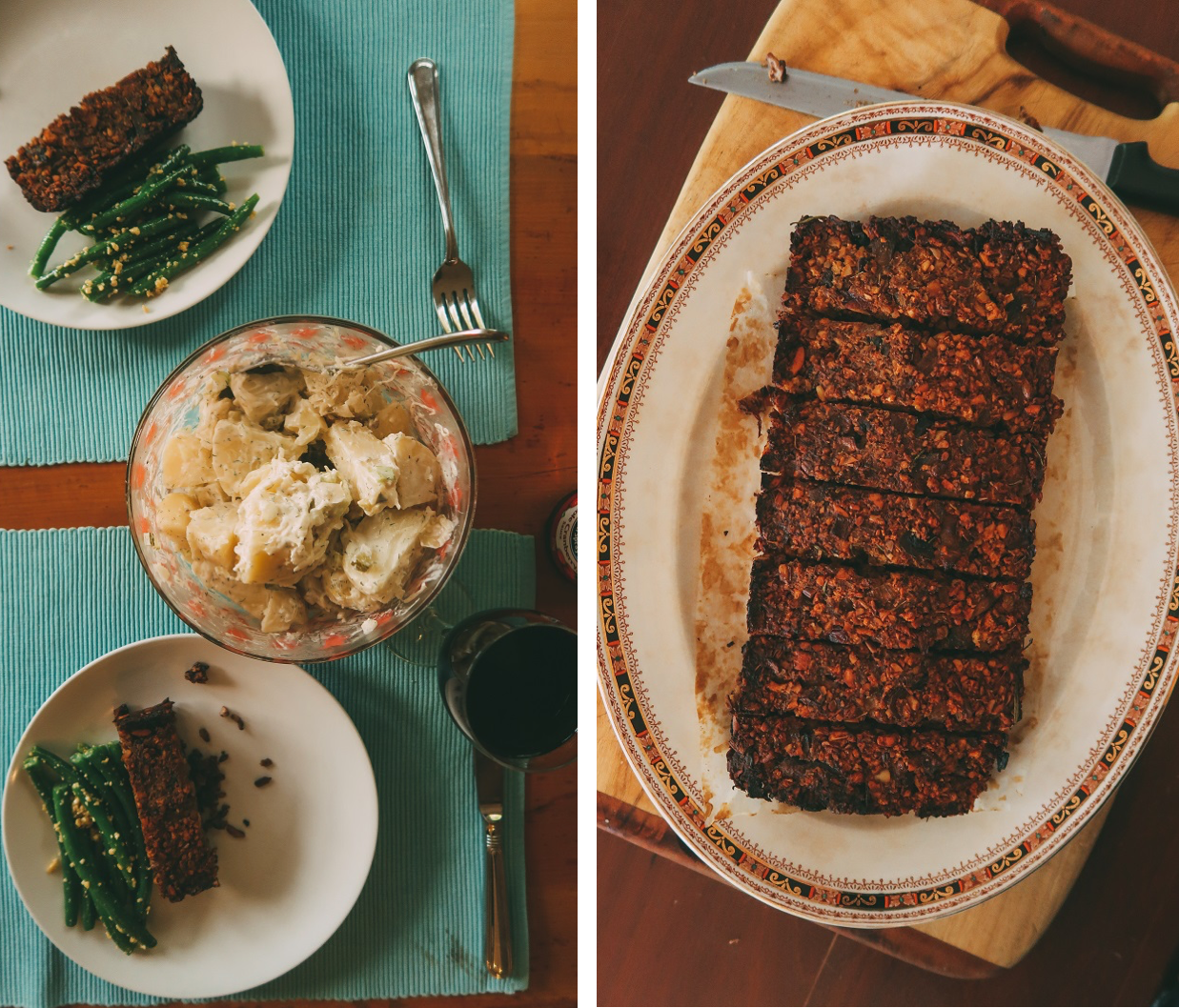 ---