Greek Zucchini Fritters + Tzatziki // Vegan + GF + Oil Free
26 / 02 / 2016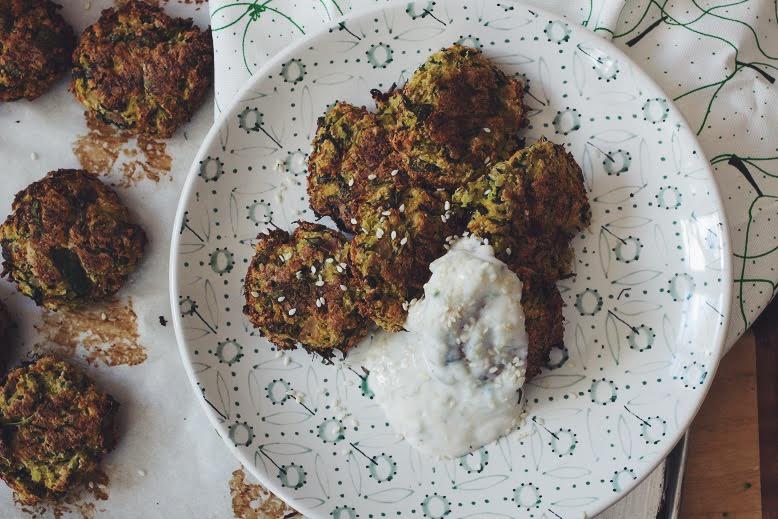 Fritters are such a comforting thing. I don't know about you, but they have always been a family favourite in our house. There is something so comforting about having a plate full of them in the center of the table, with greens on everybody's plates, and having a casual mid-week meal where one can help themselves. Our fritter sophistication levels have very much improved over the years, with more veggies and herbs being stuffed into these little pockets of deliciousness. Not only are they perfect to make into a salad for lunch the next day, they freeze well, so are an awesome dish to make in bulk. Just freeze after cooking, then re-heat on a fry pan when defrosted.
This recipe is not only ridiculously easy, but oil and gluten free. In this scenario I don't think you miss either, as you are too distracted by the power punch of herbs you get as you take bite after bite. Have as many as you like, because they are only filled with utter goodness.
Makes 16 + fritters
Ingredients
1 red onion, finely chopped
2 garlic cloves, minced
3 zucchinis, grated and squeezed of excess liquid
1 potato, grated and squeezed of excess liquid
1 cup almond meal
1/2 cup GF bread crumbs (e.g. rice)
2 tbsp nutritional yeast
2 chia eggs (made by mixing 2 tbsp of chia with 6 tbsp of water)
salt and pepper
small handful each of mint, dill and basil, finely chopped
splash of plant mylk
1/3 cup plain soy yogurt
1 tsp garlic powder
1 cucumber, grated and squeezed of excess liquid
Method
Preheat the oven to 200C. Water saute the onion and garlic until soft.
Take a large bowl and add the next 8 ingredients into it. Mix with your hands until a sticky mixture forms.
If it is too dry (pretty unlikely) add a splash of plant mylk to bring it together.
On a lined baking tray, form little rounds with your hands or a spoon.
Bake in the oven for 10-15 minutes on each side. Meanwhile, make your tzatziki dip, by adding the yogurt, garlic powder, cucumber and seasoning to a bowl. Mix until smooth and refrigerate until needed.
Serve warm or cold. Enjoy!
---