Ginger & Soy Tofu Udon Noodles // Vegan + GF
11 / 08 / 2019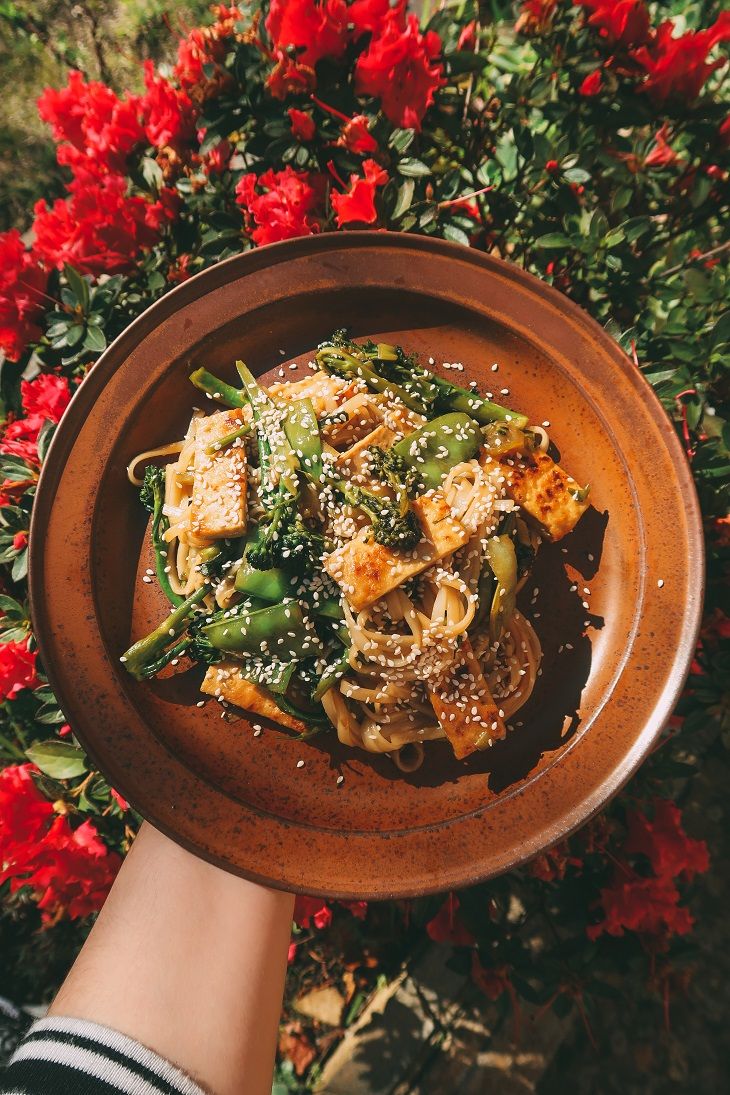 Who doesn't love a thick Udon noodle covered in gingery soy-ness with some hearty tofu and crisp veg in there as well? Not many, Honeybunches, not many. It's a delightful combo and one I happily gobbled down, and will be doing again very soon. It's a superbly straightforward midweek dinner, or Friday night "take-out" kind of meal to whip up - which can include heaps of veg in there as well. Happy days!
Serves 2 
(Double the quantities of everything bar the marinade to have it serve 4. The recipe makes enough marinade to double the recipe.)
Ingredients
Marinade
1 tsp minced garlic
1 1/2 tbsp minced ginger
1 tbsp maple syrup (or any liquid sweetener)
3 tbsp tamari (or soy sauce if not GF)
2 tbsp rice wine vinegar
2 tbsp olive oil
1 tsp sweet chilli sauce
Stir-Fry
250g firm tofu
olive oil
salt & pepper
250g udon noodles (or other GF noodles, like rice noodles if GF)
sesame oil
1/2 bunch spring onions, chopped
1/2 broccolini bunch, chopped
1 pak choi, thickly sliced
handful snow peas/sugar snaps, top and tailed
sesame seeds, to serve
Method
First make your marinade, by whisking all the marinade ingredients together in a small bowl until combined. The recipe makes enough marinade for 2 rounds of this recipe.
Cut your tofu how you'd like it, press out moisture on all sides with paper towel. Heat a little olive oil in a non-stick fry pan and add the tofu, crisping up on both sides. Add some salt & pepper to the tofu, while cooking to season. When lightly browned, remove the tofu from the pan, setting it aside until needed.
Cook the udon noodles according to packet instructions and set aside until needed.
Meanwhile add a little sesame seed oil to the fry-pan the tofu was cooked in and add the spring onions. Stir for a minute or so, then add in the broccolini, pak choi and snow peas, tossing for a minute or so more until just tender. Add the tofu back to the pan and ladle in as much of the marinade as you desire. Stir to coat, then add the noodles and toss to combine.
Serve with sesame seeds sprinkled over the top.
---