Creamy Curry-Coconut Soup // Vegan + GF + Oil Free
22 / 04 / 2016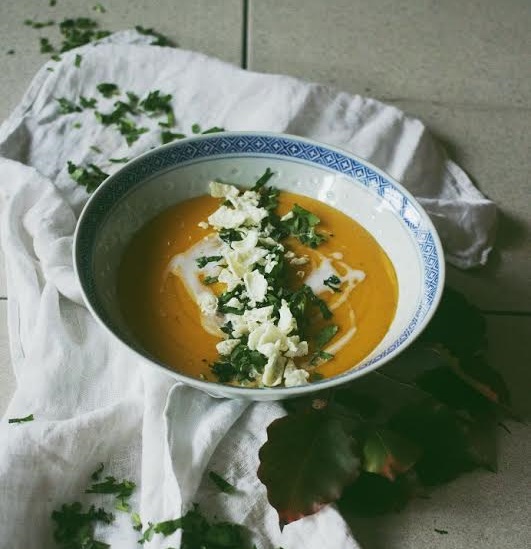 I usually don't go for thick creamy soups like this one. I've had many MANY bowls of uninspiring pumpkin soup in my day to be somewhat over it, so when I created this one, it had to be full of flavour, whilst still not having an ingredient list as long as your arm. This fits the bill perfectly, and the subtle curry flavor as well as spice from the sriracha just makes it rather spectacular. It's been loved by all I promise and will be a new favourite in your home shortly I presume. The combination of the different starches with some lentils is what makes it so creamy, with the coconut mylk just adding the finishing touch. If you are not a coconut fan then you can leave it out and it will still taste delicious. I know soups can make some people yawn, but they are so practical and when done right - very delicious, so don't knock it until you try it people!
Serves 6
Ingredients
1.5kg starchy vegetables (e.g. potatoes, sweet potatoes, pumpkin and carrots), peeled and roughly chopped
1 small onion, diced
2 tsp curry powder
2 tsp vegetable stock powder
2 cloves garlic, crushed
1/2 cup red lentils, washed and drained
boiling water (approximately 5 cups)
sriracha, to taste
1/2 cup coconut mylk
coriander, finely chopped
lentil chips to serve, optional
Method
In a large pot, combine the onion, curry, stock and garlic over low heat. Water saute until the onion is soft and the mixture fragrant.
Add the chopped vegetables and lentils to the pan, then with a wooden spoon mix well, so that the vegetables are nicely coated in the onion-spice mix. Pour over the boiling water so that it nearly covers the vegetables.
Bring to the boil, then reduce to medium-low heat and simmer until the vegetables are tender.
Puree until smooth in a food processor or with a stick immersion blender.
Add the coconut mylk and sriracha to taste. Stir to combine, seasoning if desired.
To serve, divide between bowls and sprinkle over some coriander and crushed lentil chips if using.
---