Creamy Corn & Potato Chowder // Vegan + RSF + GF
12 / 08 / 2018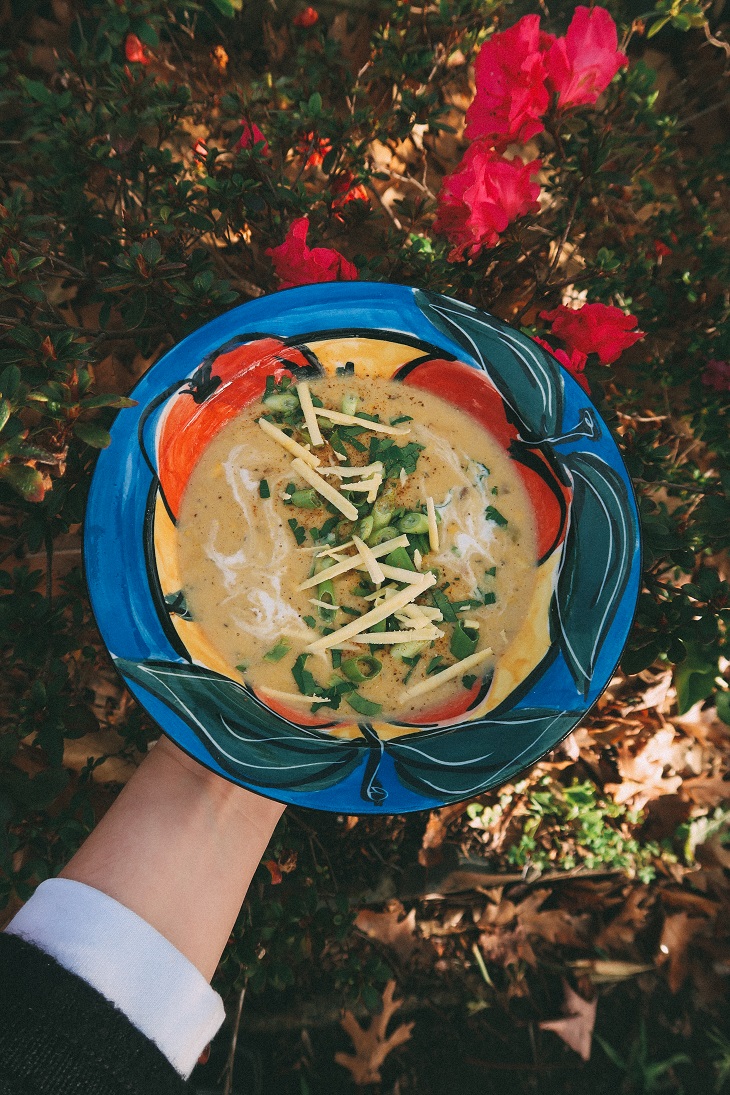 Chowder, a hearty-creamy-corny soul satisfying soup that I definetely should include more often in my life. It's one of those recipes that definetely sounds far more epic than it looks and so yes my presentation skills on this one were a little short of the mark. It's a quick one to bang together and is full of savoury flavours yet pops of sweetness from the corn, making it rather dandy if I do say so myself.
Serves 4
Ingredients
1 onion, diced
1 stick of celery, diced
1 carrot, diced
2 tsp minced garlic
1 large potato, peeled and cubed (1cm cubes)
2 corn cobs, kernals removed
1 heap tbsp plain flour (GF if required)
2 cups vegetable stock (I made this up from some veg stock powder)
2 tsp mixed herbs
1 tsp old bay seasoning (or swap for celery salt, if you don't have it)
1 tbsp nutritional yeast
1 tsp apple cidar vinegar
salt & pepper
1/2 cup unsweetened soy milk
1 heaped tbsp coconut cream (the thick white stuff off the top of a can of coconut milk/cream)
to sprinkle (totally optional): vegan cheese shreds, parsley & spring onions
Method
Saute your onion, celery, carrot and garlic in a little oil in a non-stick pot until the onion is transluscent.
Add in the potato and corn kernals and saute for a couple of minutes. Sprinkle over the flour and stir to cook it off for a minute or two, being careful not to burn it.
Add the vegetable stock, cover the pot with a lid, bring to the boil then turn the heat down and let simmer for 10 minutes (or until the potatoes are tender).
Add the mixed herbs, old bay seasoning, nutritional yeast, apple cider vinegar and a generous sprinkling each of salt & pepper. Stir to combine.
Stir in the unsweetened soy milk and the coconut cream. Blend about half of the mixture until smooth in a blender/food processor, then return it to the pot and stir to combine. Alternatively leave all of it chunky, or blend all of it - if that's what you prefer. Serve and sprinkle over any desired toppings. Enjoy honeybunches!
---