Classic Apple Pie // Vegan + GF + RSF
01 / 02 / 2019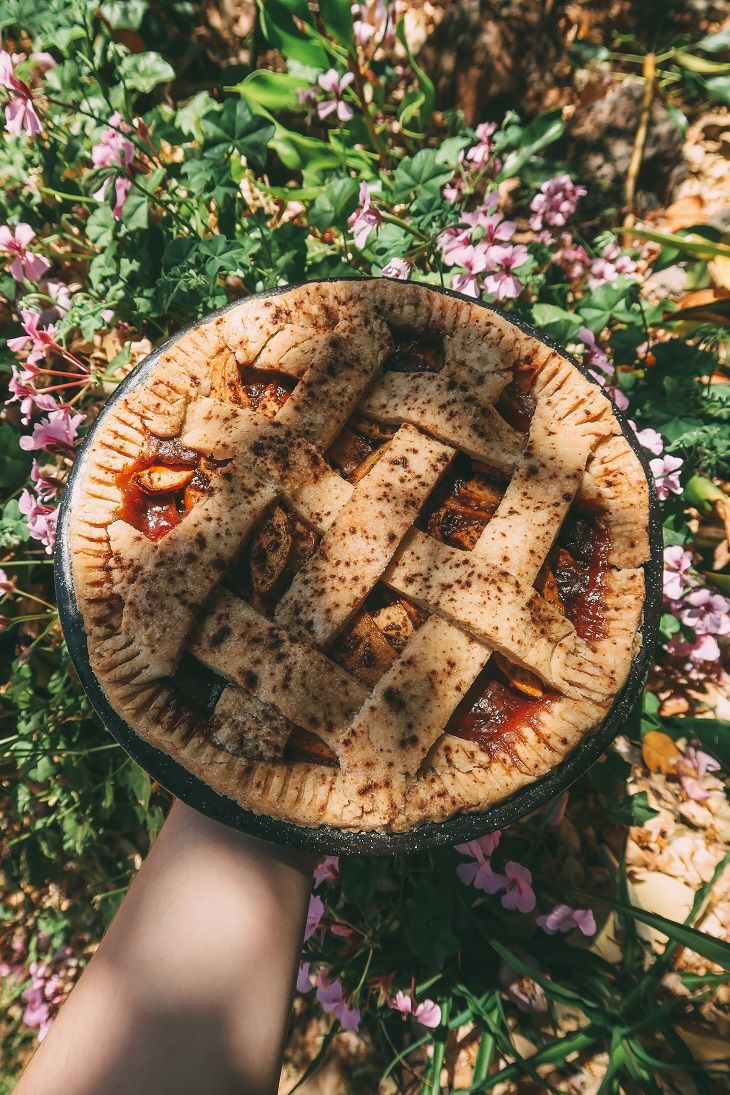 Desserts growing up were often apple crumble this or lemon delicious that, which means that these days I don't find anything with apple or lemon with pastry - or in other words, with the added ingredients of flour & sugar, to be anything to get to excited about. However, since hiatus-ing from them for a bit, I've found myself enjoying the odd A-grade one here and there. So here I bring you an apple pie which surprised me big time by how delicious it tasted. The pastry is POPPIN'! And the apple filling couldn't be easier (I'm talkin' 1-bowl y'all - woohoo!), so all in all it's one mega scrumptious, deceivingly plain-looking party for your tastebuds.
Hope ya' enjoy this one honeybunches!
Makes 1 x 21cm (8 1/2) inch pie
This is a recipe from one of my early experiments in vegan AND gluten-free dessert-making. It's still a good recipe, but it is a little dry and I've improved upon my techniques since publishing. I leave this recipe up though for those who've made it and loved it, as well as to show my progession in this department over time.
Ingredients
Shortcrust Pastry
2 cups GF plain flour (or regular plain flour)
3 tbsp almond meal
1/2 tsp xanthum gum
pinch salt
1 tbsp coconut sugar
1/2 cup cold vegan butter
1/4 cup coconut oil (room temp is good)
1/4 cup cold water
Apple & Cinnamon Filling
4 cups thinly sliced apple
3/4 cup coconut sugar
4 tbsp corn flour
pinch salt
2 tsp chia seeds
1 tsp cinnamon
juice of 1 lemon
1 tbsp coconut oil, melted
1 tsp vanilla
To Top
melted coconut oil
cinnamon
coconut sugar
Method
Make your pastry ahead of time (it needs to chill for a minimum 30 minutes. I chilled mine overnight), by placing the first five pastry ingredients into a food processor (or large bowl), and pulsing (or mixing) until combined.
Add the vegan butter and coconut oil and pulse again (or use a fork to press & mix through thoroughly, if making the pastry in a bowl) until looking crumbly & combined. Finally add the water and pulse/mix once more until combined.
Use your hands to press the pastry together into a smooth ball. Fashion into a disk (it'll be easier to defrost that way), wrap up in plastic wrap and chill in the fridge for 30 mins minimum.
Make your filling by taking a large bowl and combining the first six ingredients with a wooden spoon so that everything is well combined. Add the lemon juice, coconut oil and vanilla and mix once more until everything is combined.
When ready to make & cook your pie, pre-heat your oven to 180C. Take out your pastry and let warm up enough so that you can roll it with a rolling pin. Grease your 21cm dish and divide your pastry into 2/3 and the other 1/3 for the top.
Roll out the 2/3 of the mixture into a circle a couple of inches bigger than your dish. Use your rolling pin to roll it up and transfer it into your dish. If there are any tears, just patch it up with the overhang. Prick the bottom with a fork a handful of times, then add your apple filling. Roll out the remaining pastry for your pie lid, plonk on top and decorate/seal how you like. You can't go wrong, it's practically playdough, just a little more crumbly.
Brush the top with the coconut oil and sprinkle over some cinnamon and more sugar if you desire.
Bake your pie on a tray (in case the juices bubble out and over - totally normal if they do) in the pre-heated oven for one hour. Rest for 10 minutes before serving. A vegan vanilla ice cream goes wonderfully with it. YUM!
---