Chunky Monkey Freezer Slice // Vegan + GF + RSF
04 / 08 / 2019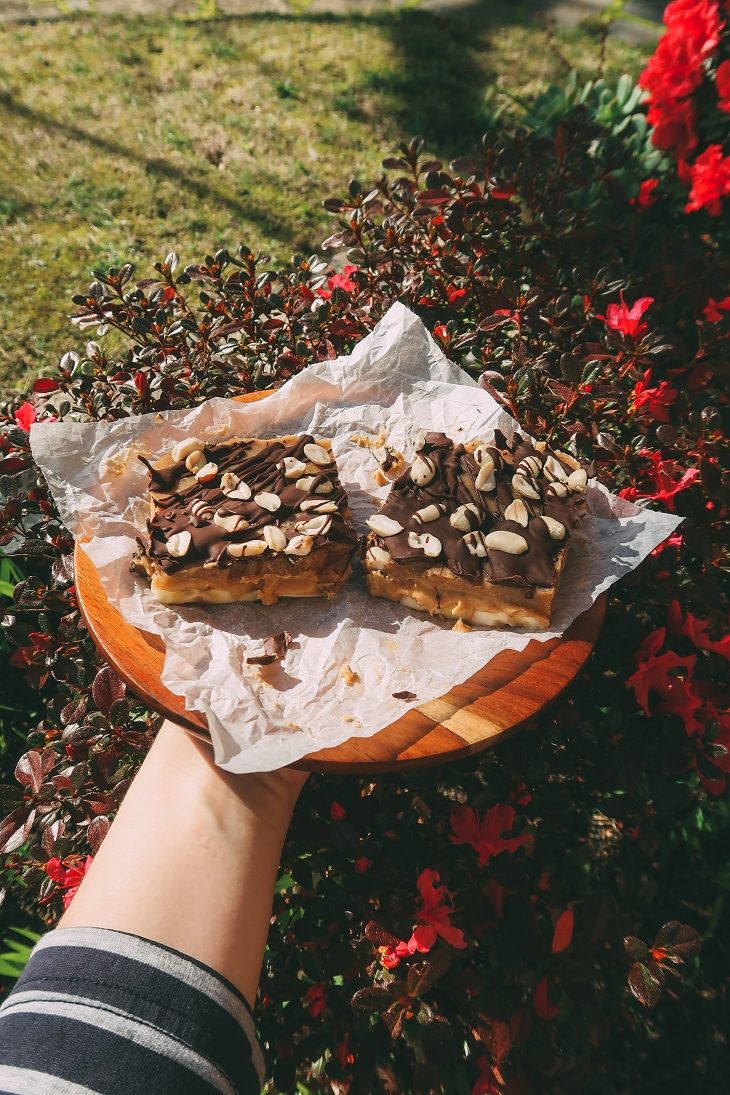 I'm a big fan of sweet slices made out of nuts, maple syrup, chocolate etc. that you can keep in your freezer and grab a piece with a cup of tea in the afternoon or whenever you're feeling like something delectably moreish & bite-sized. This one is another to add to my repertoire. It's a bit on the more summery-side I guess than my previous caramel slices and snickers slices due to the frozen and fabulously fruity banana coins that form the base of this one. Eating frozen banana for fun doesn't sound like something that works, but I promise, it really does!!
Makes 16 squares
Ingredients
2 medium-large bananas, cut into coins
1/2 cup smooth and runny peanut butter
1 1/2 tbsp coconut oil
3 tbsp maple syrup
3 tbsp almond butter
pinch of salt
80g dark vegan chocolate
optional: toasted peanuts to top
Method
Take out a 20cm/8inch baking pan (or one similar to that size) and line it with baking paper. Arrange the banana coins over the bottom so that they form a relatively hole-proof layer. Place in the freezer while you get on with your other layers.
Prepare your peanut butter, by living it a good stir. Make your caramel by melting your coconut oil (if not already runny) and add the maple syrup, almond butter and salt to it, whisking until super smooth and runny. Melt your chocolate and chop up your toasted peanuts at this point too.
Take the bananas out of the freezer, and spread over the peanut butter to form a smooth layer. Place in the freezer for about 15 minutes.
Remove from the freezer and pour over the caramel, smoothing it into all the crevices. Return it to the freezer until set (about 20-30 minutes).
Finally drizzle over the melted chocolate and sprinkle with the toasted peanuts, returning to the freezer to set one last time (will only take a couple of minutes). Remove, slice and serve. Keep it in the freezer when not eating.
---