Choc-Crunch Crackle Slab // Vegan + GF + Refined Sugar Free + Nut Free
06 / 08 / 2016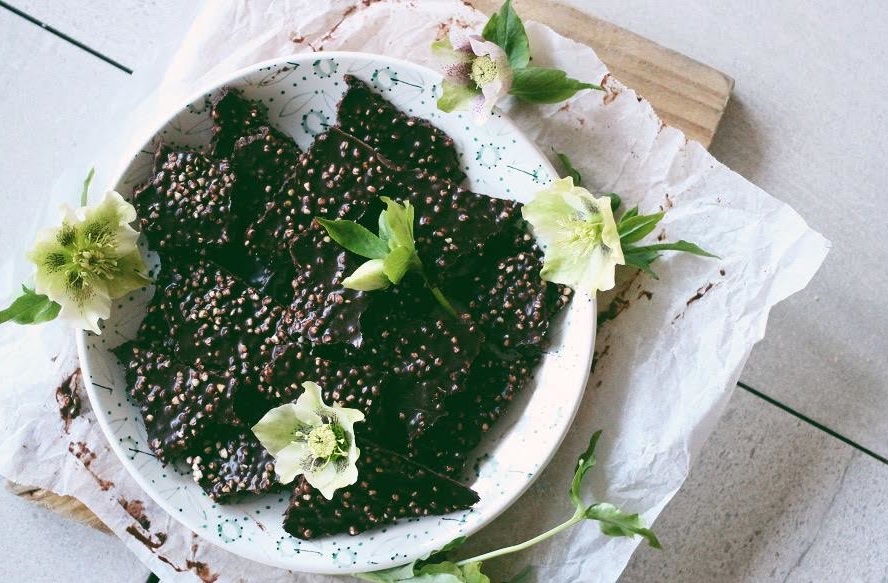 Good quality chocolate is seriously amazing. I might not drink or consume coffee, but far out...Chocolate is at the top of my tree. It just has the ability to be SO GOOD!! When you train your taste buds to be less refined sugar loving and more whole foods obsessed you will simply not turn back. And the moment you try raw vegan chocolate is simply one to relish. In these cold months I love to be able to have a warm peppermint tea or chia tea after a meal and a little chocolate. It's such a lovely way to end an evening or weekend with those you love. This crunchy treat is perfect for that!! If you have cacao butter or can get your hands on it some how I recommend doing so, but in the end it's about the texture and coconut oil and cacao butter both enable that. I'm not a mad buckini's lover - but oh-my does it work here. I mean it's not hard to go head over heals for them in this recipe, anything slathered in chocolate is a good decision. Plus buckwheat groats are dirt cheat, easy to find and gluten free. Making there addition to this chocolate treat - more then welcome.
Makes one 30cm x 15cm slab, which can then be broken into pieces.
Ingredients
1/3 cup cacao
1/3 cup coconut oil/cacao butter (cacao butter tastes better, but it is more expensive/harder to find)
1/4 cup maple syrup (or rice malt syrup)
pinch of salt
1/4 cup buckinis
1/4 cup puffed quinoa (or buckwheat/millet etc.)
Method
In a small saucepan combine the cacao, oil or cacao butter, sweetener and salt over a very low heat until just melted. You can melt it 1/2 way and then let the residual heat do the rest. This is wise to ensure you don't alter the taste.
While that is doing it's thing grab a tray of some sorts, it doesn't have to have edges. Sprinkle in the buckinis and the puffed quinoa.
Pour over the melted chocolate and swirl around to mix the "crunchy" bits through. Spread out into an even layer (1/2 a cm thick plus is good).
Place in the freezer and chill for 2 hrs minimum before breaking into bits and serving. Store in the freezer.
---